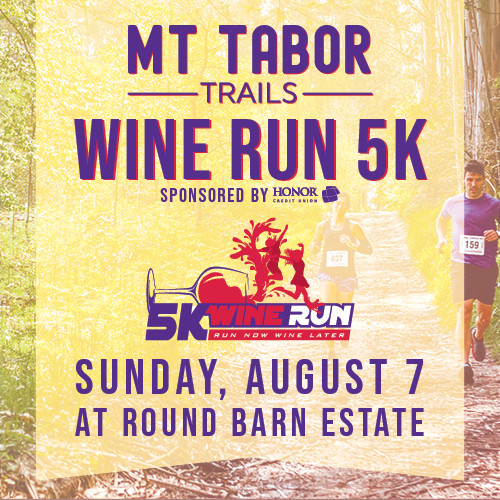 Introducing the very first Mt. Tabor Trails Wine Run 5K, this weekend, on Sunday, August 7th, 2022. Hosted on the grounds of the Round Barn Estate and sponsored by Honor Credit Union, a blend of walkers, runners, and joggers will travel the scenic route through forest and field, in support of the Oronoko Township Park & Trail Project.
This project, a 5 Year Plan that was developed for the purpose of improving the quality of life for local citizens, focuses on preserving natural areas, expanding upon local recreation offerings and public trails, and adding beauty and accessibility to our outdoor activities like hiking, fishing, kayaking, improving dog parks, and the like.
Proceeds from the Mt. Tabor Trails Wine Run 5K will go towards overall construction costs and  the completion of a specific endeavor of this project, a new community park located behind the Public Safety Building in Oronoko Township. The task for 2022 is to construct the ten-foot paved trail along Snow Road leading into the park, and begin the building for restrooms & concessions.
Registration for the race at Round Barn is $35 per person, and runners may register online. The registration fee includes race swag: a race t-shirt, finisher medal, race bib, and wine glass (with a fresh pour to sip while you sweat). Strollers are welcome on the course, though there are a few areas of uneven ground and small hills through the winding trails.
Join in on the fun with a little exercise, wine, and friends, as Round Barn fills your Sunday with enjoyment and libations! The race begins promptly at 9 a.m, and will be timed and scored by J3 Timing, where results can be viewed online. Round Barn Estate is located at 10983 Hills Road in Baroda, amidst beautiful wine country in Southwest Michigan. For more information about this race and other upcoming events, please visit roundbarn.com.
By Jocelyne Tuszynski, MOTM