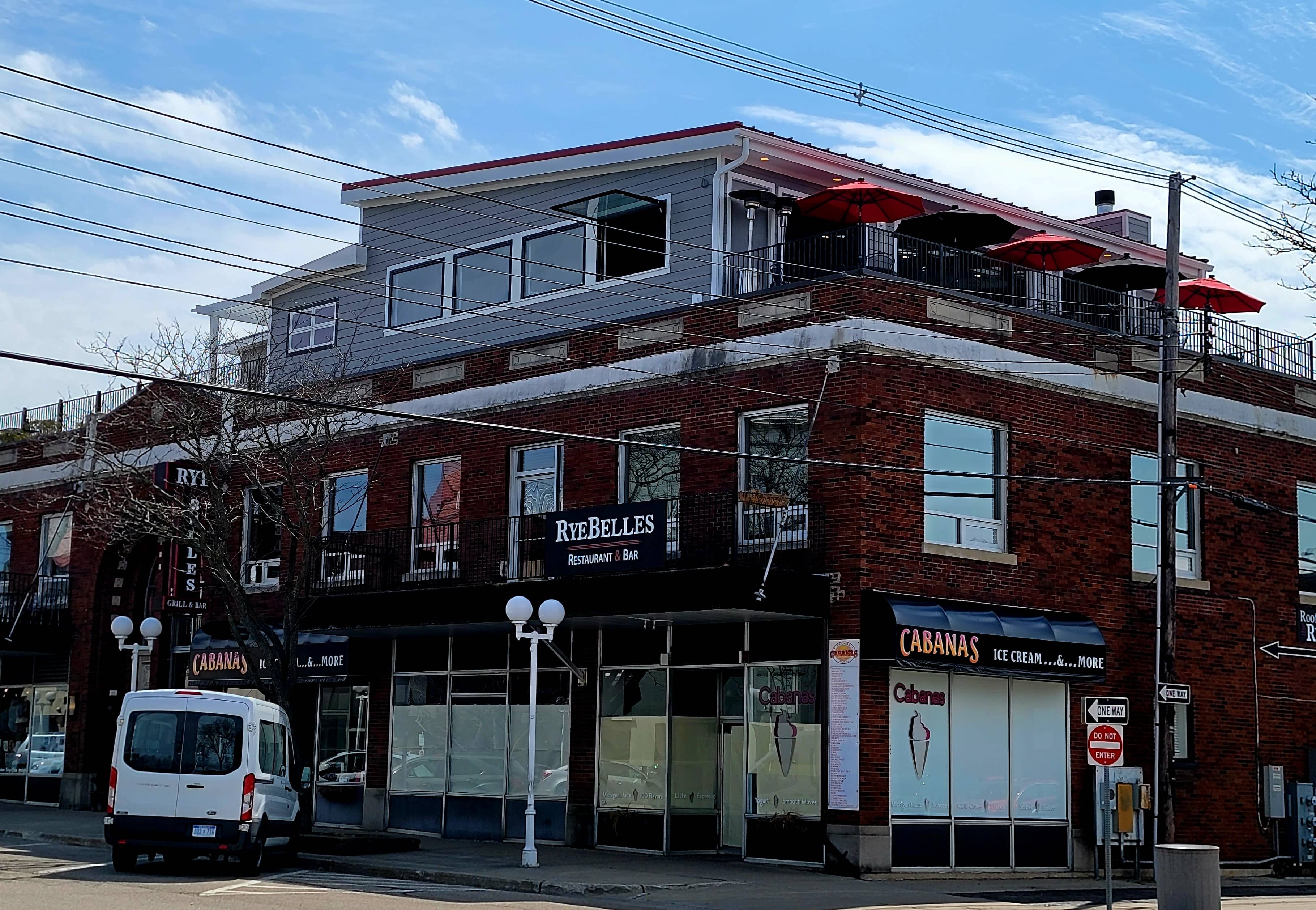 The bar and restaurant that spearheaded third floor outdoor dining in downtown St. Joseph is ready to unveil 'The Rooftop at RyeBelles 3.0'.  Ever since last October, owner Jim Champion has had a small work crew transforming his Rooftop bar and dining deck into a weather-resistant three-season space that will revolutionize RyeBelles ability to serve customers  who want an outdoor hospitality experience without the many variables that come with it:  rain, wind, harsh sunlight, etc.
Champion says by the Easter weekend, RyeBelles hopes to be inviting customers up the stairs for a full food and beverage experience inside the newly constructed Rooftop space.  There are several tables that will still be outside on the far West/Bluff end of the deck.  The rest of the West half is now totally under a permanent roof, with large overhead doors and side windows that fully open to allow good weather in.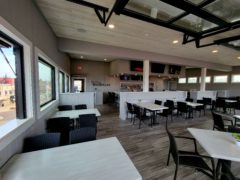 When the Summer weather isn't so good—and during Spring and Fall—the doors and windows can be adjusted or closed for the comfort of customers.  Champion points out that he couldn't actually increase the seating capacity (there's only so much space up there), however he's been able to significantly extend the season for the Rooftop.  He expects next year to utilize it from early Spring to late Fall, with September and October weekends being especially desirable for customers, as he sees it. With fall football games in mind, there are five video screens viewable from both the bar and table areas. Champion says the new space is well-insulated, but it's not actually heated or cooled.  So mid-Winter use is unlikely.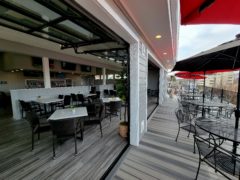 Champion and General Manager Nat Bishop predict that the all-weather Rooftop will greatly simplify scheduling of their Summer staff and provide significant additional work hours to their employees.   Bishop says it was a guessing game, trying to know whether midday rain showers would hang around and wipe out evening dining.  But often, with the staff told not to come in, the showers would move out and disappointed potential customers would be left asking, "Why's the Rooftop closed?"  Now, that won't happen.
Bishop says RyeBelles has employed up to 90 persons, full and part-time.  Many will see their hours increase and some will have nearly full-time jobs, with only the coldest Winter months being in doubt.  Bishop has high praise for his management team and their growth, as owner Champion has been focused on the expansion project.  He gave special kudos to Bar Manager Bree Boomer and Restaurant Managers Ashley Patton, Carly Kilboy and Katie Ryan.
RyeBelles full dinner menu will be offered in the new space, as well as a portion of the uncovered East side of the Rooftop area, known as the Terrace.   Champion says sun-lovers will still have plenty of area on that side (Broad & State).  "You can choose your environment," as he puts it.   The East Side Terrace  also offers live music several nights a week in Summer for those looking for a more active atmosphere.
Champion says his first decade at RyeBelles has been an interesting evolution.  The Summer focus on the Rooftop has been much greater than he expected when he opened the second floor  restaurant in November, 2011 in the former St. Joseph Elks Club bar room.  Increasing dinner traffic from locals during the Winter months has also been gratifying he says, causing him in recent years to forego mid-Winter closing periods.
New Executive Chef
Last Fall, Champion hired a new Executive Chef, Shane Graybeal.  Champion, Bishop and Graybeal are carefully tweaking the relatively short RyeBelles menu and plan to publish a new version before Summer.  Priorities are maintaining RyeBelles solid reputation for steak and seafood, while allowing Graybeal to put a bit more of himself and his experience into it.
Graybeal grew up North Carolina in a 'farm to table' family, went to culinary school in Charleston, South Carolina, worked in the Carolinas and Europe, then settled in Chicago, where he got his first Executive Chef position.  He says he learned from his grandmother that, "When there's good food on the table, everyone is happy."
Graybeal lights up in a smile when he talks about being a Chef.  "I love everything about working in a restaurant.  It became my identity.  I love the noise in the kitchen.  I love the chaos, the busy rushes, the late nights.  I love the interesting characters you meet!"
The Chef was drawn to Southwest Michigan when he realized that many of the fresh products he was "sourcing" for his Chicago restaurant kitchen were coming from Michigan's Great Southwest.  So, as they anticipated the birth of their son, Graybeal and his wife bought a home in Bridgman.  And, a couple of months later he and Jim Champion connected in their vision for the next phase of Ryebelles menu development.
Graybeal says he wants the menu to "explore the local bounty."  "The farms and fields are all around us," he says, "We want to emphasize those ingredients and feature those flavors."
Bishop comments, "Shane has already elevated our menu.  He's refined several items and highlighted our presentation."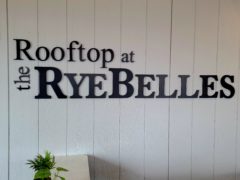 RyeBelles is located at 518 Broad Street,  St. Joseph.  269-281-0318   www.RyeBelles.com
Closed Sunday & Monday.   Look for Summer Hours in May.