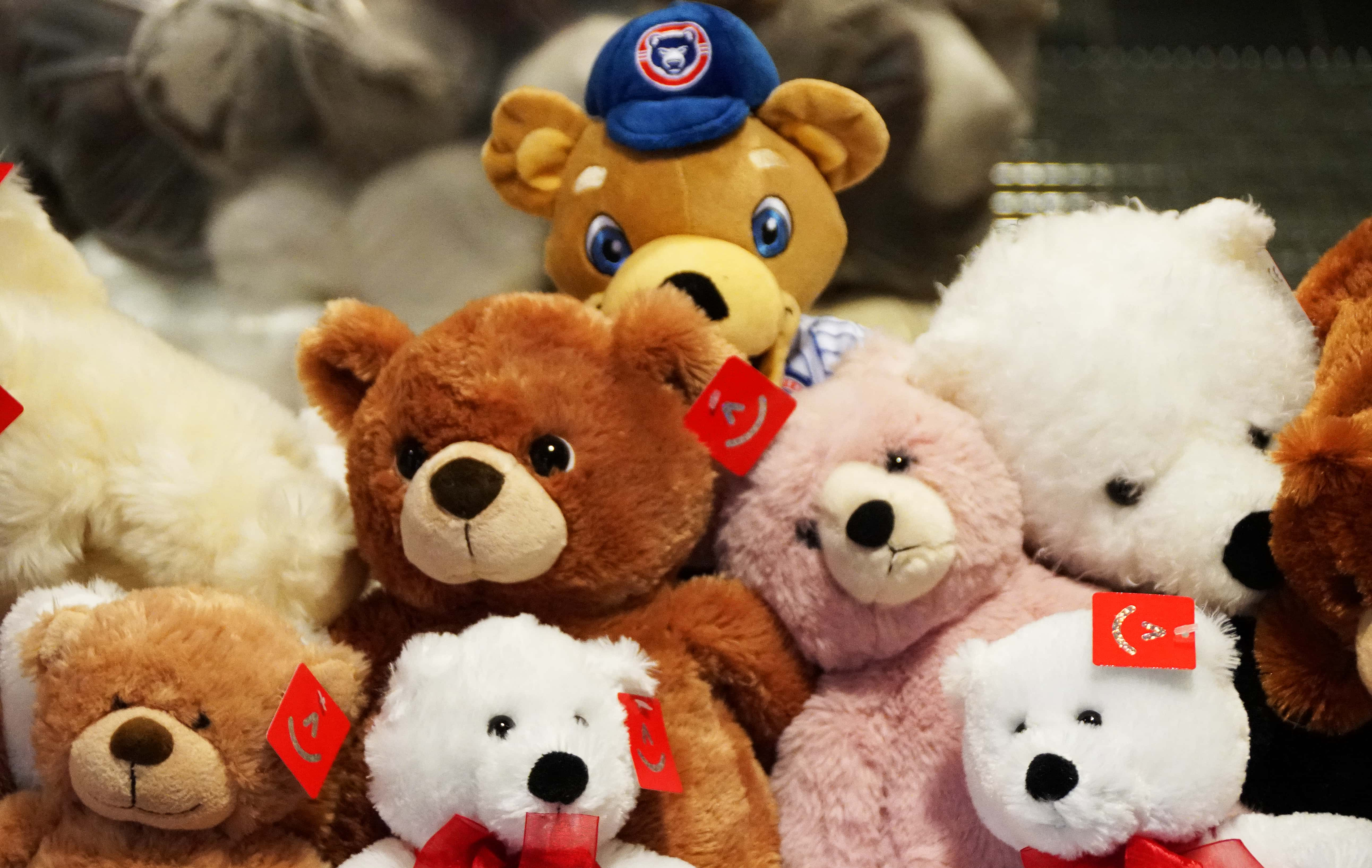 With more than 9,000 Teddy Bears donated in the first seven years of South Bend International Airport's annual Bears in the Air campaign, the stage is set for tomorrow's launch of the 8th Annual effort that could take the count north of 10,000 and growing.
The 8th annual Bears in the Air program lands at South Bend International tomorrow morning when community stakeholders donate the first bears to the program at 10:00 am on Tuesday, December 3rd. St. Joseph County Airport Authority Board President Dr. Jay Asdell will be joined by Center for the Homeless/Robert L. Miller, Sr. Veteran's Center Chief Policy & Resource Officer/Director Lani Vivirito, a veteran, South Bend Cubs President Joe Hart, and South Bend's largest and most loveable bear Stu D. Baker.
Bears in the Air will officially kick-off at SBN  this Friday evening, December 6th with a reception beginning at 6:00 pm. That event is open to anyone 21 years of age or older. The $20 per person entry fee will provide a Teddy Bear to a child in an area hospital and assistance to the veterans at the Robert L. Miller Sr. Veteran's Center. Guests will enjoy a light buffet, cash bar, music and door prizes.
Anyone unable to attend the event is encouraged to donate to the program through December 16th. Donations can be dropped off at Airport Information located in the airport terminal near the baggage claim center. The more donations collected the more smiles on children's faces and greater assistance for veterans.
South Bend International Airport CEO & Executive Director Mike Daigle is the brainchild behind the long-running campaign. He says, "We are excited to celebrate the program's eighth year. Thanks to the support and generosity from our community, Bears in the Air has continued to grow significantly," and adds, "In the past seven years, over 9,000 Teddy Bears have been provided to children in area hospitals and $46,000 to the Veteran's Center in downtown South Bend."
South Bend International Airport's four air carriers provide nonstop flights to thirteen cities:  Atlanta, Charlotte, Chicago, Dallas/Fort Worth, Detroit, Fort Myers/Punta Gorda, Las Vegas, Minneapolis, New York City/Newark, Orlando/Sanford, Phoenix/Mesa, Sarasota/Bradenton, and Tampa Bay/St. Petersburg with connections world-wide.
South Bend International's multi-modal terminal serves over one million air, rail and bus passengers each year. According to the 2012 Economic Impact Report from the Aviation Authority of Indiana, South Bend International's total annual economic impact on South Bend and surrounding communities was in excess of $1.7 billion.
For additional information, visit online at www.FlySBN.com or get social with SBN on Facebook (www.facebook.com/FlySBN), Twitter (@SBNairport) or Instagram (@SBNairport) to stay informed about the airport and the carriers that serve the South Bend region.