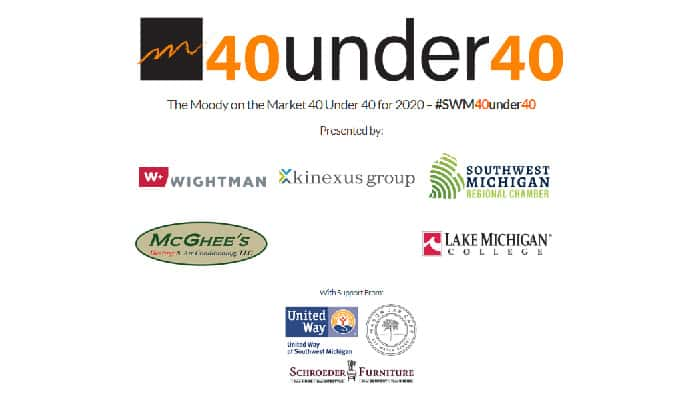 As the weather has continued to improve, and people are beginning to move about again across Michigan's Great Southwest, it's time to escape from the headlines for a few moments to concentrate on the reality that we have many outstanding young people in our midst who go about the job every day doing great things for the companies they represent, or even the companies that they own, as entrepreneurs. The last thing we want to do is forget them, especially at a time when we haven't actually been able to be face-to-face with many of them due to the pandemic. We remind you that recognizing those with amazing talents and dedication to the community is precisely why this business news portal created the Moody on the Market 40 Under 40 campaign which is entering its third year now.
Before we were mandated to stay home and stay safe, we heard repeatedly that the workforce is broken and there aren't enough people to fill the high-skilled, high-wage jobs at myriad companies across the board. All along, however, it is readily evident that there are many superstars in the region getting the job done, even while forced to do so while working from a home office or a kitchen table.
Our plan, once again, is to not only identify and recognize the next generation of workers who are continually raising the bar on quality and performance, but to also applaud and celebrate them in a formal way with this third annual 40 Under 40 campaign, targeted at finding 40 local leaders under the age of 40.
Because many of the young stars among us are just going about the business at hand, it can be difficult to find them and bring their stories to the spotlight without a bit of a nudge. That's where you, the readers, come in. We are asking for you to tell us who these soon-to-be legendary employees are. It's a very easy application process that can be found on the 40 Under 40 tab at the top of this page. Click that tab and you will be transported to the form that can be easily filled out beginning tomorrow, Monday, June 1st, online, and then sent to the nomination committee electronically for consideration.
We wouldn't be able to do this if not for our generous sponsors and underwriters. Our Major Sponsors in 2020 are McGhee's Heating & Air Conditioning, The Southwest Michigan Regional Chamber, Wightman, Lake Michigan College and Kinexus Group. Our Supporting Sponsors include the United Way of Southwest Michigan, The Mason Jar Cafe and Schroeder Furniture.
Before beginning the process, be certain to read all of the rules regarding eligibility at the link below and then proceed with your application when the form goes live tomorrow.
This prestigious opportunity for well-deserved recognition was a first for Michigan's Great Southwest, when we first launched the methodology often used by Chambers of Commerce and printed business publications, and it has been extremely well received through two great campaigns so far. Having felt it was time to put the young leaders, decision makers and entrepreneurs in our market on the pedestal they deserve to be raised to, it has now landed 80 fine young people in the winners circle. You might want to refresh your memory regarding previous winners, as they are not eligible. Once a winner, you're in the club forever and don't need to be renominated.
Find the full list of the 2018 and 2019 winners by scrolling past the introductory comments at this link: https://www.moodyonthemarket.com/40under40/
An independent panel headed up by past-winner Brittany Grasley from United Federal Credit Union will receive, tabulate and review all entries for the Moody on the Market 40 Under 40, and the selected winners will be unveiled on a date to be determined in mid-July live on the morning radio broadcast on News Talk 94.9 WSJM and The Coast Social Network at 98.3 FM with a reception (hopefully in person, but for certain in a virtual format) in their honor on a date to be determined in August.
Please take note that the deadline for application filings is Sunday, June 21st at 11:59pm.
Here's the link to sample of the application which will become live and active just after midnight tomorrow morning, Monday, June 1st, so you will know what questions you will be asked to answer (keep in mind this is a sample only, and the only acceptable form of application will be an electronic filing beginning tomorrow):