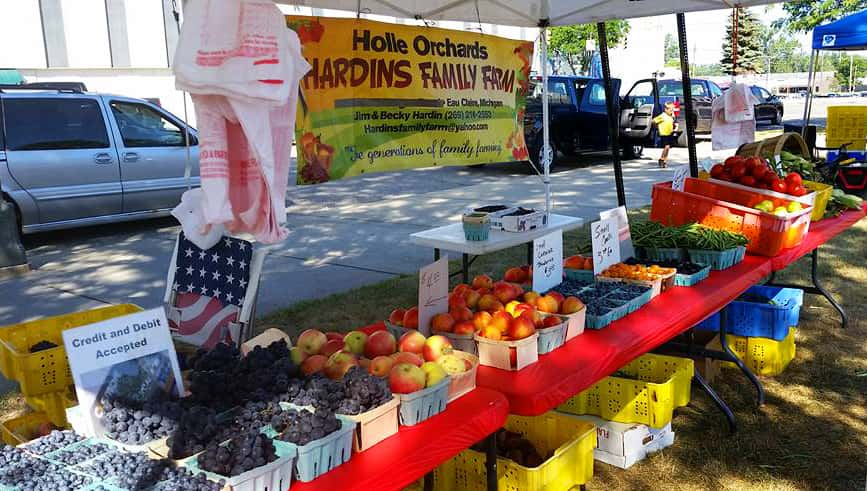 The excitement is building fast for the first of the season Benton Harbor Farmers Market which will launch at midweek next week, especially in light of the new market pavilion constructed by the City of Benton Harbor during the off season at Dwight "Pete" Mitchell City Center Park in the heart of the community's central business district.
The first market of the season, and first use of that new pavilion for vendors, takes place next Wednesday, June 26th from 10am until 3pm. That will be the regular rotation for the market, every Wednesday from 10am until 3pm throughout the growing and harvest seasons.
Each week from opening day through September 18th, 2019, the Benton Harbor Farmers Market will offer a wide variety of locally-grown and affordable fresh fruits and vegetables. This year, the market will also feature several newer vendors selling homemade and locally sourced foods, ready-to-eat lunch options, and other artisan items.
In addition to cash, the market gladly welcomes Bridge Cards (EBT), Senior Project FRESH, and WIC Project FRESH coupons that can be used to purchase qualifying items. The market will also offer individuals with Bridge Cards an opportunity to double their spending power with the Double Up Food Bucks program.
Community members shopping at the market this summer will enjoy a variety of activities, including such things as:
Cooking demonstrations from a Registered Dietitian from Spectrum Lakeland Health
Taste tests of the fresh produce available
Physical activity opportunities and games for children
Jessica Schaeffer is Market Coordinator for the Berrien County Health Department. She says, "There's no better way to strengthen our local community than to shop and eat locally," and adds, "By visiting the Benton Harbor Farmers Market, residents are supporting our local farmers, our economy, and our community as well as getting healthy and fresh food for themselves and their families."
The Benton Harbor Farmers Market is operated by the Berrien County Health Department and supported by grant funding from Be Healthy Berrien through the United Way of Southwest Michigan. New vendors are welcome and encouraged to contact the Berrien County Health Department for more information. Find additional information about the market and how to become a vendor at www.bchdmi.org.