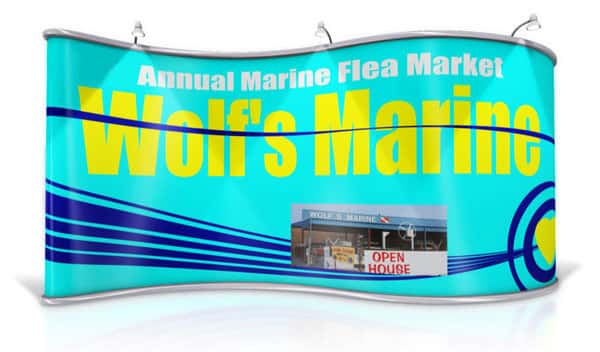 As the boating season quietly begins to fade into fall, you can either put things back in the garage, barn, dock-box, or attic…or you can sell them during the 8th Annual Marine Flea Market at Wolf's Marine and Wolf's Divers Supply in downtown Benton Harbor next weekend. You can also head to the big market and buy some of the things you vowed you would add into your own dock-box or supply line in order to enhance your time on the water for the rest of the season or for next summer's fun.
Wolf's Marine and Wolf's Divers Supply will host their 8th Annual Marine Flea Market on September 17th from 9am until 2pm in the boat storage warehouse across Main Street, Benton Harbor from the store.
The event is open to the public but is limited to new and used marine items such as boat parts, motors, dive gear, fishing gear, and those types of items. Individual sellers or groups can purchase a table for the day for just $20. Yacht club members can go together and make it a fundraiser and special rates apply. Marine Dealers are also invited. Yacht club and marine dealers are asked to contact the store for additional details.
There will also be a consignment section manned by Wolf's Marine staff for those with just a few items or who are unable to attend the one-day sale. The consignment fee is 20-percent.

Registration forms are available online at wolfsmarine.com or at the store. Please keep in mind that online sign-ups for tables or consignment must be made by September 15th. If you have questions, call 269-926-1068 or visit www.wolfsmarine.com.
Wolf's Marine is the Midwest's largest marine accessory store. It's located at 250 W. Main Street in downtown Benton Harbor. The company offers top quality marine products at discount prices either in store or online at www.wolfsmarine.com. Wolf's Marine and Wolf's Divers Supply have everything necessary to have fun on or in the water including top name brands in fishing boats, inflatables, sailboats and equipment, electronics, accessories, scuba equipment, clothing, and more. Further details can be found online at www.wolfsmarine.com or wolfsdivers.com or by calling 269-926-1068 or faxing inquiries to 269.926.1731.