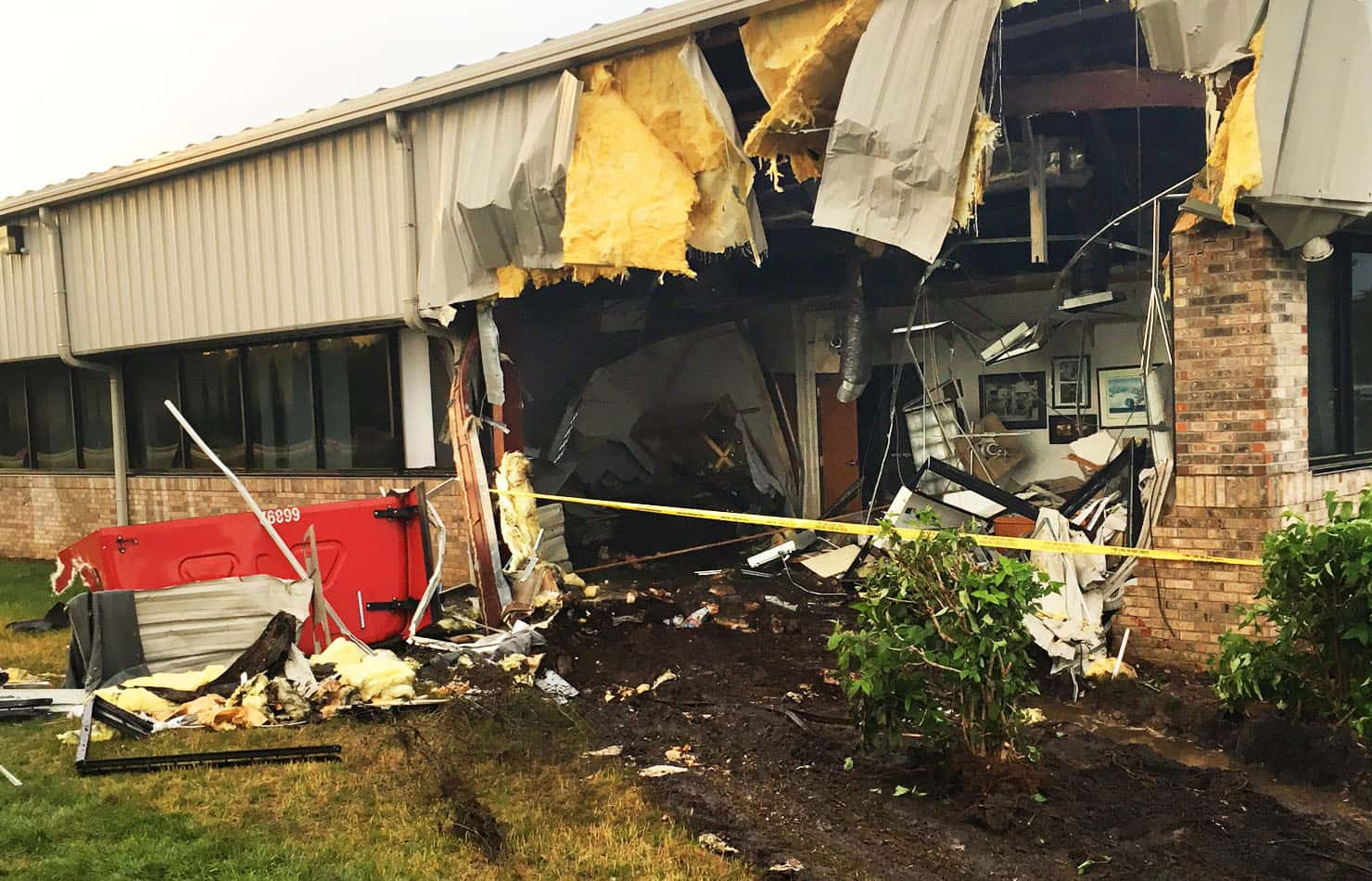 The damage to Lane Automotive in Watervliet will likely end up being far more substantial than the structural damage incurred when a semi tractor trailer left I-94 and careened into the front of the building early this morning. Authorities now say that the collision resulted in far more than just the gaping hole where the cab penetrated an office portion of the building just off of Exit 41, it also ruptured the fire suppression waterlines, causing considerable water damage to critical computer systems, electronics, and offices in the building.
Berrien County Sheriff's Dispatchers signaled the alarm at 2:48 this morning when a U.S. Xpress Enterprises semi plowed into the Lane Automotive building at 8300 Lane Drive in Watervliet Township, just off of the interchange of I-94 and M-140.
Sheriff's Lt. Zehm reports that responding police and fire units found that the eastbound semi left the roadway near the 41 mile marker and crashed into the building. An employee of Lane Automotive assisted the driver, helping him out of the truck along with a passengers sleeping in the rig at the time of the accident.
Zehm tells us that the driver and passenger were both taken to Lakeland Hospital in St. Joseph to be treated for minor injuries. Contrary to earlier reports that a blown tire caused the wreck, Zehm says that an on scene investigation finds that the driver may have fallen asleep at the wheel, causing him to leave the roadway and strike the building.  They do report that alcohol use was not detected during their investigation.
The driver has been identified as a 31 year old male from Orlando, Florida, and the passenger was a 40 year old male from Hollywood, Florida.  The carrier, U.S. Express Enterprises, is based in Chattanooga, Tennessee, a long haul firm launched 30 years ago and one of the largest fleet operators in the nation.  The driver was cited for careless driving.
Zehm terms the damage estimates at this time to be unknown due to not only the structural damage, but also the damage caused when the waterlines for the fire suppression system were ruptured in a  major area of office space, causing damage to computers and other electronics.
The Berrien County Sheriff's Department was assisted by the Pokagon Tribal Police, Watervliet City Police, Coloma Township Police Department, Michigan State Police, Watervliet Township Fire Department, Medic 1 Ambulance Service and Pride Care Ambulance Service.