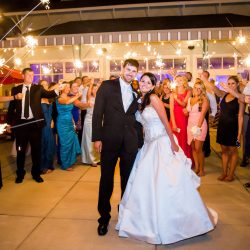 Visitors below the bluff in St. Joseph are frequently greeted by large contingents of very happy people dressed to the nines, right in the middle of beach-goers headed to or from Lake Michigan. It's not uncommon at all to see tuxedos and wedding gowns co-mingled with bikinis, flowery shirts and flip-flops. It's all part of what makes Shadowland on Silver Beach the remarkably popular wedding venue it has become year after year. In fact, it's part and parcel to helping them earn their spot among the winners of The Knot Best of Weddings.
Shadowland on Silver Beach has once again been selected as a 2018 --winner in The Knot Best of Weddings, an award representing the highest-rated wedding professionals as reviewed by real couples, their families and wedding guests on The Knot, the leading online wedding brand and app. This is the 6th year Shadowland has been selected for The Knot Best of Weddings -- a stunning feat for a space that has only been around since 2010.
In 2018, only 3-percent of the approximately 300,000 local wedding professionals listed on TheKnot.com have received that distinguished accolade. In its twelfth annual year, The Knot continues its longstanding tradition of supporting local wedding vendors with The Knot Best of Weddings 2018, an annual by-couples, for-couples guide to the top wedding professionals across the country.
To determine the winners, The Knot assessed almost 3.6 million reviews across the various vendor categories—venues, musicians, florists, photographers, caterers and more. These winners represent the best of the best wedding professionals that a bride or groom would want to consider booking for their own unique wedding.
Needless to say, Shadowland on Silver Beach Executive Director Nicole Beltz is ecstatic, saying, "We are truly humbled to receive this award. We want to thank all of our couples that have shared their big day here at Shadowland. We really have the best brides and grooms in America."
As the number one online wedding brand and app, The Knot has inspired approximately 25 million couples to plan a wedding that's uniquely theirs. With a rich history of providing quality content and inspiration, The Knot is making it easier for couples to connect with and book just the right wedding professionals to create their perfect wedding day. Eight out of 10 couples head to The Knot where they can be connected to any of the approximately 300,000 local wedding professionals across the country.
The Knot marries great technology with trusted content--and a little love--to make planning for the most important day of a person's life easier and more enjoyable.
For more information about The Knot Best of Weddings and a complete list of winners, you can visit https://www.theknot.com/vendors/best-of-weddings.
Open since 2010, Shadowland on Silver Beach is the closest venue to the beach, and welcomes everything from an intimate gathering for 50 to a lavish affair for 275 guests. It's simple, yet elegant décor lets you create the ambience you desire for your wedding, special occasion, business meeting, or event. Shadowland's unique offerings let you entertain your guests with the Sunset Patio overlooking the lighted Whirlpool Compass Fountain, rides on the magnificent, hand-carved Silver Beach Carousel, or the opportunity to explore Curious Kids' Discovery Zone. As Beltz puts it, "This is your place for making memories."
The Knot is the nation's leading online wedding brand and app that seamlessly engages, matches and connects couples with the right products, services and local wedding professionals they need to plan and pull off their wedding. The trusted brand reaches a majority of engaged couples in the US through the #1 wedding website TheKnot.com, its mobile apps, The Knot national and local wedding magazines, and The Knot book series. The Knot is the flagship brand of XO Group Inc. which helps people navigate and enjoy life's biggest moments—from getting married to moving in together and having a baby. You can visit The Knot online at TheKnot.com and follow on social media: Facebook.com/TheKnot and @TheKnot on Twitter, Pinterest and Instagram.
The photo accompanying this story on Moody on the Market.com of a wedding at Shadowland at Silver Beach is courtesy of True Photography of San Diego, California.