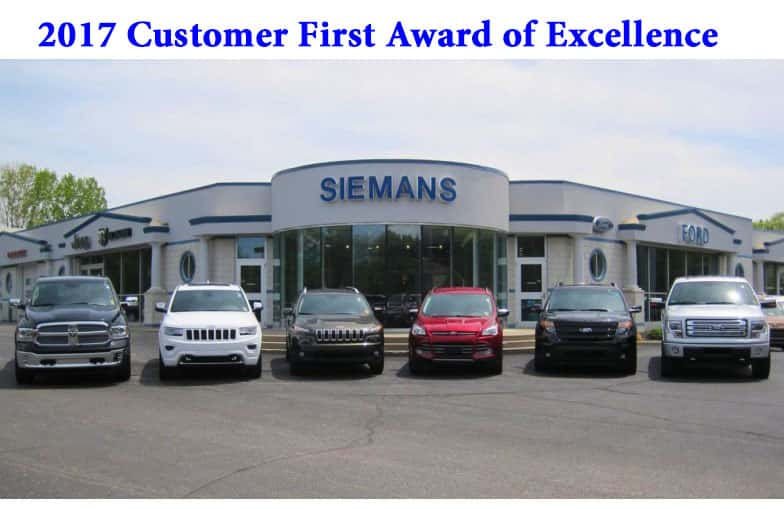 For more than 42 years, Ed Siemans and his crew have worked their plan of continuous improvement. Never letting up, the Bridgman auto dealer has once again garnered national recognition for the work they do on behalf of their customers every day. They have been named one of only 387  Chrysler, Jeep, Dodge, Ram & Fiat dealerships in the world to earn certification as 2017 Customer First Award for Excellence winners.
These 387 dealerships succeed the inaugural group of 124 dealerships who earned their certification in 2016.  By achieving this elite status, these FCA US dealerships will be recognized by consumers as leaders in customer sales and service experience.  The winning dealerships touch 24-percent of FCA retail sales volume in the U.S.
Al Gardner is Head of Dealer Network Development for FCA-North America. He says, "Our dealers are striving to not just improve the customer experience in their facilities, but to become the industry leaders in customer satisfaction on both the sales and service sides of the business." He adds, "We now have triple the amount of winning dealerships that may proudly market themselves as Customer First Award for Excellence achievers.  Consumers will know that they are in a Customer First dealership from the logos, but more importantly, they will experience the evolution of these elite stores."
FCA US created the Customer First Award for Excellence with its dealer partners and J.D. Power to improve customer satisfaction with Chrysler, Dodge, Jeep, Ram, and Fiat dealerships in the United States with a specific focus on the sales and service experience, employee training,and facility condition.
Pietro Gorlier is Head of Parts & Service for Mopar. He says, "Mopar congratulates Customer First dealers who have demonstrated an elite commitment to serving customers throughout the entire life of their vehicles." Gorlier adds, "Mopar shares their unwavering commitment to their customer – first philosophy, and we'll continue to support them through an extensive portfolio of authentic parts and accessories, innovative service lane technology – such as wiADVISOR – and the full dedication of our technical and training staff."
All 2,600 Chrysler, Jeep, Dodge, Ram, and FIAT dealerships are eligible to pursue and earn this prestigious award on an annual basis.  Siemans Chrysler in Bridgman achieved stringent goals in five core "pillars" to earn the coveted Customer First Award for Excellence designation:
Facility Certification – Facility provides a clean, comfortable environment for customers.
Performance Measures – Dealership has achieved highest levels of customer – oriented sales and service goals.
Training Certification – Employees have received the highest level of required FCA – certified training.
Employee Surveys – Completed to promote the voice of the employees and a customer – driven culture.
Process Validation – Certified sales and service processes that support excellence in customer handling.
The Customer First Award for Excellence initiative was rolled out to dealerships in October 2015. Dealership staff participated in cross-country workshops where they learned of award requirements and dealership best practices.  Some have worked with independently contracted Customer Experience Specialists in order to seek the highest levels of process and procedure improvements to ensure an increase in customer satisfaction.
FCA US LLC is a North American automaker with a new name and a long history. Headquartered in Auburn Hills, Michigan, FCA US is a member of the Fiat Chrysler Automobiles N.V. (FCA) family of companies. FCA US designs, engineers, manufactures and sells vehicles under the Chrysler, Jeep, Dodge, Ram, and FIAT brands, as well as the SRT performance vehicle designation. The company also distributes the Alfa Romeo 4C model and Mopar products. FCA US is building upon the historic foundations of Chrysler, the innovative American automaker first established my Walter P. Chrysler in 1925; and Fiat, founded in Italy in 1899 by pioneering entrepreneurs, including Giovanni Agnelli.
FCA, the seventh – largest automaker in the world based on total annual vehicle sales, is an international automotive group.   FCA is listed on the New York Stock Exchange under the symbol FCAU.
Ed and Joan Siemans started in downtown Bridgman with a Ford franchise in 1975. They built a new facility in 1981 – which houses their current location on Red Arrow highway. They added the Chrysler franchise in 1982. In 1985, they added the Mazda franchise in St Joe and moved the franchise to Bridgman in 2014. They have added facility expansions and improvements multiple times since 1981 – owning 14 acres at the corner of Red Arrow and Lemon Creek road. The facility now includes Ford, Chrysler, Dodge, Jeep, RAM, Promaster, and Mazda franchises – all conveniently located under one roof.
Their sons – Jack, Craig, and Eric – all actively manage the store. Ed says, "This is a great award representing the hard work that our staff contributes each and every day." He concludes, "We are the first to admit that we cannot be complacent. Each day brings a new challenge and a new technology. We need to continuously improve."