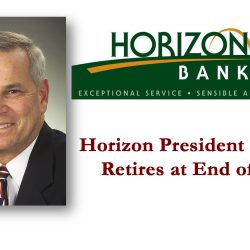 One of the most recognized and respected banking leaders in Michigan's Great Southwest will step away from the vault at the end of the year and retire from a long and highly successful career in the industry. Horizon Bank's Market President for Berrien County, Don Radde, will call it a career at the end of the year.
A native of St. Joseph, Radde joined Horizon in 2003 to lead the growth of multiple brand new branches and the task of procuring a local team of professional bankers in Southwest Michigan. After his many years of tenure, Radde has accomplished this goal and then some, by exemplifying thoughtful, compassionate and inspired leadership that any community bank must have to succeed.
Throughout his career at Horizon, Radde has always been an advocate for hiring local talent and providing the appropriate support businesses need to become community partners. He tells us, "Horizon's growth over the years has been a result of having longevity in the local marketplace and a keen understanding of the economic climate. We have developed viable and affordable solutions to help businesses grow and prosper – that's what continues to set us apart from the national and regional banks."
A 37-year member of Rotary, Radde has a broad expanse of community service, including his 14 years on the Board of Directors at the Lakeland Health Foundations, and 15 years as Director and Treasurer at the Region IV Area Agency on Aging.
Don earned his Bachelors degree at Western Michigan University and went on to obtain the University of Michigan Graduate School of Bank Management and the University of Oklahoma Commercial Loan School. He began his banking career in 1976 at Bank of America before heading to the People's State Bank in St. Joseph and its evolution to Pinnacle Bank, Civitas and eventually Fifth Third Bank. His 14-year run at the helm for Horizon concludes with his retirement on December 31, 2017.
As for the next chapter for Radde, he says his future plans are to stay active in the community and to spend time with his wife, Jan, and their grandchildren.
Assuming Radde's role as Market President of Berrien County will be David Eifler, who holds a Bachelor's degree from Albion College as well as a Masters of Business Administration from Central Michigan University.  Eifler has over 30 years of commercial banking experience in Southwest Michigan and brings extensive and broad-based experience to Horizon and has served the region's customer base of manufacturing, metal working, automobile suppliers, retail, agriculture and real estate companies. As a corporate steward, he will help promote economic growth within the communities of Southwest Michigan.
Horizon Bancorp is a locally owned, independent, commercial bank holding company serving Northern and Central Indiana and Southwest and Central Michigan and Central Ohio. Horizon also offers mortgage-banking services throughout the Midwest. Horizon Bancorp can be found online at www.horizonbank.com. Its common stock is traded on the NASDAQ Global Select Market under the symbol HBNC.