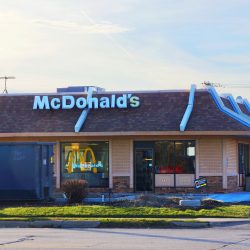 If you were planning a stop at McDonald's on Niles Avenue in St. Joseph anytime in the next, oh…three months or so…you're going to have to find an alternative. The popular St. Joe restaurant is now officially closed until February 5th and work has begun on the $1-million makeover that will transform the place into a considerably more contemporary place when complete.
Sunday was the last day to grab your Big Mac or Egg McMuffin at the St. Joe eatery as the planned renovation gets underway in earnest today. Demolition workers were already removing the mansard roof this morning and the entries were blocked to keep anybody from inadvertently pulling onto the lot.
In recent months, the restaurant parking lot has already been in makeover status as they converted the drive-thru to a dual lane concept, even as the restaurant remained open for full service, but that phase is now over and the heavy lifting starts which means the place will be closed until early February.
We first told you of the renovation plans back in mid-June when the St. Joseph City Commission granted approval to convert from a single lane drive through to a dual track pattern. You can see the full story from that action and what is planned for the building by clicking the link below, and then stay-tuned for a new, modern, updated McDonald's of St. Joseph. In the meantime owner Estephan Awad, who also owns the McDonald's on Red Arrow Highway in Stevensville, hopes you'll stop there for your McDonald's fix.
https://www.moodyonthemarket.com/sj-mcdonalds-slated-for-million-dollar-makeover/