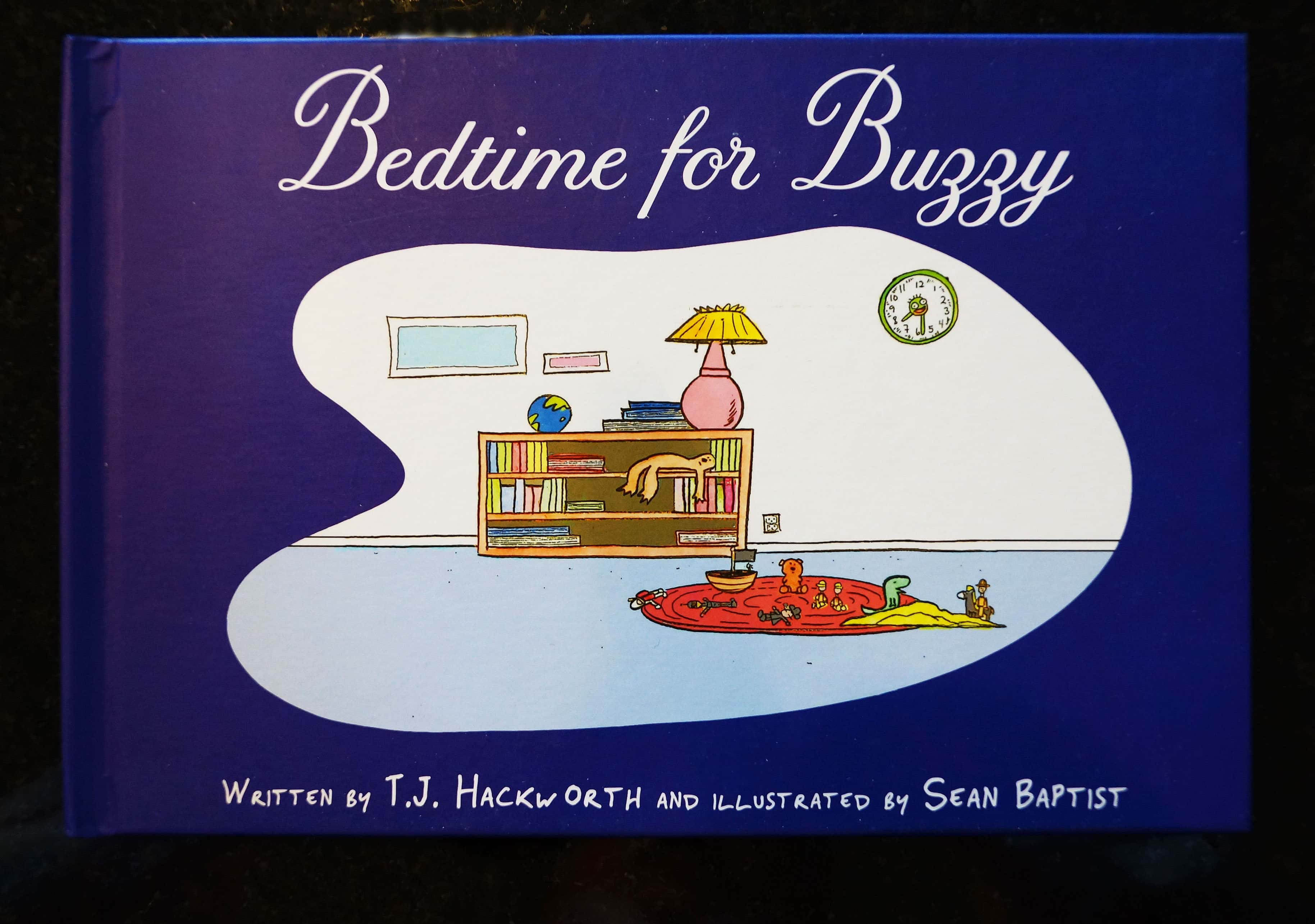 In a book every parent can appreciate, a couple of former Berrien County guys have crafted a multiple award-winning book called "Bedtime for Buzzy." Anytime you can knock down victories in the Independent Press Awards, the National Indie Excellence Awards, and the Purple Dragonfly Book Awards all for the same book you know you've got a hit on your hands.
Such is the case for Author T. J. Hackworth and Illustrator Sean Baptist, brothers and graduates of St. Joseph High School who created "Bedtime for Buzzy" late last year. It's the story of a young boy playing with his toys, but doesn't want to go to bed until he imagines his toys coming to life one by one to convince him that going to sleep is the best way to continue his adventures.
T.J. is the son of Berrien County natives Bruce Hackworth of St. Joseph and Prudence Nelson of Baroda, while Sean is the son of Robert Baptist of Benton Harbor and Gale Hackworth of St. Joseph. T.J. was a 1996 graduate of St. Joe High and Sean followed in his footsteps there graduating in 2004.
"Bedtime for Buzzy" was named a Distinguished Favorite in the Children's Fiction category in the 2017 Independent Press Awards where sponsor Gabrielle Olczak says there was "Worldwide participation, from London to Australia, from Portugal to Hong Kong, and we are so proud to announce these winners."
The book was also selected as a Finalist in the Preschool Picture Books category in the 2017 National Indie Excellence Awards, where founder Ellen Reid said, "We are proud to announce the winners and finalists whose books truly embody the excellence that this award was created to celebrate."
In the 2017 Purple Dragonfly Book Awards competition, "Bedtime for Buzzy" was recognized as an Honorable Mention in both the "Picture Books, 5 and Younger" category as well as the "Best Illustrations" category. The Purple Dragonfly Book Awards honor exceptional books of children's literature for excellence in writing and publishing.
Each of the competitions is judged by experts from different areas of the book industry, including publishers, writers, editors, book cover designers and professional copywriters. Selected award winners are based on overall excellence.
All of the new accolades add to the critical acclaim already recieved by the 28-page, hardcover book, including positive reviews from the Children's Book Review, Forward Reviews, Kirkus Reviews and BlueInk Reviews among others.
T.J. and Sean grew up in Michigan's Great Southwest, where family still resides, before the two moved to the New York City area.
T.J. says they created the cleverly-illustrated book, "With the aim of making children's bedtime a little easier and a lot more fun." They released the book into national distribution earlier this year and it hit bookshelves nationwide on February 8th. The book was published by Downtown & Brown Ventures.
Kirkus Reviews called the book, "A giggle-worthy ode to creativity, perfect for youngsters who have trouble saying goodnight." BlueInk awarded them a "Starred Review," adding, "Together, the text and pictures imbue the characters with a warm, winning joie de vivre that's impossible to resist."
The book is available for order in many locations nationwide as well as directly from the publisher at the link below, however, T.J. will do a book signing and Story Time with "Bedtime for Buzzy" on Saturday, July 29th, from 1 to 3pm, at Forever Books in downtown St. Joseph, where they ordinarily carry the book, however if you go today it might not be available because it has been selling well and was briefly out of stock when I talked with owner Robin Allen this afternoon. More are clearly on the way for the book signing, and as with anything she can always order the book or any other book for you and have it within a few short days.