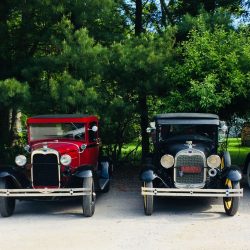 Nearly a decade ago, the people that brought us Skip's Restaurant & Catering of New Buffalo also brought us a half-acre of green space magically transformed into a booming, blossoming, heavily attended European-style Farmers Market, and this weekend will mark the 10th anniversary of that highly successful venture.
It was unknown, unchartered territory in the beginning. There were no expectations and certainly there was no promise of success.
Now, however, it's 2018 and it's been a decade since the Sobecki family, owners of New Buffalo's Skip's Restaurant & Catering, took that leap of faith and transformed a half-acre of grass into a great annual love affair for Harbor Country and all of Michigan's Great Southwest.
This Saturday, May 19th, marks the 10th Anniversary Grand Opening of Skip's European Farmers Market and they tell us they will be celebrating all summer long, beginning with a Ford Model A car show at 10:30am this Saturday. Bob Steinmetz and fellow club members of "A's R Us" will showcase 12 to 15 Model A cars, manufactured from 1928 to 1931. They are truly a must see for both adults and children fascinated with classic cars of our past. This is also Skip's 44th year in business along Red Arrow Highway north of New Buffalo.
Co-owner and market manager, Rhonda Sobecki, tells me that Skip's Market has enjoyed huge success based upon myriad factors.
Rhonda says, "Because our market is privately owned and operated, Skip's Market offers several amenities not found at other publicly managed markets." By way of example she points out, "We offer breakfast with cocktails, beer and wine on our Market Day Patio Café. We are non-stop grilling at our Al Fresco Market Day Café on that half acre of grass," and, she adds with a grin, "We have indoor bathrooms."
Sobecki also says she would be remiss if she didn't give credit to the market's vendors and customers who make the show a success. She says, "Many of our vendors have been with us since the beginning,"  and adds, "They, too, took a leap of faith, and without them, we wouldn't be enjoying the success we have today."
Recalling that first market in 2009, Sobecki says, "It was a sad little market. We had 10 tents, with Skip's comprising two of those eight." However, she notes, "People came and they bought." And, she says, "It didn't take long for word to spread among other market vendors and before we knew it, we were at capacity and had to go back to the planning commission two years later to ask for more vendor spaces."
Skip's Market has evolved over the past decade and now offers anything and everything you could possibly imagine: food, beverages, produce, flowers, plants, herbs, eggs, cheeses, sausages, oils and vinegars, mobile boutique trucks, jewelry, home décor, art, personal body products and natural bug repellants, photography, honey, pure Michigan maple syrup, jams, jellies, pastries, breads, sweets and so much more.
Skip's European Farmers Market is open every Saturday and Sunday from 9 am to 3 pm through October 7th this year. A stroll among the vendors will awaken all your senses and renew your appreciation of all that is sun-ripened and harvested and made by hand.
For more information about Skip's Restaurant & Catering or Skip's European Farmers Market, call 269-469-3341.