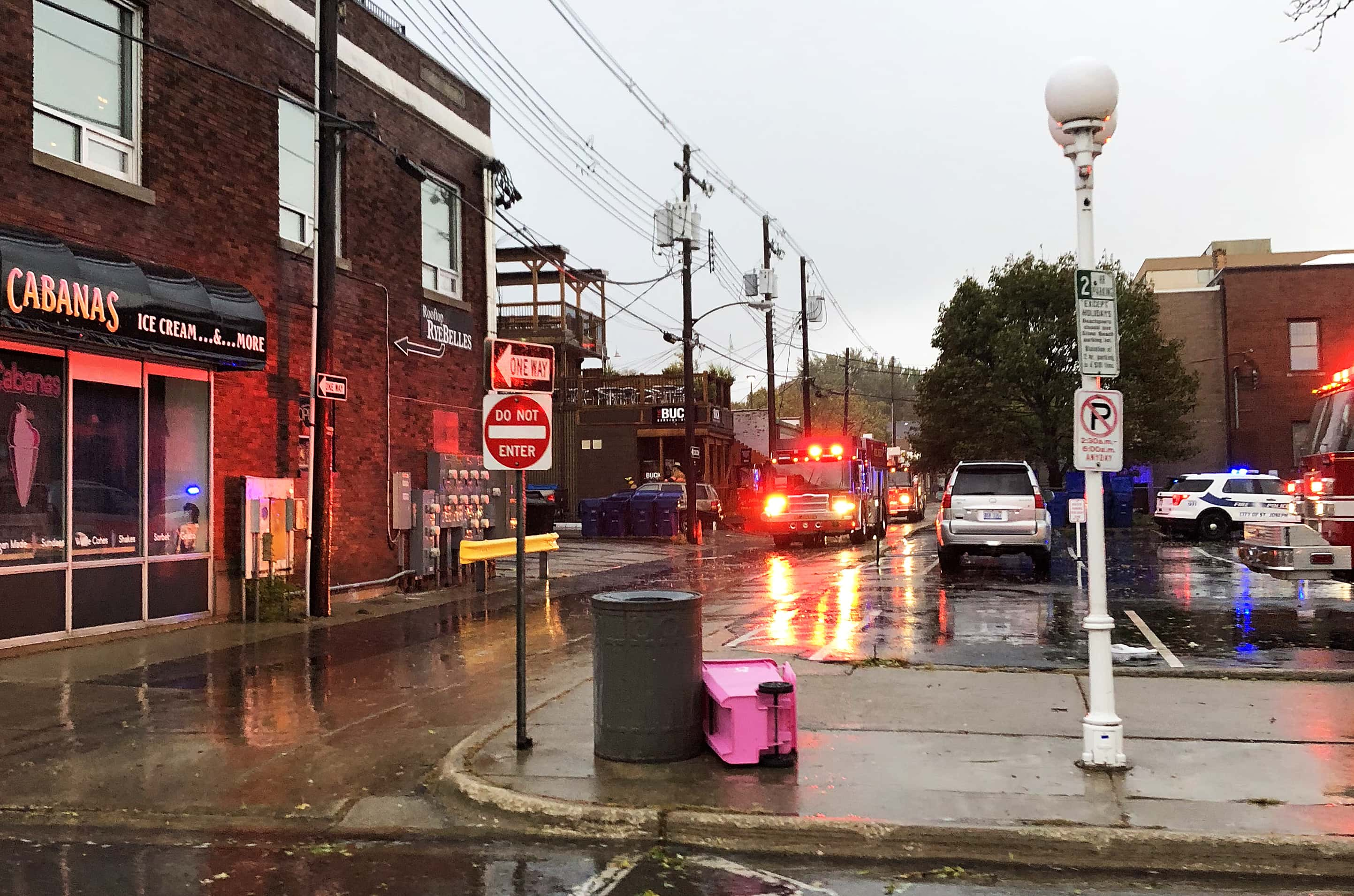 Weather that played havoc all afternoon throughout Southwest Michigan, knocking down tree limbs and power lines and leaving many in the dark, has also led to a popular St. Joe Restaurant being shut down for the night, and perhaps a bit longer.
St. Joseph and Lincoln Township firefighters raced to the scene of The Buck Burgers & Brew at 412 State Street in downtown St. Joseph when the restaurant sustained damage from what appeared to be a downed power line that caused an electrical fire in the wall at the rear of the restaurant near the bathrooms.
Owner Ken Kozminski says that the restaurant and kitchen areas of the restaurant were not damaged in any way by the fire, and nobody was hurt in the incident.
Firefighters extinguished smoldering wood inside the walls in the rear hallway closest to the alley at the rear of the restaurant. All customers were cleared out, and Kozminski says that they will have to be closed for a short period of time while repairs can be made to the hallway and any internal wall damage that occurred.
Crews from Servpro of Berrien County were already on the scene before nightfall working to clear smoke from the building and begin the clean up process necessary before repairs can be made to the building.
Kozminski told Facebook fans of the restaurant that "It is evident that high winds caused the fire." Those winds apparently exacerbated things by knocking down a live wire onto the roof of the building. Kozminski also expressed deep gratitude to the responding firefighters from the St. Joseph Department of Public Safety and Lincoln Township Fire Department who kept the damage to a minimum.
He also thanked patrons for their patience while the restaurant recovers from tonight's incident.
The photo accompanying this story on Moody on the Market is courtesy of Kim Hochstetler of St. Joseph.