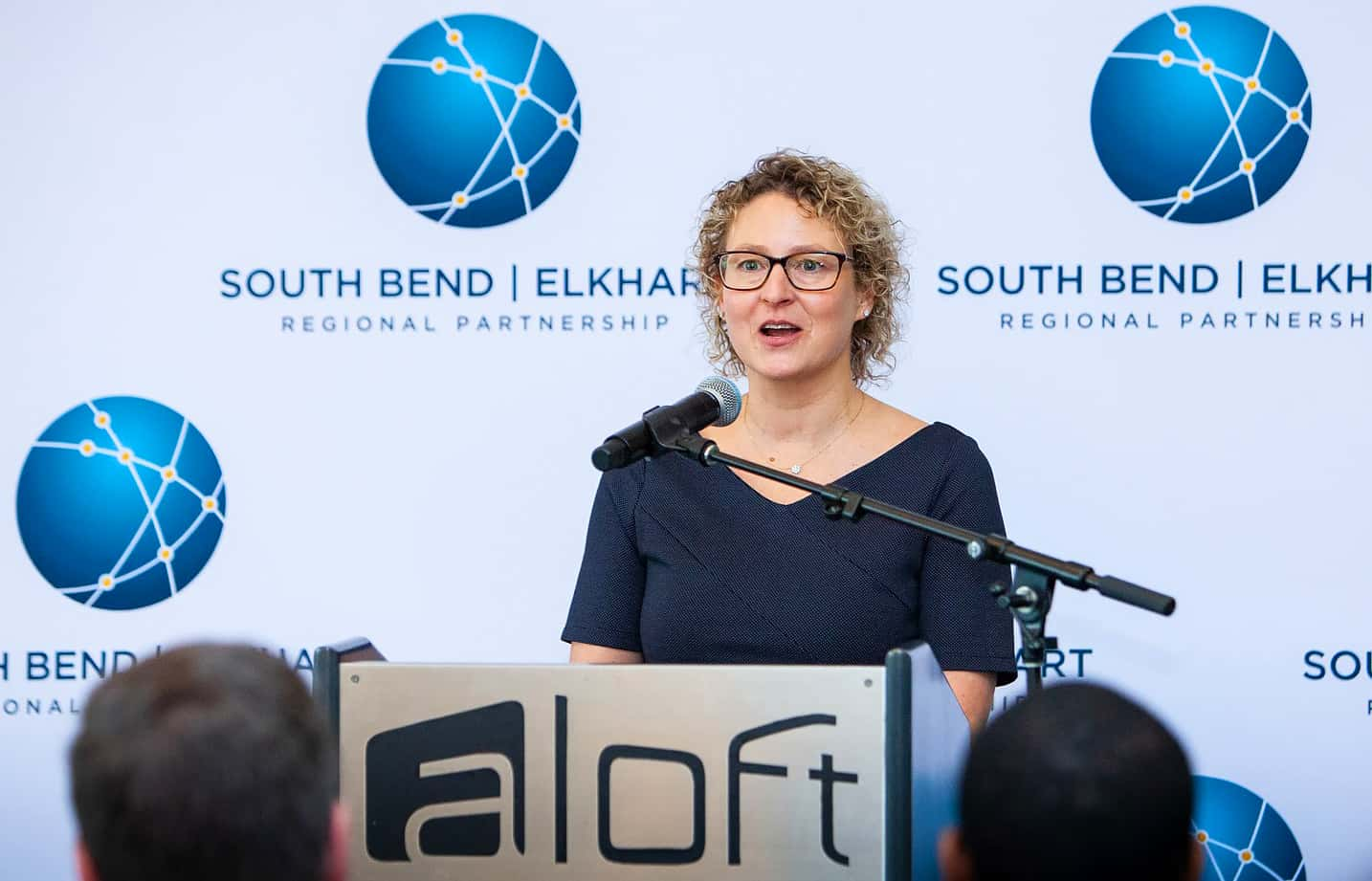 She once plied her trade as a commercial real estate broker across Michigan's Great Southwest and Northern Indiana with the team at CBRE Bradley, but for the past seven and a half years Regina Emberton has been honing her craft as a first-rate economic development professional. Now, she has earned the designation of Certified Economic Developer from the International Economic Development Council.
Emberton has served those seven and a half years at the helm as President & CEO of the South Bend-Elkhart Regional Partnership, and her new designation is a national recognition that denotes a mastery of skills in economic development, professional attainment and a commitment to personal and professional growth. She joins folks like Cornerstone Alliance President Rob Cleveland, and former Cornerstone President Wendy Dant Chesser in that realm.
With seven years of direct economic development experience and having spent over 14 years engaging in a variety of commercial real estate projects, including research, consulting, brokerage, investment and development, Emberton has been a key leader for the South Bend – Elkhart Regional Partnership and the region.
Emberton was instrumental in securing the $42 million Regional Cities Initiative grant for projects which are improving quality of life and she continues to serve as administrator for the Regional Development Authority (RDA) that is responsible for deploying the grant. Emberton was also a key partner working with the University of Notre Dame to secure a $42.4 million LIFT Network grant to develop a collaborative platform connecting industry to the regional academic expertise and capacities in manufacturing, technology, and workforce development.
South Bend Elkhart Regional Partnership Board Chair and Community Foundation of Elkhart County President, Pete McCown says, "We are pleased to announce that Regina has earned the nationally-recognized Certified Economic Developer designation from the International Economic Development Council," adding, "In addition to recognizing Regina's professional accomplishment, the designation brings a high level of credibility to the organization, making the region more effective at developing relationships with site consultants and prospective companies."
The CEcD designation is the premier designation for economic development practitioners, recognizing the culmination of years of professional education, as well as practical experience, and signifies the attainment of the highest level of knowledge and practical ability in the profession. CEcDs are viewed as experts in their field by employers, peers, and professional partners in the public and private sectors.
As highly competent economic development professionals, Certified Economic Developers work with public officials, business leaders and community members to create leadership to build upon and maximize the economic development sector. Excellence in the economic development profession improves the well-being, quality of life and opportunities for individuals, businesses, and communities. There are currently over 1,100 active CEcDs in the United States.
The South Bend – Elkhart Regional Partnership is a collaboration of the economic development partners from 47 smart connected communities in Northern Indiana and Southwest Michigan. The Regional Partnership focuses on a long-term systemic approach to advance the region's economy by aligning the efforts of various stakeholders around five key areas:
Educating a world-class WORKFORCE
Recruiting and retaining great TALENT
Attracting and growing new economy companies in complement to our remarkably strong manufacturing INDUSTRIES
Promoting INCLUSION and sparking opportunities for minorities
Helping ENTREPRENEURS thrive.
The Regional Partnership seeks to unify and collaborate so that together, the communities across the region work together to achieve what cannot be done individually. For more information about the Regional Partnership, visit online at SouthBendElkhart.org.
The photo accompanying this story on Moody on the Market is courtesy of the South Bend-Elkhart Regional Partnership.
On a personal note, my cousin Laura Paulick Moody who is an Economic Development Specialist in Commerce City, Colorado — the Greater Denver area — is a member of the same class as Emberton in earning her CEcD designation this spring.