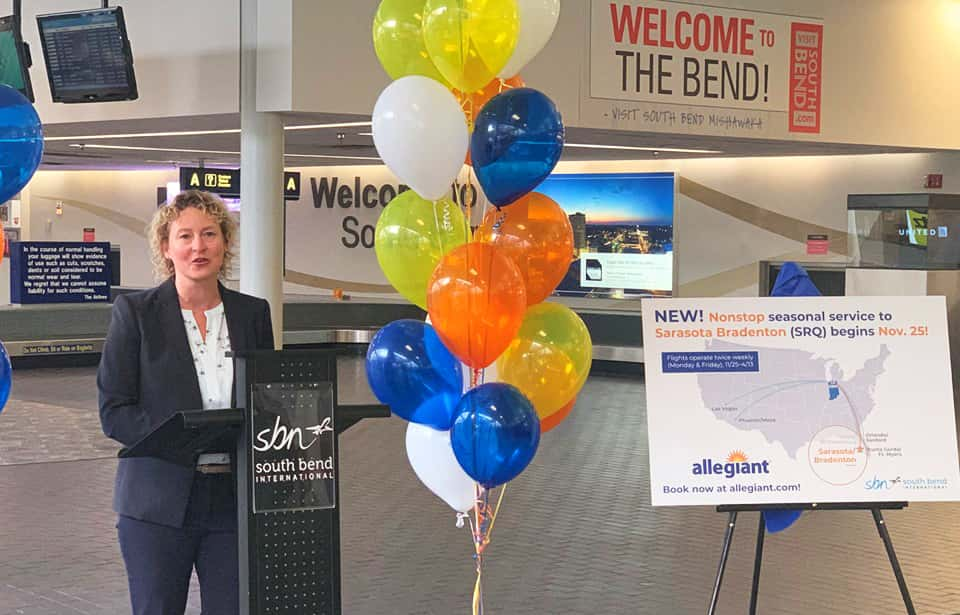 If you want to spend Thanksgiving in Sarasota, Florida this year, you can now catch a direct flight from South Bend International Airport to the Sarasota Bradenton International Airport on Allegiant Airlines with service beginning on Monday, November 25th.
In formal welcoming ceremonies this morning at South Bend International, airport, airline and community officials revealed the new non-stop service which will run twice weekly through April 13th on a seasonable basis, targeting "Snow Birds" and those who want to visit them regularly.
Drew Wells is Allegiant Vice President of Planning & Revenue. He says, "We're very happy to bring this latest, nonstop option for travel to Sarasota/Bradenton to the people of South Bend," adding, "We know area residents will love having our convenient, affordable service to get away to beautiful southwest Florida this winter."
Jeff Rea, President & CEO of the South Bend Regional Chamber of Commerce put a lighter-side spin on the announcement this morning providing several "Fun Facts about Sarasota & South Bend," noting: 
Last year South Bend had 44 days of snow, Sarasota 0.
Average high in SRQ is 81.9 degrees, SBN is 59.1.
Sarasota boasts over 40 miles of beautiful beaches.
Last year, it only got below 32 degrees once in Sarasota. We won't talk about the Polar Vortex that South Bend experienced.
Airport officials ask, "Who is ready to pack their bags???"
If you are among those ready to make the trip, you can purchase tickets today for low introductory fares online at www.allegiant.com.
The new route is the sixth Allegiant market offered out of South Bend. The others include:
Las Vegas, Nevada
Phoenix/Mesa, Arizona
Orlando/Sanford, Florida
Tampa/St. Pete, Florida
Ft.Myers/Punta Gorda, Florida
Regarding that sixth market, South Bend International's CEO & Executive Director Mike Daigle says, "We are thrilled to add the sixth dot to our route map with Allegiant," who notes, "The addition of nonstop flights to Sarasota-Bradenton International Airport from South Bend International during the cold winter/early spring months will allow residents of the greater South Bend region to enjoy fun in the sun with their toes in the sand on any one of the many Sarasota/Bradenton beaches."
Allegiant offers a unique option to South Bend-area travelers with low base fares and savings on rental cars and hotels. As a result, travelers can book their entire vacation with Allegiant for less.
The photo of festivities this morning at SBN is courtesy of the airport's Vice President of Marketing & Air Service Development, Julie Curtis.