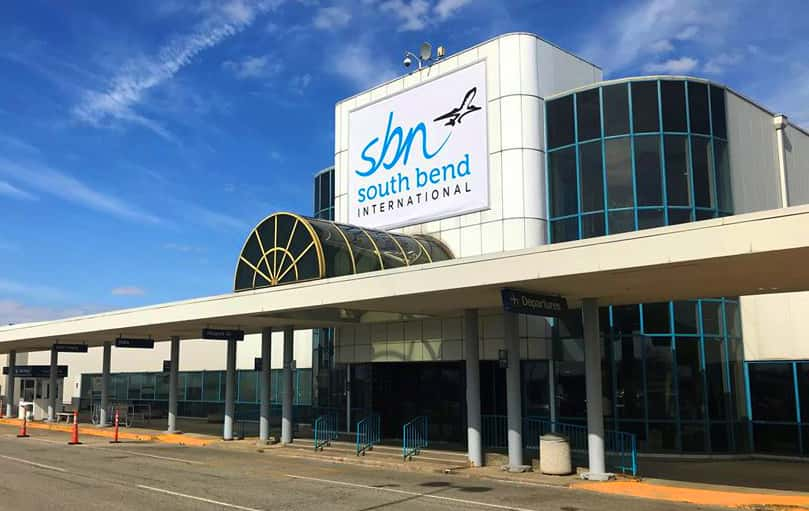 The highly successful return of American Airlines to South Bend and creation of a new federal inspection station are being recognized by South Bend International Airport today in citations delivered to two Partners of the Year for the burgeoning airport.
The St. Joseph County Airport Authority Board of Directors, which operates South Bend International, were scheduled to present two Partner of the Year awards at their board meeting on this morning, Thursday, February 27th in the board room at the airport.
The Partner of the Year award is bestowed to business partners who have made significant accomplishments within the past year that have contributed to the ongoing success and services offered at South Bend International, or simply SBN, as the federal code for the airport designates.
2019 marked American Airlines' first full year of service at SBN carrying over 152,000 passengers. With daily nonstop service to Dallas/Fort Worth International Airport and Charlotte Douglas International Airport, and connections beyond, American Airlines has connected the region in a way that has generated substantial economic growth. Accepting the award on behalf of American Airlines was Bill Buchholz, Manager Corporate Real Estate for the airline.
Also cited today is the U.S. Customs and Border Protection (CBP), which demonstrated collaboration and partnership when federal, state, and local officials celebrated the opening of SBN's Federal Inspection Station with the arrival of the Liverpool Football Club nonstop from Manchester, England in July. The opening of Indiana's first and only Global Entry Enrollment Center has surpassed expectations. Due to high demand, Global Entry Enrollment appointments fill up as quickly as they are released. Accepting on behalf of U.S. CBP today was Watch Commander Brian Bell and Officer Matthew Lankford.
Mike Daigle, CEO & Executive Director at South Bend International, says, "The commitment these two organizations have displayed in enhancing our region's connectivity is commendable," and adds, "Anytime there is an enhancement in our ability to serve the traveling public and community, recognition needs to be given."
South Bend International Airport's four air carriers provide nonstop flights to thirteen cities:  Atlanta, Charlotte, Chicago, Dallas/Fort Worth, Detroit, Fort Myers/Punta Gorda, Las Vegas, Minneapolis, New York City/Newark, Orlando/Sanford, Phoenix/Mesa, Sarasota/Bradenton, and Tampa Bay/St. Petersburg with connections world-wide.
South Bend International's multi-modal terminal serves over one million air, rail and bus passengers each year. According to the 2012 Economic Impact Report from the state aviation association, Aviation Indiana, South Bend International's total annual economic impact on South Bend and surrounding communities was in excess of $1.7 billion.
For additional information, go online to www.FlySBN.com or get social with SBN on Facebook (www.facebook.com/FlySBN), Twitter (@SBNairport) or Instagram (@SBNairport) to stay informed about the airport and the carriers that serve the South Bend region, including Michigan's Great Southwest.
The photo accompanying this story on Moody on the Market is courtesy of South Bend International Airport.