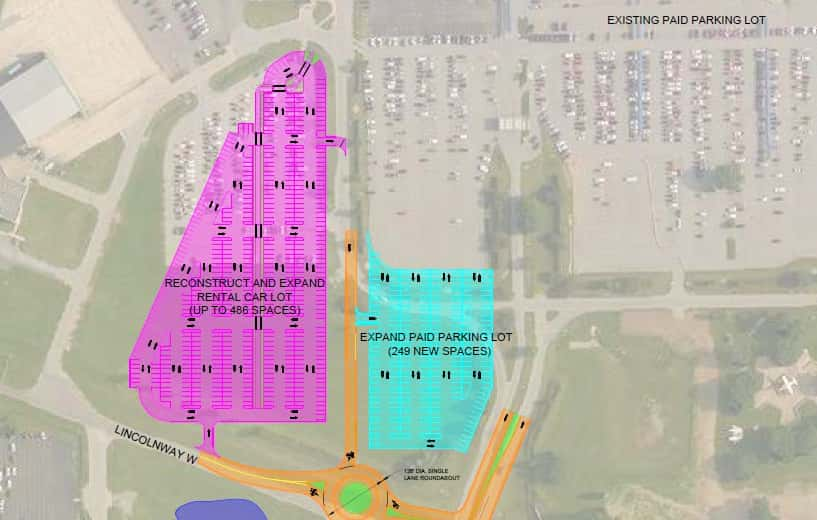 If you've been anywhere near South Bend International Airport — SBN — in recent days, you've undoubtedly seen construction underway both inside and out at the terminal thanks to a pair of major construction and improvement projects recently begun.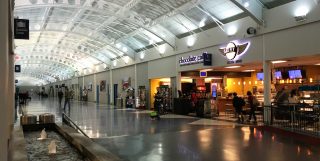 As you enter the front drive at the airport, you will notice construction crews working on the southwest corner. Phase one of the parking lot expansion project is scheduled for completion just before Thanksgiving. That project includes 249 new parking spaces in the long-term parking lot along with rerouting Progress Drive. That includes the addition of a traffic circle just north of the La Quinta Inn & Suites by Wyndham South Bend at Old Lincolnway West. The west side entrance to the long-term lot will be relocated south, while the parking lot exit will remain unchanged.
Additional signage, security cameras, lighting, and new emergency call boxes will be installed within the parking lot.
Phase Two of the project will commence in the spring of 2020 which includes reconstruction and expansion of the rental car lot. That lot will more than double from the current 220 spaces to 486 spaces.
Mead & Hunt and Performance Services, Inc. serve as engineers while Walsh & Kelly, Inc., EnergyWare, and Burkhart Sign Systems are serving as contractors for Phase One of the project.
SBN's Executive Director, Mike Daigle, says, "We are on track to serve more than 800,000 air passengers this year," and adds, "Because more and more business and leisure travelers are choosing to fly from South Bend, the airlines have responded by adding additional seats and a new route. We've been closely monitoring parking capacity and due to this growth, we have had to accelerate the timeline to begin and complete this project prior to the busy Thanksgiving travel holiday."
Inside the terminal, visitors will soon be treated to a smoother ride as they roll their carry-on luggage to the security checkpoint. The tile floor from the atrium just east of the Delta Air Lines ticket counter through baggage claim will be replaced with terrazzo thanks to a grant from Visit South Bend Mishawaka. Earlier this year, South Bend International applied for and was awarded $138,500 from the St. Joseph County Tourism Capital Development Fund. That grant allowed the airport to expedite a major portion of the public facilities plan.
Mishawaka-based Gibson-Lewis, LLC is the contractor while South Bend-based Creative Design Solutions is the architect on the flooring project.
Daigle reminds us, "SBN serves as the first and last impression for many visitors to St. Joseph County," and adds, "The support from the St. Joseph County Tourism Capital Development Fund has allowed us to expedite the improved aesthetics and user experience leading to first-class amenities for all visitors. These funds were the impetus to our decision to make an even larger impact by replacing the old, broken tiled flooring in the terminal with terrazzo."
South Bend International Airport's four air carriers provide nonstop flights to thirteen cities:  Atlanta, Charlotte, Chicago, Dallas/Fort Worth, Detroit, Fort Myers/Punta Gorda, Las Vegas, Minneapolis, New York City/Newark, Orlando/Sanford, Phoenix/Mesa, Sarasota/Bradenton and Tampa Bay/St. Petersburg with connections worldwide. South Bend International's multi-modal terminal serves over one million air, rail and bus passengers each year. According to the 2012 Economic Impact Report from the Aviation Authority of Indiana, South Bend International's total annual economic impact on South Bend and surrounding communities was in excess of $1.7 billion.
For additional information, please visit online at the link below, or get social with SBN on Facebook (www.facebook.com/FlySBN), Twitter (@SBNairport) or Instagram (@SBNairport) to stay informed about the airport and the carriers that serve the South Bend region. Here's the direct link: