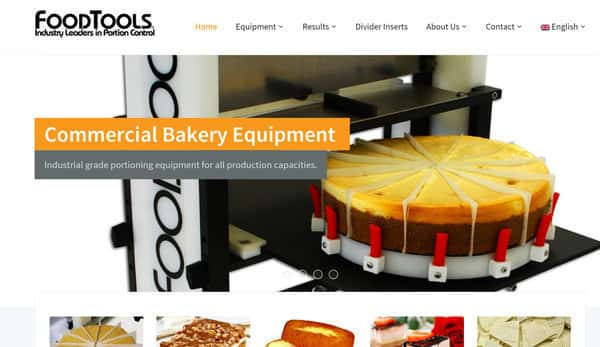 A dynamic South Haven manufacturing company providing cutting edge technology to the food service industry has rolled out a new website designed to help its customers find what their looking for more easily through streamlined showcasing by industry sector the technologies they have available. The company is FoodTools, which is headquartered in Santa Barbara, California, but has a major production facility, FoodTools Central on Veterans Drive near the South Haven Campus of Lake Michigan College.
The story behind FoodTools is intriguing. It was all started when a baker and an inventor first collaborated in 1983 after discovering a unique opportunity. The baker, it seems, was having problems cutting cakes and inserting pieces of paper between the slices in a bid to make the resulting product look professional. The inventor was full of ideas, according to the FoodTools website, and together they envisioned a machine and then built it. The first FoodTools machine was an electric machine that could cut a cake into evenly spaced portions and deposit a divider insert between the slices.
Later that same year, a businessman joined the team with his marketing experience and a focus on business to help boost corporate sales.
FoodTools launched with a focus on slicing round cakes, and holds several patents including a patent for their system which mechanically slices and deposits the divider insert, as well as the mechanical system to automatically index and turn the cake from slice to slice while cutting. It wasn't long before they outgrew the round cake cutting market and as they acquired more experienced employees, they began inventing machines to cut sheet cakes, breads, cheeses, and even horizontal layers and more.
While the company still operates a manufacturing, sales and service facility out of Santa Barbara, they have created several offices around the world including the production floor, sales staff and service technicians in South Haven which covers the eastern end of North America.
Now serving not only the baking industry, but also food processors and dairy companies, the streamlined new website is, as FoodTools President & CEO, Martin Grano says, "The go-to place for everyone from small start-up bakeries to large industrial food production facilities." Granco says, "The website is organized by type of food product, just click on your food product, and the website will show which machines will improve the quality, consistency and efficiency of your production line."
One important advancement of the FoodTools website was the need to bring it into the current realm of being mobile friendly. Doug Petrovich is Vice President at FoodTools. He says, "One-third of our website visitors are coming to FoodTools.com from mobile devices." He adds, "We knew that with the change in technology, the FoodTools website needed to be redesigned to be easily viewed on mobile screens."
The company also added a new product Blog addressing issues from innovative advancements and industry news to best practices and more. The company plans to showcase its lineup at the BakingTech 2016 industry trade show in Chicago which gets underway late next week.