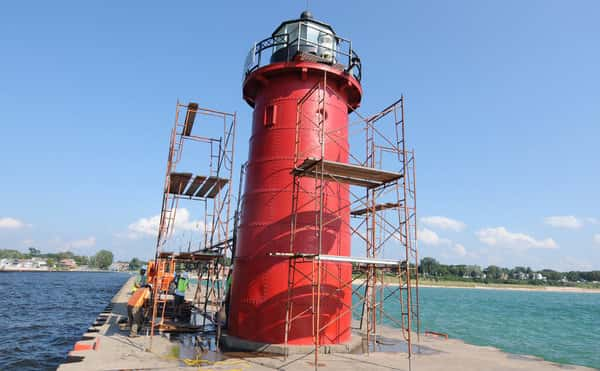 Barely hours after the last Labor Day beachcombers reluctantly departed the beaches of South Haven, work crews launched the task of prepping the iconic red South Haven lighthouse for its coming plastic shroud to allow exterior restoration work on the decades old beacon.
Work began early today with the installation of scaffolding all around the red tower, and by the end of the week, the lighthouse will be completely wrapped in plastic to allow the work to proceed uninterrupted by fall wind, weather and waves along the pier. Sandblasting and painting will take place behind the plastic shield which will likely take at least five weeks, weather permitting.
As a result, as was the months-long rehabilitation project at St. Joseph's historic North Pier Lighthouse, South Haven's South Pier, home to the lighthouse, will be closed to the public. All access to the pier by residents and visitors is prohibited during the work schedule.
Boaters should also take note that during this phase of the work the National Oceanic and Atmospheric Association devices normally affixed to the top of the lighthouse to gather critical data have been removed.
The interior restoration of the 114-year old lighthouse at the mouth of the Black River channel was completed earlier this summer.
The $300,000 project was made possible through a fund raising initiative by the Historical Association of South Haven, which maintains the lighthouse.
The photo accompanying this story on Moody on the Market.com was provided by Tom Renner of that association.