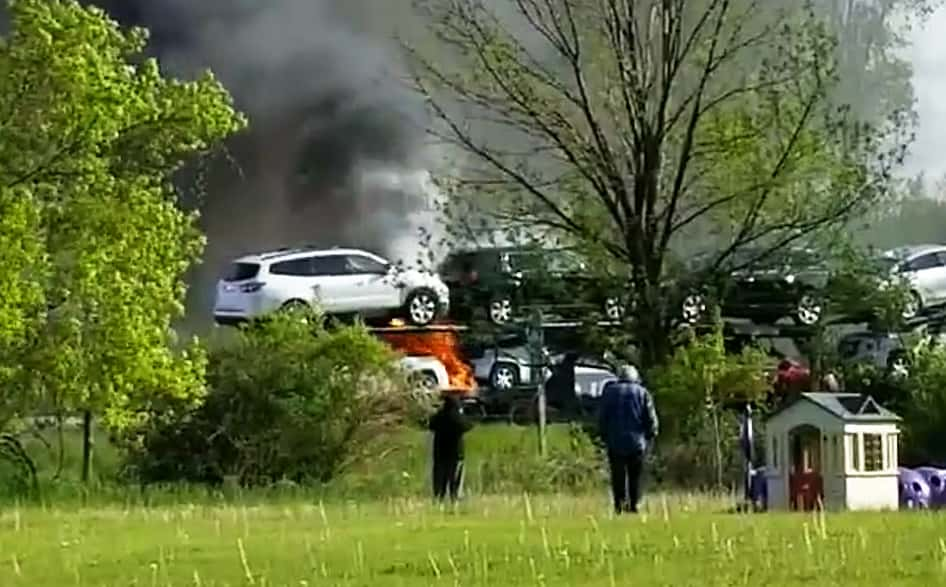 A car carrier hauling 10 vehicles on Westbound I-94 this evening snarled traffic for several hours as fire erupted on board the carrier destroying a number of the vehicles in the process.
Heather Vitale, a Teacher Assistant at Great Lakes Montessori, was an eyewitness to the aftermath and reached out on Facebook to warn travelers to avoid the Westbound Interstate between Napier and the Niles Avenue exit for all who could avoid it.
She posted, "A semi carrying a load of 10 cars on the back is on fire! 2 of the cars engines have blown and are completely destroyed. Happened right in front of my work off the highway. So scary hearing the engines blow like that! Highway was at a complete stand still and but is slowly starting to move again. They are still trying to put it completely out!" She posted a short video shot with her cellphone, and the image you see here on Moody on the Market is from that brief video which showed flames and billowing smoke which turned voluminous and black as several of the vehicles were consumed with firefighters worked to get the stubborn blaze knocked down.
There was no immediate indication as to what caused the fire to break out.
I reached out to Heather and she gave me this detail on what she saw: "I walked out of work right at 6:00pm and I noticed the truck pull over at 6:05pm when it started. I had just gotten into my car at the Blue Roof Church right off the highway. Patrons driving behind the truck immediately stopped traffic and blocked the road and got out and were trying to help the driver. The driver was trying to spray a small fire extinguisher into the very back bottom car where it started. Firemen and emergency medical were both on the scene."
Perhaps the most frightening part, as she posted on Facebook, was the engines exploding, telling me, "Also, you could hear the engines blow on two of the vehicles which sounded like a transformer blowing. Very scary!"
For several hours the entire Westbound traffic was halted, but traffic was beginning to move slowly past the wreckage as crews continued to work the scene of the accident. There were no reported injuries in the incident that have been reported at this time.