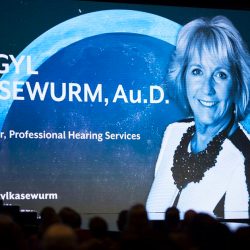 If you found yourself in Las Vegas over the last week and happened to walk by a convention hall at The Cosmopolitan you weren't just imagining that you saw a massive video wall filled with the image of Dr. Gyl Kasewurm of St. Joseph. That really happened, as the photo accompanying this story on Moody on the Market.com clearly shows.
Dr. Gyl Kasewurm, is not only a local audiologist, but is also a renowned lecturer in her field. She was recently invited to be a keynote speaker at the Hearing Innovation Expo in Las Vegas, where she addressed more than 3,200 enthusiastic professionals from around the world about the courage to be outrageous in the areas of the patient experience and service.
Dr. Kasewurm's Professional Hearing Services office in the Edgewater District of St Joseph is recognized as a standout and she is often invited to meetings to share her unique vision with other hearing healthcare professionals. Her commitment to providing a unique and exceptional patient experience has been lauded as the benchmark for practices across the country.
The professionals who attended The Expo had the privilege of listening to and learning from some of the most influential and successful speakers in the world today including TV personality Michael Strahan, who spoke about waking up happy and Michio Kaku, a Japanese American theoretical physicist, futurist, and popularizer of science.
After Dr. Kasewurm took the stage, a former executive of Tesla Motors, The Gap, and Apple Computer, George Blankenship, spoke on redefining the customer experience, the importance of customer loyalty and honed corporate values. The day then came full circle with renowned entrepreneur and investor, and longtime friend of Starkey Hearing, Daymond John.  A paragon of change and innovation, John fired up attendees with a passionate talk on how to find success using his Shark techniques.
Attendees also had the privilege of hearing Dr. Condoleezza Rice who delivered a thoughtful speech on current national matters and opportunities in the world today. Rice told industry professionals, "This is the most amazing technological time," adding, "Giving the possibility for someone to hear, you are accessing the power of technology, and it's only going to get better."
After three days filled with an amazing array of speakers, the main stage finale was a special dignitary panel, led by Starkey Hearing Technologies President Brandon Sawalich, with President George W. Bush, 43rd President of the United States, and Tony Blair, Former Prime Minister of the United Kingdom and Northern Ireland.
Kasewurm noted that a highlight of the meeting was getting a glimpse into new hearing aids with revolutionary technology that will be available in early February.  She promises that her Professional Hearing Services practice will be the first in the area to offer that technology.
To learn more about Dr. Kasewurm's Professional Hearing Services, you can visit online at www.prohear.net.