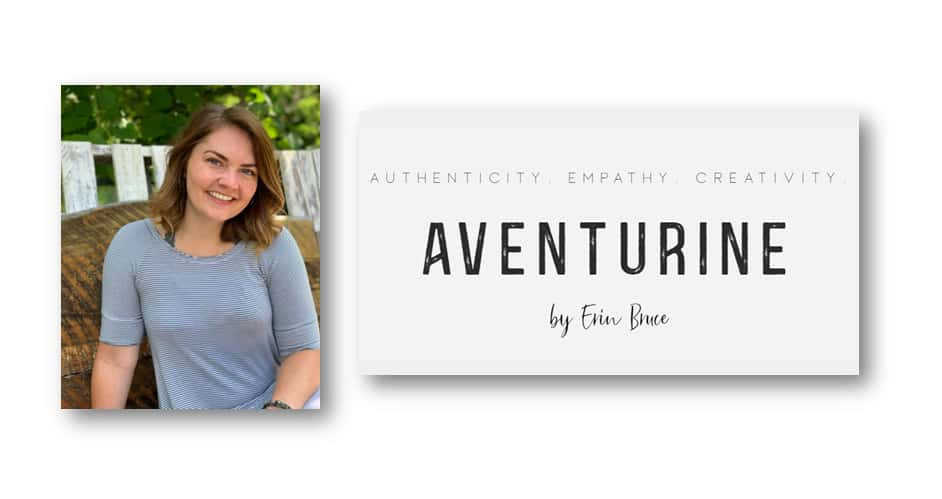 There's a new social media management star in the online universe and she hails from Michigan's Great Southwest. Her name is Erin Bruce. She's a St. Joseph native bursting into the online world with her new freelance marketing company, Aventurine.
Erin emerges onto the scene with her newly minted Bachelor's Degree in Strategic Communication at the University of Missouri School of Journalism, and a flair for making connections.
She brings to the Internet five years of experience in content creation and social media management. She says, "I currently work for clients in Southwest Michigan and the Chicago suburbs," and openly admits, "My favorite part about being a freelancer is that I get to be a jack of all trades. I'm not stuck in one role. I can be a web designer one day and a blogger the next."
She broke the news of her new venture on — of course — Facebook last week, telling friends and colleagues she is stoked to share the news of her official launch of Aventurine, and inviting them to check out her new website, ideally on a desktop or laptop device for best display. You can check it out, too, at the link provided at the end of this story.
Erin tells me, "I'm most passionate about social media as a platform for human connection. I give brands a personality and a voice through content with a strategic mission. I love working with small businesses and find so much joy in celebrating their successes."
She tells visitors online, "I'm an independent marketing maven with an affinity for clever quips and scintillating solutions. I'm passionate about all things coffee, carbohydrates, and creativity," and adds, "I deliver authentic, hand-crafted creative ideas and executions rooted in strategy and empathy. Together, we'll conceptualize brilliant ideas and transform them into tangible and intangible realities that reflect the essence of your brand. Let's make something together."
When I reached out to Erin about her new platform, she said, "I find a lot of my inspiration in nature and I love to design with earthy tones, as you can see from some of my work."
She expands upon that on the homepage of her site, saying, "I draw much of my inspiration from nature, so I wanted to name my business after something natural that I feel encompasses my personality and outlook on life. I landed on a beautiful aqua-colored stone called Aventurine, (pronounced uh-ven-chuh-reen) which is used to nourish the heart chakra and promote a positive, easy-going, compassionate attitude toward life. The stone's balancing qualities have the power to stimulate the mind, creativity, motivation, and independence, which are all extremely important to me as a freelancer. I hope to live and work in a way that does the name justice."
Erin's focus lies in three key areas:
Digital Marketing — Where she says, "My digital marketing services cover anything from social media content creation and channel management to Email marketing and engagement strategies. I charge a flat rate per month for the total package, or you can customize your package with just the services you need. The reason I charge a flat rate is to eliminate any surprises at the end of the month when invoices come around."
Web Design + Branding — As she explains, "Whether you're building from scratch or looking to improve upon your current website, my expertise in visual and verbal brand storytelling and search engine optimization can transform your website into a modern masterpiece that reflects the essence of your brand. My preferred software is Wix, but I am also familiar with WordPress, Squarespace, Shopify and GoDaddy.
Consulting — As she explains, "Social media marketing can be intimidating. You may be asking yourself, 'Where do I begin? Is it even worth it? How do I get people from the screen to the store?' I'll sit down with you over coffee or a call to go over all of your questions and offer you my insight and some helpful tips for success on social media and beyond.
Her Aventurine website is being enhanced daily with new material, work examples and other fun things she's had a hand in creating. She's looking forward to a great adventure with the new site, and says, "I am currently accepting project-based and ongoing clients at an affordable rate — no 'nickel and diming' —  just good quality content at a fair price."
One of the responses to her Facebook revelation was her client, Kelly Arent from Urban Garage Market in downtown Benton Harbor, who said, "Erin does amazing work….takes the social media/marketing stress out of a small business owner! Super creative and oodles of fun to work with."
If you're interested in utilizing her services, you can reach Erin Bruce at the online address below, where every page on the site concludes with a "Drop me a line" invitation, allowing you to send her a message seeking her expertise or the answers to your questions about her services. Here's the link: