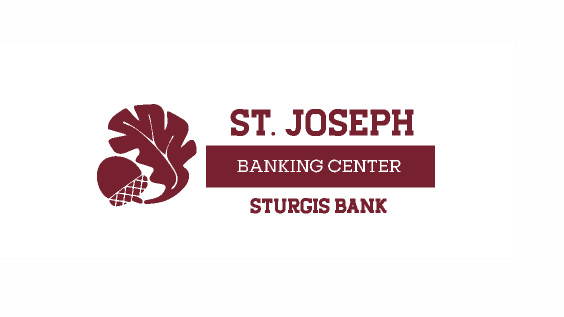 Just two years ago, Sturgis Bank & Trust made its first entry into the St. Joseph marketplace, establishing a mortgage loan office in the heart of the central business district. By last summer they were ready to bring a full banking center to the community, and now, in the Spring of 2021 the bank will have a team of 13 people in two locations for the St. Joseph Banking Center of Sturgis Bank and that well-rounded crew is loving every minute of it. They were so enamored with being a part of the business community in Michigan's Great Southwest that they became one of the sponsors of the Moody on the Market 20 Best Places to Work, and after they were nominated to actually be one of those 20 Best Places to Work, here they are in the winner's circle. Employing the Super Powers of Super Speed and the Ability to Read Minds of their customers, the St. Joe team is making a mark in very short order. The institution always puts their people first and afford them the dexterity to wear multiple hats to assure that the customer is afforded first-rate customer service at every turn. Read on for more of the great story that has developed in our region by a rising star on the community banking front thanks to the arrival of the St. Joseph Banking Center of Sturgis Bank.
What is the name of the business you are nominating?
St Joseph Banking Center of Sturgis Bank
Who are the owner(s) and/or principals in this company?
We are owned by shareholders and controlled by a board of directors.
Business Contact Information
Sturgis Bank
320 Main St., St. Joseph, MI 49085
How many people work at the company you are nominating?
150
Tell us the story behind the nominated company. What does it do, and what sets them apart from other companies in the region?
We are a community bank. We care about our customers and communities. Sturgis Bank is set apart from other companies because they treat their employees like family which in turn encourages the employees to give great memorable customer service.
In your own words, why do you think this company deserves to be declared to be one of the 20 Best Places to Work in Michigan's Great Southwest?
The leadership at Sturgis Bank is always available to any employee. This makes the employees feel confident even when they have a tough situation and it also allows to assist any customer.
What makes workers proud to say they work there, and keeps them a part of the team?
Employees at Sturgis Bank are proud because the entire company is one team and we are all working towards the same goal to be the place where our communities can come for any type of assistance.
Let's pretend you're writing a review for Yelp! or Trip Advisor. Give us your best recommendation for the nominated company that would make the rest of us wish we worked there, too.
A normal day working at Sturgis Bank feels like home. You will find yourself having fun, laughing and being able to be a part of a team that is focused on our community and customers. Our mission is to Let's Grow Home.
What three key words best describe why this company is a Best Places to Work caliber company?
Motivating 2. Engaging 3. Innovative
As a Best Places to Work company "Super Hero," what are the two most magical "Super Powers" this company seems to have on a day-to-day basis? (i.e., Ability to read minds, fly, invisibility, etc) And why?
Super Power One: Super Speed – Sturgis Bank has super speed because as we work as a team, if one line of banking becomes busy, we are all capable to taking on more responsibility so the job is done quickly and accurately.
Super Power Two: Ability to read minds – We focus on training here at Sturgis Bank and that allows us to have an extremely strong team. Some customers might say that we can read their minds when we are proactively reaching out to them prior to them having to contact us.
Tell us about the leadership of the nominated company and what they do in order to:
A] Keep spirits and motivation high? Each day our VP IT Officer sends 2 messages to the entire team. One is a funny image and one is a message that is focused on giving great customer service or being a great teammate etc.
B] Keep innovation and fresh ideas advancing? As we are growing we have had a couple of customers mention that they would like to utilize a banking service that we did not have. Within 3 months, we put an action team together, tested and trained our team on that new service.
C] Keep communications open? Our Senior Officers regularly visit each location (Phone or Virtually). They are approachable to answering any questions or hearing any ideas that might make our company better.
Explain a specific "wow!" moment in this company's history that is virtually "Hall of Fame" or "Best Practices" worthy, as an example to other companies in the region.
In 2019 Sturgis Bank decided to bring a community bank to the St. Joseph area. As we started with a Mortgage loan officer, by summer of 2020 we were ready to bring a full banking center to St. Joseph. Now in Spring of 2021 we will have a team of 13 in 2 locations for the St Joseph Banking Center of Sturgis Bank to service all of Southwest Michigan.
Best Places to Work have a reputation for not only working hard, but also for playing hard.
A] How does the nominated company honor or reward success? Each month we nominate an employee or team that did an extraordinary job and their picture and certificate are posted on our internal website.
B] How does the nominated company socialize as a team? Prior to COVID-19 we would have events that employees can join and get to know their other co-workers. In 2020 we focused on having regular Zoom meetings to engage in employee relationship building.
C] How does the nominated company get involved in community events? We are proud to be able to donate or volunteer in our community. Each month we have a jeans day and one location gets to choose the organization that they would like to proceeds of the jeans day to go to.
D] How does the nominated company celebrate life? We have a Compassion Committee that is focused on knowing when life events happen for an employee and they are able to celebrate the employee with gifts.
Write a brief, but compelling, recruitment ad telling people about why they should come and work there, too.
As an employee at Sturgis Bank, you will feel valued. You will meet in person each Senior Officer and will be able to speak with them at any time. We have a family atmosphere and truly love what we do.
What one thing is special about your nominated company that most people in the community have no idea actually happens there, but should be shouted from the rooftops because it's that cool?
At Sturgis Bank we have departments but we put people first. As you work here you will find that each employee wears MULTIPLE hats and that is really cool for any employee who wants to grow and learn.
Give us three employee perks or benefits that you think make the company you have nominated worthy of a Best Places to Work trophy?
Sturgis Bank contributes to each employee's retirement
Affordable Health Care
Paid Time off
If this is your company and you win, write the best headline ever for your company newsletter describing your successful selection to the list, and be as specific as you can about how you would celebrate the win if money were no object.
We knew it, but now the world does. St Joseph Banking Center of Sturgis Bank is one of the best places to work in SWMI.
Tell us anything else you want about this company that you suddenly realize we haven't asked you about, but you're sure will be the thing that puts you squarely into the winner's circle! (Wait a minute! Can you put a square in a circle?)
At Sturgis Bank we are local employees with local decision making to help our local communities.