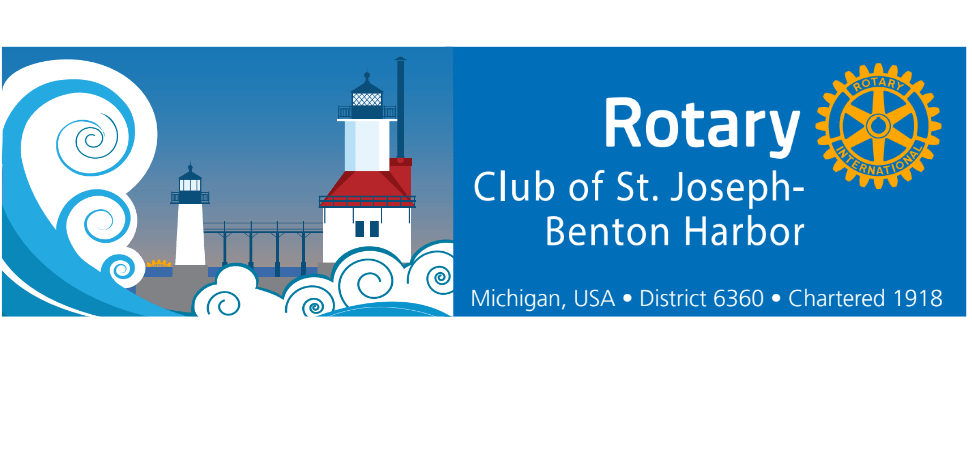 The St. Joseph-Benton Harbor Rotary Club Foundation is now accepting grant applications for 2019.
This year, a total of $60,000 will be awarded by the St. Joseph-Benton Harbor Rotary Club Foundation Board of Directors. The application deadline is September 20 and the grant application form and all the details can be found by clicking here.
Grant requests must be for a minimum of $5,000 and must be submitted by a 501(c)(3) nonprofit organization or governmental unit within the St. Joseph-Benton Harbor area. Emphasis is given for efforts that seek to provide better opportunities for youth and special needs populations. Requests for sectarian religious projects and programs, national fundraising efforts, political organizations or funds for program deficits or previously incurred obligations are ineligible.
Applications must either be mailed on or before September 20, and sent to PO Box 143, St. Joseph, MI 49085-0143. Applications can also be hand-delivered to Edgewater Bank at 321 Main Street in St. Joseph, MI by 5:30 p.m. on September 20. Late applications will not be eligible for consideration.
The St. Joseph-Benton Harbor Rotary Club Foundation has awarded more than $891,000 in grants to area causes since 1980. The recipients from 2018 include:
Berrien-Cass-Van Buren Workforce Development Board, Inc. (Kinexus) – $7,500 to make improvements to the YouthBuild training facility to accommodate training for at-risk youth from Benton Harbor.
Berrien County Council for children – $10,000 to purchase new sound equipment for their multi-disciplinary team at the Children's Advocacy Center to aid in the investigation process for reported cases of child abuse.
Boys & Girls Club of  Benton Harbor – $10,000 for Be There, a social-emotional program to provide youth between the ages of 6-18 years with a comprehensive approach to building adult and peer supportive relationships, coping skills and techniques to deal with grief, bereavement and trauma-induced behavior.
Cornerstone Alliance – $3,250 for tools and supplies to equip hands-on stations at the 2019 Mini Maker Faire, including learn-to-solder kits, materials for rocket launching, items for "Nerdy Derby," and other interactive crafting and making stations.
Hillsdale CASA operating in Berrien County – $7,750 to recruit, train and provide ongoing staff support for 7-10 new CASA volunteers who will advocate on behalf of 20-30 additional foster children in Berrien County so that their best interests are served while in foster care and that they achieve permanency as soon as legally possible.
Logan Community Resources, Inc. – $5,000 for community outreach expansion for teens and young adults on the Autism Spectrum, with classes at Krasl, Martin's Cooking School and a sports site, as well as outdoor items to allow for therapy and classes with nature.
St. Joseph-Lincoln Senior Center – $10,000 to aid in purchasing a wheelchair accessible van to streamline and add to their existing transportation program.
The Bark Angels, Inc. – $2,500 for the Pups Need Gear project to replace and update old training equipment.
YMCA of Southwest Michigan – $5,000 for the Just for You project to allow the Y to expand its special needs fitness programs for youth in our community with unique physical and mental barriers.
The mission of the St. Joseph-Benton Harbor Rotary Club Foundation is to improve lives in the St. Joseph-Benton Harbor community by supporting that focus on, improvement of health, support of education, economic and community development and Rotary International initiatives that have local impact
The resources of the St. Joseph-Benton Harbor Rotary Club Foundation come from gifts made by Rotarians and other individuals, families, businesses and local organizations. A volunteer Board of Directors from the club set policy and approve all grants.