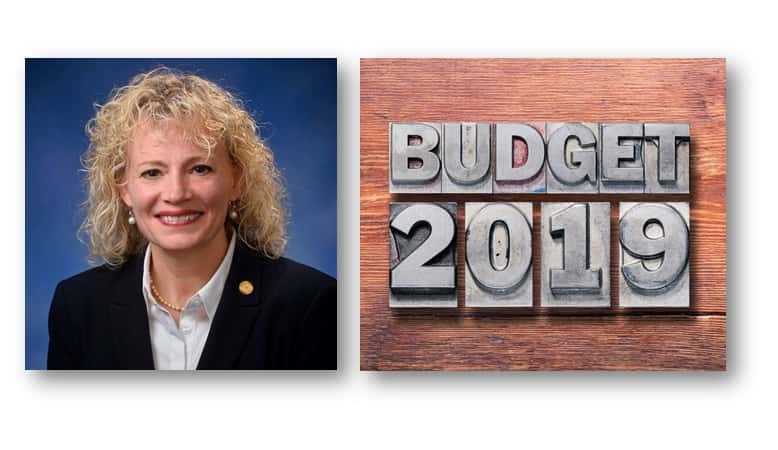 As the state budget battle ensues in Lansing, Mattawan State Rep. Beth Griffin says she and her colleagues have proposed a spending blue print that not only provides more money for schools and more money for roads, but it also does it without massive tax hikes and would cost more than one-and-a-quarter-billion-dollars less than the budget proposed by Gov. Gretchen Whitmer.
Additionally, Griffin says the proposed House savings and efficiencies would actually hold state government accountable.
Griffin says her side of the Michigan Legislature this week supported record funding for southwest Michigan road repairs and schools, and does so without relying on tax hikes, telling us, "This is what listening and leading can accomplish when government looks for smart solutions to big challenges."
The Mattawan Republican adds, "I've heard many of our residents say that a significant step toward better roads would be making sure all gas taxes go toward repairs. That's exactly what this plan does, while providing another increase in K-12 school funding as well. I will fight for this plan as the budget process continues."
She tells us the House approved several budget measures this week, advancing the plan to the Senate for further consideration.
Here are key elements of the State House budget plan:
Roads. The plan ensures taxes paid at the gas pump go to improve our roads – including the 6-percent sales tax drivers already pay. This change could add more than $800-million additional dollars per year to road repairs – without raising taxes – once fully phased-in over two years. This change would be accomplished without sacrificing money for schools, local government revenue sharing or other essential public services.
Schools. The plan raises the state's minimum per-pupil foundation allowance by $180 per student, which is the same amount as recommended by Gov. Whitmer and includes the vast majority of school districts in Van Buren and Kalamazoo counties. All districts statewide would get at least $90 more per student under the House plan. That comes on top of the largest annual per-student increase of the past 15 years – which schools are receiving in the current budget year – while continuing to close the gap between the state's lowest- and highest-funded districts. Early literacy and career training are special focuses in the overall school aid fund surpassing $15 billion. Griffin, a former teacher, says, "Bright futures depend on providing students with the skills they need to succeed," adding, "This plan will help all students, whether they plan to attend college or enter the workforce immediately after high school."
Strengthening communities and families. More resources will be dedicated to promote mental health and fight opioid addiction. The plan continues the escalating fight against PFAS to protect drinking water systems. Local communities will get an increase in revenue sharing to enhance essential public services. More Michigan State Police troopers and state prison corrections officers will be trained.
Respecting taxpayers through government efficiencies. Many state departments are being asked to find a savings of 3-percent in their administrative budgets. The House also has identified several state programs that do not spend as much money as taxpayers have been providing, so their budgets will be adjusted accordingly. The plan also helps rein in information technology project spending within state departments, which has been a problem area.
The House budget plan costs taxpayers about $1.3 billion less than the plan recommended by the governor. Stay tuned.