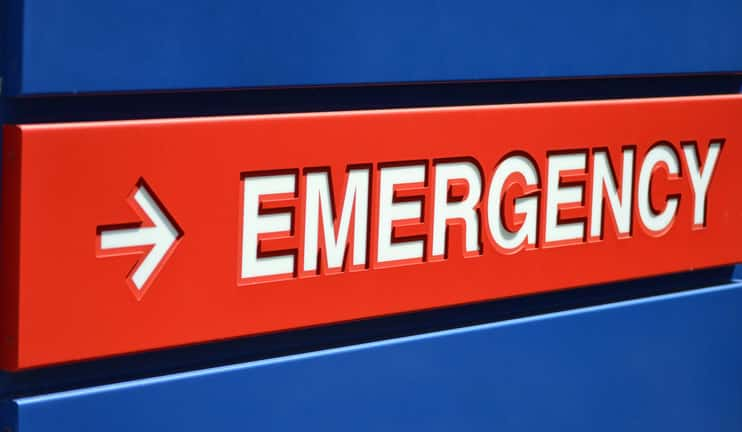 Hospitals deal with emergencies all the time, but one Southwestern Michigan hospital is being forced to closed down multiple units and lay people off in order to survive an ongoing financial crisis.
Sturgis Hospital has announced some drastic changes beginning Monday including up to 60 full time positions slated to be cut as well as the closure of some units and scaled back versions of others, saying that "the old ways don't work for a small hospital any more."
Robert LaBarge is President & CEO of Sturgis Hospital in St. Joseph County. He says, "We have done a substantial amount of work over the past year to reduce costs and weather the changing landscape of health care." He adds, "Health care is continually changing. The old ways don't work for a small hospital any longer, so we have to embrace new ways of doing things. It's time to restructure our operations in a way that is consistent with what we believe the future of health care will be for rural communities."
The Board of Directors and Management believe that under this plan health care that the community needs will be more sustainable with Sturgis Hospital focusing on outpatient services.
As a result, Sturgis Hospital will:
Close Obstetric Services…there are three hospitals within 30 minutes that have OB units.
Close Hospice Services…other Hospice providers can service Sturgis area patients.
Closing Oncology Treatment Center…patients may return to receiving care at the West Michigan Cancer Center or another facility of their choice.
Reduce Inpatient Medical/Surgical Services…4 staffed inpatient beds will remain.
Adjust the staffing and structure of the Emergency Department for current needs.
The hospital has already closed non-profitable departments including its Wound Clinic, Home Health, Pain Clinic, and an urgent care center in Constantine.
LaBarge tells the community, "The heart of our business is outpatient services which typically make up 80-85-percent of our activity. These activities include services provided by our doctors, diagnostic testing, treatment centers, outpatient surgery and urgent care/emergency services."
The hospital's CEO says as they restructure, "Our goal is to keep the most in-demand services available locally and partner with other health systems to supply inpatient and specialty medical services. In order to transition our focus to outpatient services, we must first get our organization in a sustainable financial position, and then pursue strategies to keep the most important services available in our community."
The hospital has experienced significant financial challenges over the past 18 months as reimbursements from Medicare, Medicaid and other insurers have not kept pace with the increase in costs and decreases in volumes experienced by the hospital.
Outpatient Services that will remain available at the onset of Sturgis Hospital's new plan include:
Emergency Department
Family Doctors, Internal Medicine Physicians, and Surgeons
Outpatient Surgery
Diagnostic Radiology (X-Ray, MRI, CT)
Laboratory Services
Urgent Care (AM&PMcare)
Rehab Services (Physical Therapy, Occupational Therapy and Speech Therapy
Sleep Medicine Center
Cardiac Rehabilitation
The reorganization plan is slated to begin on Monday, December 3rd.
LaBarge took a look at the financial health of the organization and says, "Since cost of wages and benefits accounts for over 50-percent of the total cost of our operation, layoffs are inevitable with the reduction of inpatient services. These operational changes will affect the equivalent of approximately 60 full-time positions. The actual number of persons laid-off may be smaller as affected associates assume necessary, yet vacant, positions within the Hospital."
The CEO says that the Board and Administration at Sturgis Hospital are committed to taking those necessary steps and making further adjustments as required to transition the institution into an outpatient-based health system that is designed to be responsive to community health needs and achieve financial stability.
The board concludes that the changes will best position the hospital to provide the high quality care locally that the community deserves and will assist in attracting a partner that will complement the services offered in Sturgis.