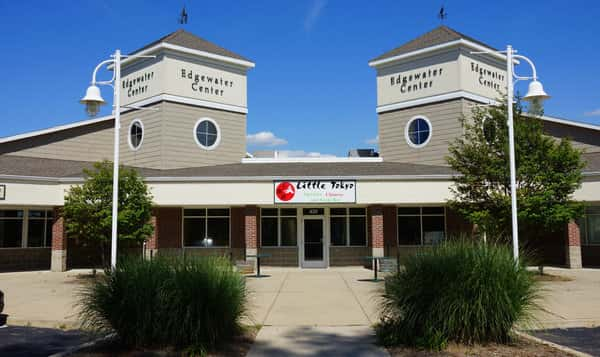 It was fifteen months ago yesterday that I told you that the Edgewater District of St. Joseph, just north of the St. Joe River, would be getting a new sushi restaurant. Believe it or not, the plan for Little Tokyo is still in place, and the restaurant is due within the next couple of weeks after a series of horrendous delays caused by mechanical and contracting issues that have kept the place at bay for an unconscionable period of time. Fortunately for the Wei brothers from Homewood, Illinois their long checkered nightmare is finally coming to an end.
Bruce Wei says they were "severely delayed by the kitchen hood work for which our landlord was responsible." What started out as a simple repair job was launched at mid-year last year when the company hired by the landlord finally began the task. Unfortunately, Bruce says "they couldn't finish in two months time" so that his restaurant could open in August, "and they still ran over the bid which they had agreed upon, so they quit in October, leaving us in limbo, as we couldn't proceed with our remodeling."
Wei says the landlord hired another contractor to pick up the work over the winter holiday season, and they completed the critical kitchen hood work in January. Once that work was complete, Bruce and his brothers Andy and John were finally able to get in to the space to begin their remodeling work…a task they've been working on for several months now.
Bruce says that things are shaping up nicely now, and Little Tokyo should be open by about mid-July, depending on the progress of city and county inspections. He met the Berrien County Health Department Inspector shortly after 4:30 this afternoon in hopes of gaining an ongoing green light to proceed with final preparations ahead of the restaurant's anticipated opening.
An extensive menu of Japanese, Chinese, and Thai cuisine will be offered with a major focus on sushi and other delicacies. The Wei brothers already own and operate several other restaurants, including a Little Tokyo site in Homewood, Illinois which they launched nearly 15 years ago, and later followed that up with the Little Tokyo Japanese Steak House & Sushi Bar in Munster, Indiana nearly 14 years ago.
Just ahead of Memorial Day in 2012, the brothers opened what became a very popular restaurant in the Lookout Landing Plaza along U.S. 12 at Smith Street in downtown New Buffalo. That restaurant was forced to closed in late October of 2014 by a grease fire caused by grease build-up in the ventilation system. Perhaps that unfortunate incident is why they have been ultra careful in getting the kitchen hood properly repaired at Edgewater.
Little Tokyo's extensive menu includes soups, salads, sushi bar appetizers, kitchen appetizers from chicken, vegetable and shrimp tempura to calamari, egg rolls and fried oysters. There are many specialty rolls, hand rolls, sushi and sashimi a la carte items, Chinese Combos, Thai entrees and more than three dozen different Chinese dishes.
Once officially cleared by inspectors and open for business, Little Tokyo will operate Monday through Friday from 11:30am until 10pm, Fridays and Saturdays from 11:30am until 10:30pm, and Sundays from 12:30pm until 10pm.
You will find Little Tokyo at the center of the Edgewater Center located at 425 Momany Drive in the Edgewater District of St. Joseph. The restaurant will have seating for about 40 people inside and another 20 or so under umbrella tables on the patio out front and will offer both dine-in and take-out options for hungry fans. The phone number for the new restaurant is now active at 269-982-0806.
Stay tuned for the opening soon, finally ringing down the curtain on the trials and tribulations that have left the Wei brothers waiting in the wings for an inordinately long time. Fortunately, they signed a long term lease for the space and are hopeful to be up and running soon.