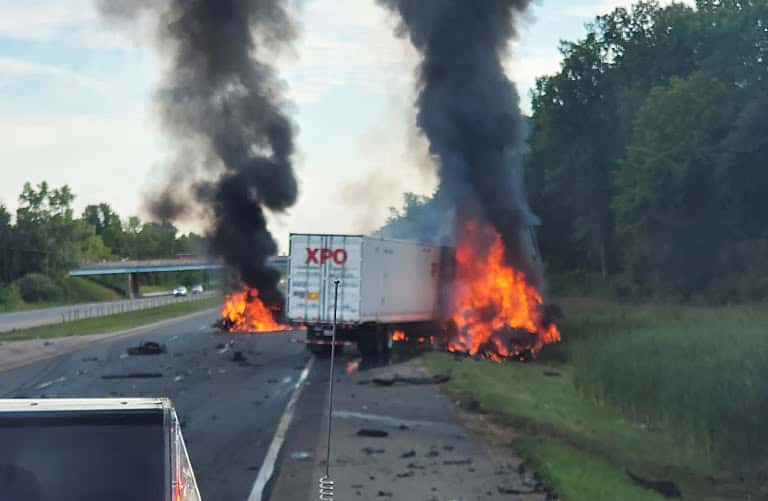 An Illinois man was killed last evening on I-94 when a commercial semi ran off the road, broke through the cable barrier in the median and smashed into his westbound SUV, and then was struck by a second semi headed in the same westbound direction. The resulting three vehicle fire was battled by seven area fire departments and multiple police units.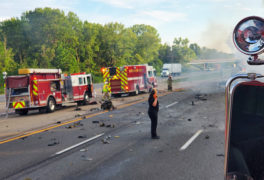 Baroda-Lake Township Police Chief Shawn Martin says that around 7:20 last night, Wednesday, August 5th, his department was called to the scene of a multi-vehicle accident and fire on the westbound interstate near mile marker 13.5 between Bridgman and Sawyer.
Martin says it appears that an eastbound semi, driven by a 63 year old Wisconsin truck driver hauling an empty trailer ran off of the road, punctured the cable-barrier, crossed the median and struck a westbound Mercedes-Benz SUV driven by a 48 year old man from Tinley Park, Illinois, who was pronounced dead at the scene.
A second semi crashed into the scene as well, striking the SUV a second time, and all three vehicles erupted in flames. The W/B commercial semi-truck, also struck the SUV.
The Wisconsin truck driver was taken by Medic 1 Ambulance to Spectrum Health Lakeland in St. Joe. The second driver, a 50 year old from Illinois who was hauling water heaters in his rig was also taken to Spectrum Health Lakeland for treatment.
Martin says that all names currently being withheld pending notification of family members.
The accident reconstruction is being undertaken by the Berrien County Sheriff Department, and the accident remains under investigation.
Westbound I-94 reopened 1 lane of travel at 1230 this morning and the freeway was fully open again at 2:30am.
The Baroda-Lake Township Police Department was assisted by the Bridgman Fire Department, Chikaming Township Fire Department., Baroda Fire Department., WeeSaw Fire Department., Lincoln Township Fire Depatment. and the Lake Township Fire/Rescue, as well as the Bridgman Police Department, Chikaming Township Police, Three Oaks Police Department, the Michigan State Police, Berrien County Sheriff Department, the Pokagon Tribal Police Department, and Medic 1 Ambulance.
The photos accompanying this story on Moody on the Market are courtesy of the Baroda-Lake Township Police Department.