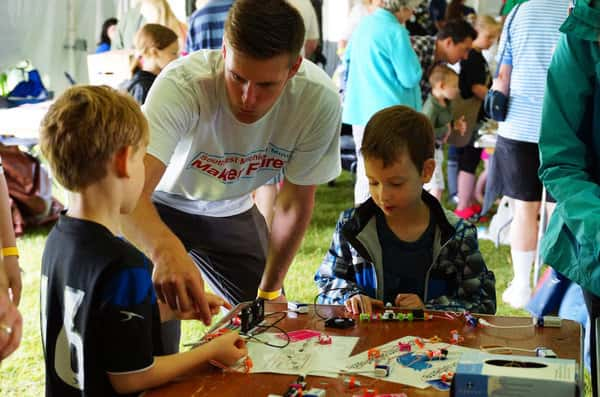 If you or your kids are looking to be inspired, enlightened, entertained, intrigued, and even amazed make certain that the 5th Annual Mini Maker Faire is on your agenda for Friday evening May 31st and most of the day on Saturday, June 1st. The whole grand affair takes place at Whirlpool Centennial Park below the bluff and across from the train depot and features special guest performers from Cirque Amongus.
The Greatest Show (and Tell) on Earth is being produced, in partnership with Maker Media, by Berrien RESA, Cornerstone Alliance, Indiana Michigan Power and Kinexus.  Other sponsors include Lake Michigan College, JR Automation, Meijer, Wal Mart, Golden Brown Bakery, Beaudoin Electric and Silver Beach Pizza.
It all gets underway on Friday night, May 31st beginning at 6 pm, at Whirlpool Centennial Park which is located at 330 Broad Street in St. Joseph. On Saturday, the event will be open from 10 am to 4 pm, offering a full day of family-friendly making, learning, crafting, inventing and tinkering below the bluff in downtown St. Joseph.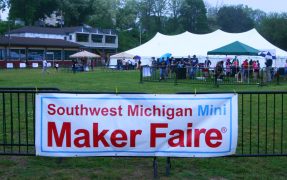 It's your chance to be inspired, and perhaps even amazed, by makers, designers, artists, crafters, engineers, scientists and technologists from all across the region. There is no entry fee…it's all free to everyone, and there will be many opportunities to get hands on and make "stuff!"  This year's special guest is Cirque Amongus, a troupe that will provide a surprising combination of comedy, circus skills and audience participation throughout the event.
This year, the Maker Faire is extending the celebration with a variety of kick-off events on Friday, May 31. Those activities include:
5th Annual Mini Maker Faire Preview Show atop the Bluff, wherein select makers will showcase projects including Go Baby Go car hack with a local FIRST robotics team, local middle school students sharing their Micro:Bit programming skills, and Cirque Amongus showcasing talents and more.
Southwest Michigan's First Ever Lighted Drone Show will begin Friday night at sunset. The 15 minute show will be taking off and landing from the Whirlpool Centennial Fountain.
A Made It Event will be held Friday evening at the Heritage Museum and Cultural Center with Soulard's Bakery. That is a ticketed event ($40), and tickets can be purchased online at www.soulardscoloma.com.
Plus, the Pete Souza Gallery Opening at the Krasl Art Center. That exhibition is free to the public. Visit www.krasl.org for more information.
The group of talented makers participating in the Southwest Michigan Mini Maker Faire and the activities being offered this year include:
Antony Gerard Creations-Antony Gerard
Bright Lites-Raynah Fandozzi, Kevin Fandozzi
Cirque Amongus (performing at the top of every hour)
Cosplay Club
Cycle-Re-Cycle
Electrical Boards for kids and adults to learn programming and quick prototyping-Heron Plaza
Fab Lab at Lake Michigan College
Fort St. Joseph Archaeological Project
Free to bead you and me-Nicole Arent
Guimond Metal Art, Blacksmith-Ted Guimond
Hacking Ride On Cars for Kids-GoBabyGo Seattle (12:30 and 3:30 p.m.)
Indiana Michigan Power Egg Drop (featured every hour on the half hour)
Kona Ice-Levi Noblitt
Kzoo Makers
Laser Cut Pictures-Kevin Fandozzi
Learn to Solder Station!
MSU Extension / 4-H Youth Development
One Mann's Hands-Karen Mann
PhycoTech Edible Aquifers-Ann St. Amand
Restoration at the Air Zoo-Air Zoo Restoration Team
Rope Maker-Joe Simon • Steamroller Printmaking-Krasl Art Center
The Home Depot Kids Workshop-The Home Depot
U.S. Coast Guard • Wand Making-Grace Rommel
Watervliet District Library's Lego Club
Maker Faire is the Greatest Show (and Tell) on Earth—a family-friendly showcase of invention, creativity and resourcefulness, and a celebration of the Maker movement. It's a place where people show what they are making, and share what they are learning. Makers range from tech enthusiasts to crafters to homesteaders to scientists to garage tinkerers. They are of all ages and backgrounds. The aim of Maker Faire is to entertain, inform, connect and grow the community.
You can learn more online by clicking the link below or by following along on Twitter: @swmimakerfaire and on Facebook: http://facebook.com/makerfaireswmi. Here's the website:
Southwest Michigan Mini Maker Faire is independently organized and operated under license from Maker Media, Inc.