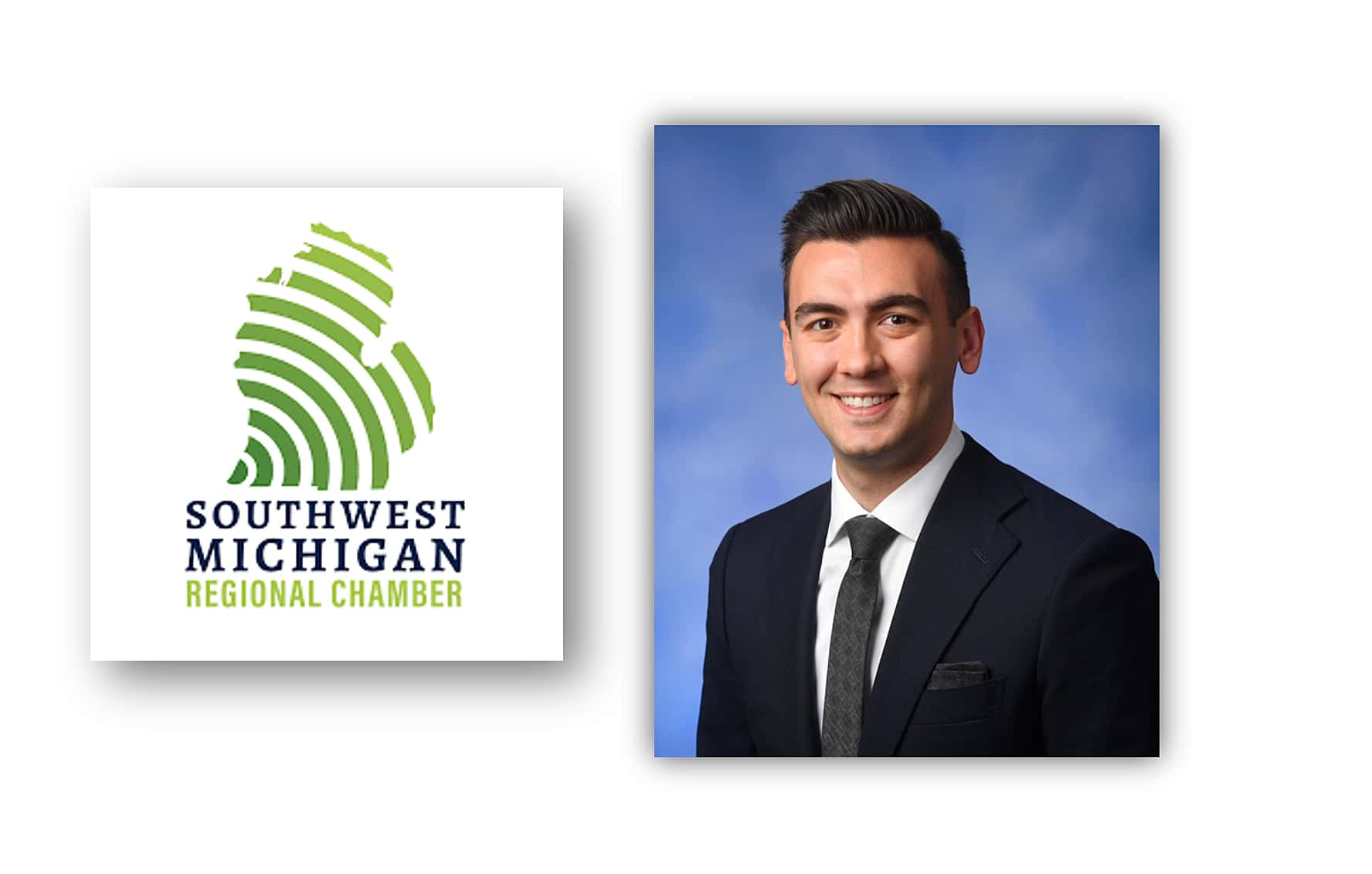 The new President of the Southwest Michigan Regional Chamber should have little problem hitting the ground running inasmuch as he's very familiar with the lay of the land, brings a wealth of experience to the role, alongside of his passion and a clearly articulated vision for the organization. The real bonus for members — he's local.
Those key elements are what propelled the familiar face of Bridgman-native Arthur Havlicek to the top job at the Chamber today. Havlicek was appointed President & CEO of the Southwest Michigan Regional Chamber this morning by the Chamber's Board of Directors, bringing to a conclusion their period of internal evaluation and an extensive review of multiple candidates.
Board Chair Julie Thomsen says, "Our dynamic Chamber members deserve a dynamic leader who understands our community and who can help businesses thrive by strengthening Chamber programs, promoting our region, and working collaboratively with other key players."
Mark Lemoine, who Chaired the Ad-Hoc Executive Search Committee says, "Competition for senior leadership positions is always strong, and we were pleased with the interest we received from numerous, high-caliber individuals from the area and out-of-state." Lemoine adds, "We are confident Arthur's local roots and state-level experience will make him an effective advocate for Chamber members and help us build upon our regional footprint."
Havlicek graduated from Lake Michigan Catholic High School in 2010 and Grand Valley State University in 2014. He has close to a decade of experience holding key staff roles for various elected officials around the state, including as Legislative Director for then-State Representative Kim LaSata.
Currently, Havlicek serves as an Advisor to West Michigan legislators in the Michigan House of Representatives where he recommends and implements strategies related to policy, communications, and constituent outreach.
For his part, Havlicek says, "Working with government officials, business leaders, and community organizations to affect positive change in this state has been an invaluable experience," and adds, "I'm excited to bring that experience back home and build upon the recent success of this organization."
Havlicek, citing estimates that predict millennials will make up 50-percent of the U.S. workforce by 2020, believes his perspective will provide an advantage in the new role. saying, "Ensuring sustained growth for our area over the next decade will depend entirely on our ability to attract, develop, and retain the businesses and workforce of the future." He adds, "As President, one of my main priorities will be to grow and promote the type of vibrant workplaces and communities where talented entrepreneurs and young professionals want to live, work, and raise a family."
Havlicek takes the reins from Interim President Greg Parrett, who was filling in following the departure of Chris Heugel who returned to the hospitality industry this fall.
The Southwest Michigan Regional Chamber of Commerce is a member-driven organization encouraging the growth of business through networking, advocacy, visibility and benefits for all members. Established in 1954, they represent more than 700 members from throughout southwest Michigan and have local offices in downtown St. Joseph and Bridgman. You can find them online at www.smrchamber.com.