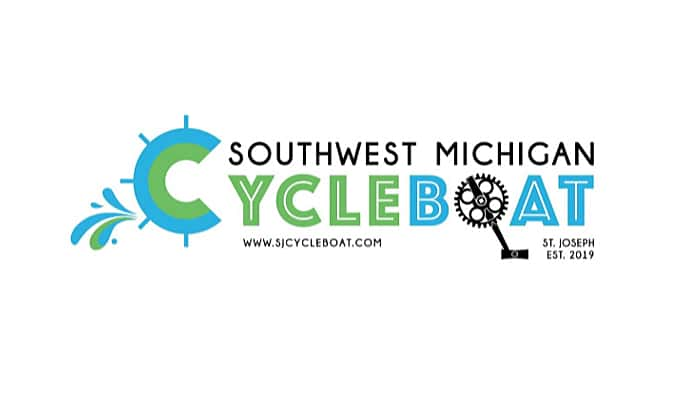 The Cohen brothers dream is about to come true, and in the process help a whole of other folks live a dream that they thought might never be possible on the waterfront in Michigan's Great Southwest.
Just before Christmas last year I told you about Brady & Brandon Cohen's plans to introduce a new Cycleboat to the St. Joseph and Benton Harbor waterfront community. Not only is that coming true next month on April 15th, they've created a new partnership with the team at Southwest Michigan Brew Tours for a unique new Lake & Land Tour ready to take a bow.
​The Cohen brothers' Southwest Michigan Cycleboat, Berrien County's first and only cycleboat business, unveiled that partnership with Southwest Michigan Brew Tours this afternoon. As a result, they will offer a one-of-a-kind tour of the area's greatest natural resource followed by a visit to local breweries and wineries. The Lake & Land Tour will include a pedal boat tour of the harbor and a brew bus tour, culminating at three local breweries or wineries of the guest's choosing.
The Lake & Land Tour is a five and a half hour tour that starts at The Inn at Harbor Shores, with a two hour cruise on the Harbor Hopper Cycleboat. Guests will benefit from the perks of the cruise, including a stop for drinks and food at On The River Tavern and finishing up at Plank's Tavern. Guests will also take home a souvenir Harbor Hopper cup.
Following the boat tour, guests will board the Southwest Michigan Brew Tours bus and be chauffeured to three wineries or breweries of their choosing. Brady Cohen, Southwest Michigan Cycleboat owner tells us, "This experience is the first of its kind for this area. We are excited to give local residents and out of town guests the opportunity to take advantage of the lake as well as supporting local businesses." Cohen adds, "This is a great trip for parties of all kinds, and team building exercises as well!" Interested parties can click the link below to book their reservations.
The Lake & Land Tour can hold up to 16 passengers per trip and can be reserved for $1,200 during the week (only $75 per person) and $1,300 during the weekend (only $85 per person). Cohen adds, "We are excited to bring this exclusive experience to Southwest Michigan and look forward to welcoming you!"
Here's more on the origin of the Harbor Hopper Cycleboat as first shared on Moody on the Market last December:
https://www.moodyonthemarket.com/new-harbor-hopper-cycleboat-will-get-you-on-the-water-in-swm/