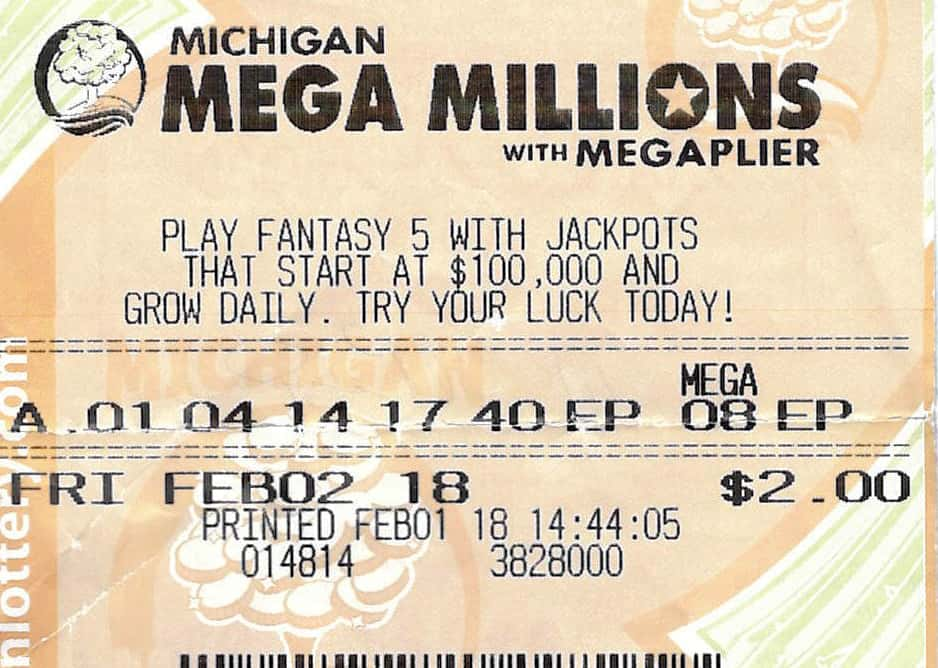 If you take a good look at the photo accompanying this story on Moody on the Market, you can no longer say that you've never seen a million dollar winning lottery ticket, because that is one. That's a photo of the actual ticket bought by a lucky winner right here in Michigan's Great Southwest and it's good for a million bucks.
That's the ticket turned in recently by Manuel Perez III of Otsego in Allegan County from the February 2nd Mega Millions drawing at the Michigan Lottery. Mr. Perez, a small business entrepreneur, says he will use that million dollar prize to change his life, and expand his business.
Perez told the Lottery Commissioner this week, "The way I see it, you can do one of two things after winning the Lottery," and adds, "You can either use it to change your life or buy things. I'm going to put it to good use, and change my life."
Perez matched the five white balls drawn in the Feb. 2 Mega Millions drawing – 01-04-14-17-40 – to win a $1 million prize. While Perez lives about 50 miles from St. Joe, he bought his winning ticket at the Kroger store, located at 6370 Dixie Highway in Bridgeport, more than 200 miles away south of Saginaw.
He says, "I stopped in the Kroger the morning after the drawing to check my ticket, and the clerk told me I had won $1 million," and adds, "All I could say was: 'Huh? Are you serious?'"
The 47-year-old Perez visited Lottery headquarters today to claim his big prize. He plans to share the prize with his family and invest in his business.
As he was turning in the ticket in Lansing, Perez said, "I scraped together everything I had over the last few years to buy a small business, and I recently made the last payment and want to expand. Now I can do that without having so much stress."
Mega Millions drawings take place each Tuesday and Friday evening. Each Mega Millions play ticket runs $2. For an additional $1 per play, players have the opportunity to add a "Megaplier" that can multiply non-jackpot prizes by up to five times. Mega Millions tickets may be purchased online at MichiganLottery.com and at the Lottery's 11,000 retailers around the state until 10:45 p.m. on the day of each drawing.
About 97-cents of every dollar spent on Lottery tickets is returned to the state in the form of contributions to the state School Aid Fund, prizes to players and commissions to vendors and retailers. In the 2017 fiscal year, the Lottery's contribution to Michigan's public schools was a record $924.1 million. Since it began in 1972, the Lottery has contributed more than $21 billion to support public education in Michigan.
For additional information, you can follow the Michigan Lottery on Facebook, Instagram, Twitter and online at www.michiganlottery.com.