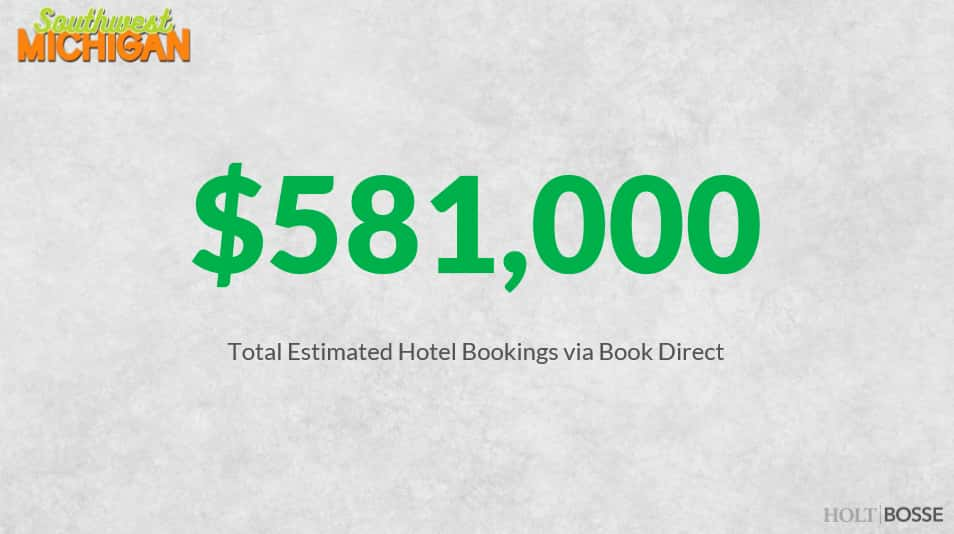 In the lodging industry, it's all about heads in the beds. The entire hospitality industry hinges on the metrics. The question is perpetually, are the numbers up or are they down? Here in Michigan's Great Southwest, the team at the Southwestern Michigan Tourist Council is euphoric as the market continues to surge, especially in the arena of direct bookings.
Millicent Huminksy is the Executive Director of the SWMTC. She and her colleagues hosted the 38th Annual Meeting of the organization early Wednesday at the Hilton Garden Inn of Benton Harbor alongside the 33rd Annual Meeting of the Shoreline Hotel/Motel Assessment Association.
Huminsky says, "Things are insanely wonderful and everything is going fantastic!" She points with pride to the fact, "We've never had a down year, we've been up every year, and in Senior PGA Championship years it's been a big up, and even in the years following we're still up by a small margin."
The addition of at least half a dozen new hotel and motel properties in the last several years has helped meet part of the demand, and there are more on the way. Huminsky says, "The recent surge in new hotels and motels is obviously needed, we've always had more demand than supply when it comes to lodging, from the summertime right through the end of October, and we're working very hard on bringing off season weddings, reunions, business retreats and other events to the market, to help keep them filled."
The Shoreline Hotel/Motel Assessment Association has 23 hotels in the stable currently with two more Mike Patel construction projects underway bringing a Tru by Hilton property to Stevensville and a new Hampon Inn to Benton Township alongside Home Depot. Additionally, the Courtyard by Marriott on Cinema Way is nearing completion, and a fifth hotel in that immediate neighborhood is expected to break ground yet this year for a new Holiday Inn Express property next door to the Courtyard property.
David Holt from Holt Bosse delivered a presentation to the joint annual meeting yesterday, and shared a lot of the key metrics regarding the success of the organization's marketing and attractions programming. Here are some of the highlights of his report:
Site traffic to the Tourist Council's website soared by 41.8-percent to 328,126 users in 2018, up from 143,947 a year earlier. That more than doubled the goal of a 20-percent increase.
Session traffic to the website ballooned by 78.7-percent to 522,050 sessions in 2018, up from 171,813 in 2017. That nearly quadrupled the organization's targeted goal of a 20-percent increase.
With Google far and away the largest source of traffic to the website, Tourist Council board members targeted a 10-percent increase goal for traffic emanating from Michigan.org, Beachtowns.org, and Facebook.com. They achieved a nearly 25-percent increase from Michigan.org, the second most prolific source for them, but saw dramatic declines of 45.4-percent from Beachtowns.org, and a more than 62-percent fall off from Facebook which Holt attributed to changing algorithms from the team at Facebook.
There's good news in that organic growth continues for those who seek the SWMTC site directly. It ranks third in line after Google and Michigan.org, and climbed again in 2018 by more than 6-percent to just under 33,000 direct visits.
Illinois, Michigan and Indiana continue to be the top three sources of people seeking information from the Tourist Council, with Illinois traffic up some 82.4-percent against a goal of a 20-percent hike, Michigan traffic up 31.5-percent against a targeted goal to increase by 15-percent, and Indiana traffic boosted by just over 34-percent against a targeted goal of achieving a 25-percent increase. Ohio and Texas round out the top five states seeking information on Michigan's Great Southwest, with the largest increase coming from the Lone Star state, with Texas traffic surging 135.5-percent over the previous year. All traffic sources in the top 20 increased year over year except for interest from Ontario, Canada which waned by almost 74-percent and an 8-percent fall off from North Carolina.
Craft Brewing fans have clearly found the Tourist Council website with the special page for the "Beer-illiant Brewery Tour" soaring by a dramatic 593.5-percent, especially from new users of the site. Skyrocketing even more, however, was the appeal for events information which roared upward by 2,159-percent year over year with a 5,000-percent increase in new users seeking that data.
The Tourist Council website witnessed a 52-percent increase in page views, to 880,165 on the year.
In 2018, a total of 6,486 people visited the organization's Group Planning page for weddings, business meetings, class reunions and other gatherings. April was the biggest month with 821 visits, followed by July at 743, and March at 733.  In fact, the Group Planner was statistically the most engaging section of the site, "sporting a bounce rate that was 70-percent better than the site average."
The Tourist Council uses Jack Rabbit to track hotel searches. The board was hopeful that such searches would climb by 15-percent in 2018 to 22,400 from 2017's 19,469. Reality is that such searches climbed by 24.4-percent to 25,742.
As a result of hotel searches, the "Book Direct" number represented a total estimated booking rate of $581,000 on the year — a huge number for the direct booking process, since so many users typically resort to other methods of their final booking process.