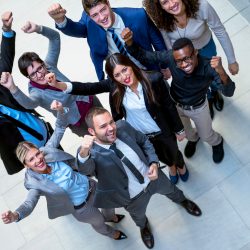 You are about to read something you have been unable to read in Michigan's Great Southwest in many years within recent memory: The Tri-County population is on the rise. Not by much, mind you. But a population increase has not been in the local vernacular for a very long time. With any luck at all the trend will continue in the right direction.
The team at Kinexus of Benton Harbor is reporting today that after years of population loss, the Tri-County region of Berrien, Cass, and Van Buren Counties showed an actual slight gain in 2017 according to U.S. Census Bureau statistics. The region gained an estimated 426 residents between 2016 to 2017.
While that doesn't sound like a whole lot to brag about, keep in mind the bid to keep people here and attract new residents as well has been a losing battle for a long time.
Todd Gustafson is CEO at Kinexus, headquartered in downtown Benton Harbor. He tells us, "We have three major economic challenges that we're currently facing as a region- a declining population, an aging workforce, and lower educational attainment. Stemming the population loss starts to help address one of those big three challenges."
Gustafson offers up the news with a bit of a grain of salt, however, by noting, "While the new Census estimates are positive, we have seen a two percent overall decline in population since 2010 in Berrien County, a two percent decline in Cass County, and a one percent decline in Van Buren County over the past seven years."
The numbers in the region breakdown as follows:
Berrien County
2016: 154,157
2017: 154,259
Gain of 102 or .10%
Cass County
2016: 51,209
2017: 51,381
Gain of 172 or .30%
Van Buren County
2016: 75,201
2017: 75,353
Gain of 152 or .20%
Again...those are anything but staggering numbers. What's staggering to those who watch such things closely is the opportunity to turn things around. As Gustafson knows only too well,"The number one issue we hear about from local employers is the availability of a skilled workforce." He is upbeat about the numbers though, adding, "With the number of job opportunities available in our region, we are hopeful that this is the start to a positive trend."
The annual estimates from the Census Bureau are based on records for housing, births, deaths, and tax filings. Economic developers, community development folks and others have waited a long time to hear that the population decline has reversed itself. The challenge will be to keep things moving forward for the benefit of the entire region.
Kinexus is an organization that invests its time and resources into creating integrated solutions for business, workforce, and community challenges to promote economic vitality in the Southwest Michigan region. For additional information, you can visit www.Kinexus.org, follow along on Twitter @KinexusGroup or "like" them  on Facebook @KinexusGroup.