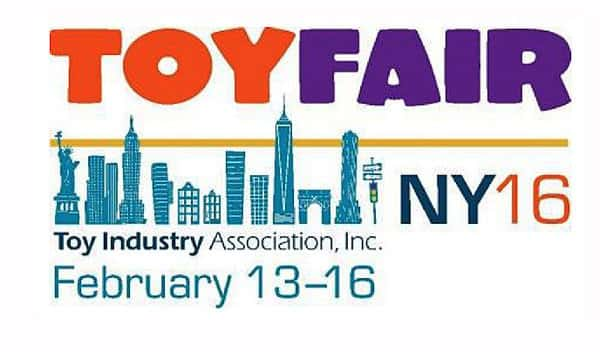 One of the best parts of any industry affiliation is when you gather with colleagues and competitors alike for massive trade show opportunities to collectively view the latest trends, innovations and creations and determine how those will come into play for your individual business.
For decades, the Vescolani family of Michigan's Great Southwest has played a key role in what has become one of the hottest toy shows in the world — the Toy Industry Association's North American International Toy Fair — held each year in New York City. This week, the industry is hosting the 113th such show, but this time Andy Vescolani is turning loose dozens of his reps to tour the aisles, booths, sideshows, and demonstrations in the Big Apple in order to bring the hottest toys to town at the family store in downtown St. Joseph, while he hits an alternate show in early summer.
The Toy Company founders Bill & Claudia Vescolani have attended the major toy show in New York for years in search of the trendiest new entries into the world of play. They retired at the end of the year last year and their son, Andrew, took over the reins at the popular shop at 208 State Street in downtown St. Joseph. Andy tells me that as part of his new approach this year, he has joined another affiliate group called ASTRA — The American Specialty Toy Retailing Association. Their major trade show and convention, The ASTRA 2016 Marketplace & Academy, is slated for the first week of June in Denver, Colorado, and is billed as the largest gathering of the specialty toy industry in the world. That four-day affair from June 5th through the 8th will take place at the Colorado Convention Center in Denver.
According to the experts at the U.S. Toy Industry Association, robotics, drones, creative playthings and family-inclusive toys and games will be among the top toy trends of the New Year. The trade group announced this year's hottest trends in toys and play during a packed seminar Sunday afternoon for media and buyers at the annual Toy Fair.
Adrienne Appell is a TIA trend expert. She says, "This year, the toy box will be filled with products from both ends of the spectrum. From high-tech toys to classic and outdoor-based products, there's something for each child's interests." She adds, "The best toys hitting the market are ones that challenge kids and foster their development, all while maintaining an element of fun." Those are exactly the types of toys that The Toy Company has become known for in the nearly 30 years they have been in operation downtown.
Appell adds, "While the focus is on kids, what's noteworthy is that many elements of these toys and games encourage parents to join the activities."
Ken Seiter is Vice President of Marketing Communications for the Toy Industry Association. He says, "Toys are the tools of play, and the exciting trends and toys we are seeing here today will foster endless hours of meaningful and fun play."
Leading up to Toy Fair, the industry's experts collaborate with hundreds of global toy companies to identify the products and trends that will drive consumer spending on play. The toys, games and youth entertainment products shared at the trends briefing made their Toy Fair debut and will appear in stores like The Toy Company through the holiday 2016 shopping season.
These were identified as the Top Five Trends this year:
TECH TOYS: Drones, Robots & Toys-to-Life — In the air and on the ground, drones allow kids to do amazing things, like control multifunction nanodrones and launch them from the palms of their hands. The hottest robots of the year will be customizable and teach kids important concepts, including coding, engineering, problem-solving and building. Younger children will also find them as, or with, their action figures, puzzles and bath toys. The Toys-to-Life mash up innovative and affordable technology with traditional toys to provide a truly 360-degree interactive play experience.
FAMILY MATTERS: Millennial parents have grown nostalgic for their own childhood board games, puzzles and other traditional toys, and want to share in those unplugged experiences with their children. You will also see a growing number of toys that incorporate technology while also promoting socialization, face-to-face interaction, and family bonding for all. Whether online or offline, these toys help bridge the gap between generations by helping families create lasting memories through play.
ULTIMATE CREATOR: Elaborate culinary concoctions, Pinterest-worthy designs, and stop-motion movies are just a few of the many creative projects that the "Ultimate Creator" will be found working on. Toys & crafts under this trend teach children to skillfully cook,design, build, grow, and create physical and digital masterpieces that they can proudly share with family & friends. Many teach techniques and skills that can be applied throughout life — including videography, sewing, dip-dyeing, crocheting, watercolor painting, laser cutting, embroidery and more.
BRAIN BOOSTERS/STEAM: Educational toys are "STEAMing" ahead, and toys that teach or reinforce Science, Technology, Engineering, Arts and Math (STEAM) continue to be top contenders in the toy market. Parents and educators appreciate these toys because they help prep kids for school by building important spatial, reasoning, critical thinking, and problem-solving skills. "Brain-boosting" playthings that fall into this trend also encourage kids' proficiency in subjects beyond STEAM, such as language & history, and support children as they grow and gain new abilities. From enhancing kids' communication skills to improving their logic, the latest cohort of educational toys encourage kids to explore, experiment, design and discover…all while having fun.
COVETED COLLECTIBLES: Collecting has long been a favorite pastime for children, but in 2016 you can expect to see these affordable and/or coveted toys everywhere. Collecting is an art form for kids who are on the hunt for the perfect item to complete their set. For other kids, collecting is all about socialization — they love to share and trade characters, pets, cards and other minis with their friends. Collectibles teach children patience and perseverance, organization, and negotiation skills for when it comes time to trade.
Toy Fair in New York is an annual event that brings together more than 1,000 exhibiting manufacturers, distributors, importers and sales agents to showcase hundreds of thousands of toys and youth entertainment products to more than 7,000 unique retail outlets from 100 nations.