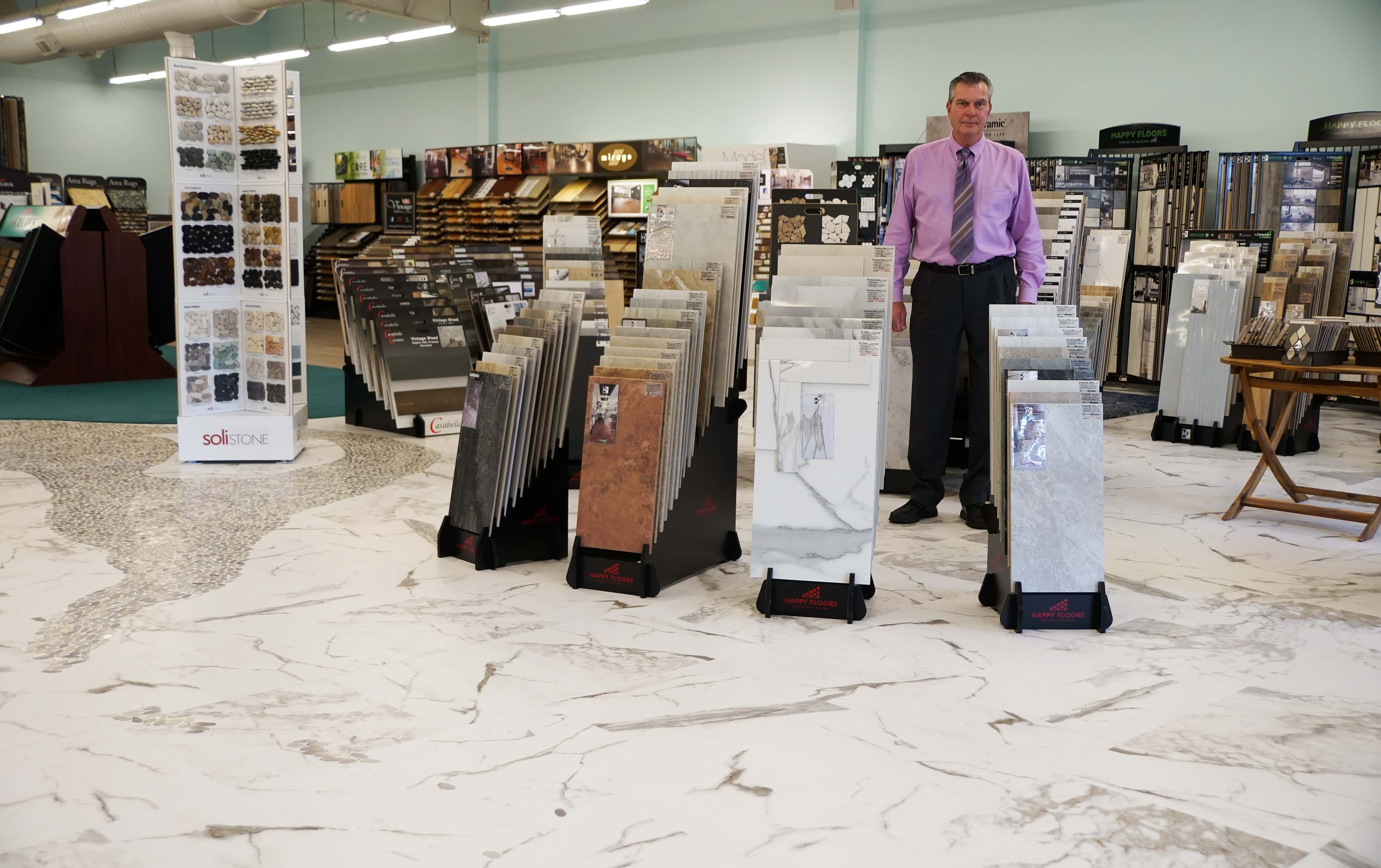 John Kolaskey has spent his entire lifetime helping business owners, home owners, contractors and others select the perfect flooring for their particular project. In fact, he'll mark 48 years in the business in January. But last night, Thursday, October 10th, was an extremely proud moment for John's entire family at their M-139 business enterprise called Carpet Mart.
Last night they hosted a SW Michigan Chamber Business After Hours and formal Ribbon Cutting on the dramatic improvements made on their 4,000 square foot showroom just off of I-94 that have essentially been in some form of evolution since the building was first erected there 15 years ago.
John say, "We've been working on this ever since we moved over here. It's the evolutionary process at work." The celebration, however, was for the dramatic renovations made over the past year, "To properly make known our presence in the hard surface flooring industry." He says, by way of explanation, "When we first came over here, it was very much a sideline with us, carpet was still our mainstay, but now — 15 years later — not only has it become 50-percent of our business, but the industry in general reflects those same numbers. Hardwood, luxury vinyl tile, and tiles of different types whether it's stone, porcelain or ceramic, now comprise about 50-to 55-percent of the overall market share for flooring nationwide."
It also marks the beginning of an evolution within the family, since John's youngest son Tom entered the business about a year and a half ago to allow for succession planning. More on that in a moment.
Back at the major project undertaken at Carpet Mart, John says, "We needed to upgrade, reinvest in us and our future, so we bit the bullet and re-did the north half of the showroom and expanded our offerings with a total of five new displays there, and a sixth one on the way." As a result, he adds, "The offerings we now have, the quantity of product we now offer, is totally different than what it was had you been here even back in January or February. It's a dramatic difference in offerings alone, and we are very pleased with that."
The most dramatic changes are readily evident the moment you step foot through the front door at 2500 M-139 in Benton Harbor. John says, "There is no longer any question about whether we are in the tile business. We. Are. In. the tile business."
An excellent sidebar benefit for the Kolaskey family from that major makeover is it provides an exceptional opportunity for oldest son Mike Kolaskey to showcase his incredible talents. Mike did all of the tile work and hardwood installations in the renovated showroom at Carpet Mart. From the very first step in you are welcomed into a river pebble or stream effect that is very unique. John notes, "That is something that you don't find many installers willing to do because it is extremely time-consuming. But the impact is astounding. Every one of those stones was laid individually. They come mesh-mounted, but they were all pulled off the screen and put into the floor one stone at a time, to achieve the effect that Mike wanted. On top of that, every one of the 24 by 24 tiles that adjoin that stream-look had to be marked and then ground out to allow for that effect of the pebbles seemingly blending with the square tiles, without a straight line. There isn't a straight line in there." John admits, "It was very labor intensive, and we're very proud of it, and he's already gotten several jobs off of that example from people who want that totally custom effect. It's time consuming and expensive, but if you really want something that's not like what your neighbor's have or your best friend has, he's your man. Mike can do it."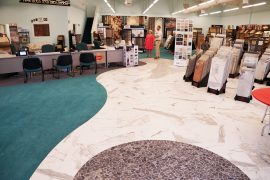 The evolution of Carpet Mart has been a truly joint effort with Tom joining the business eighteen months ago after getting fed up with corporate America. John had told him, "One of these days I want to retire, and I need somebody to take over the reins." He tells us, "It was always my hope that Tom would be ready, and he said let's give it a try." He adds, "Eighteen months later it's working out really well," quickly interjecting, "That's not to say we don't have conflict at times, but we're essentially learning from one another."
Best of all for dad, Tom has done an excellent job with Carpet Mart's digital marketing program, "A phenomenal job," notes John, "with something I have no interest in or patience to deal with. So, it's a good thing that he is here. He's growing the business, he's very much engaged, very energetic, and actually reminds me somewhat of me when I was 30 years younger. He's doing a great job, so I'm real pleased with that."
Going forward John knows that it will be 48 years for him come January, and says out loud, "I'm thinking I may want to stick around to hit the 50 mark — I may —  but I'll be in the business even after I'm out. I'll never be completely free of it. It's what I've done my whole life. But, I don't need to be at the helm. It's time for a new pair of hands on the wheel."
So…with a nice crowd of Chamber members and guests on hand Thursday night, the plan is essentially in motion, as John says, "That's what we're working towards and given another year and a half or two, I think Tom will be at a point where he's ready to take it." He says, somewhat wistfully, "I think at some point Mike will come in, but he's having fun right now doing the installation work, and doesn't want to be inside right now. That will change with age, and that opportunity will always be here for him and we made that very clear when Tom came on, that the door is always open and everybody's on board with that."
While the stellar new showroom ranks with some of the best in the industry, Kolaskey admits, "If you had talked to me in April, I probably would have said I'm sorry I ever started it. But, we knew that going in. It's worse than living in a house and remodeling it at the same time, because everything in here had to be moved off and everything got physically moved two to three times. The dust and the mess that it created, and the disruption were almost unbearable, yet, ironic as it sounds, people would walk in the door in the midst of all that and were so intrigued by it, I think it helped sell some projects."
Another bit of irony stemmed from just how big a mess it created, because it gave the Kolaskey family a true appreciation for what clients have to put up with in the remodeling process on a smaller scale. John says, "Tom and I were sitting one morning over coffee and commenting on the mess and the disruption, and said that it occurred to us that's a good thing, because now it puts top of mind awareness to what customers go through themselves, every day, when they're doing a remodel of their home." He notes,  "It helped me to have a stronger sense of empathy for what they have to undergo when we're doing work for them. It's a bit of a reality check regarding what our customers are going through, and makes us want to make sure that we are doing everything that we can do to minimize that. It gives us a new perspective."
The work is done at Carpet Mart and, coupled with last year's project when they switched over to LED lighting from standard fluorescent tubes which was expensive at the outset, but has been a big improvement in the shop's energy consumption, the showroom has a better lighting system all around, brighter and a lot more environmentally friendly.
John concludes, "The building is only 15 years old, but we realize that we need to keep reinvesting because it's a lot cheaper to maintain them than to have to replace them." Regarding the makeover, he says, "Everything fell into place well, and suppliers helped by taking some of the sting out of the product we used for our showcase, and with Mike doing the installation, what could have been a huge, huge expense turned out to be a big project, but one that was truly manageable." They hope you'll swing by and see the results for yourself as the Grand Re-Opening Celebration continues.