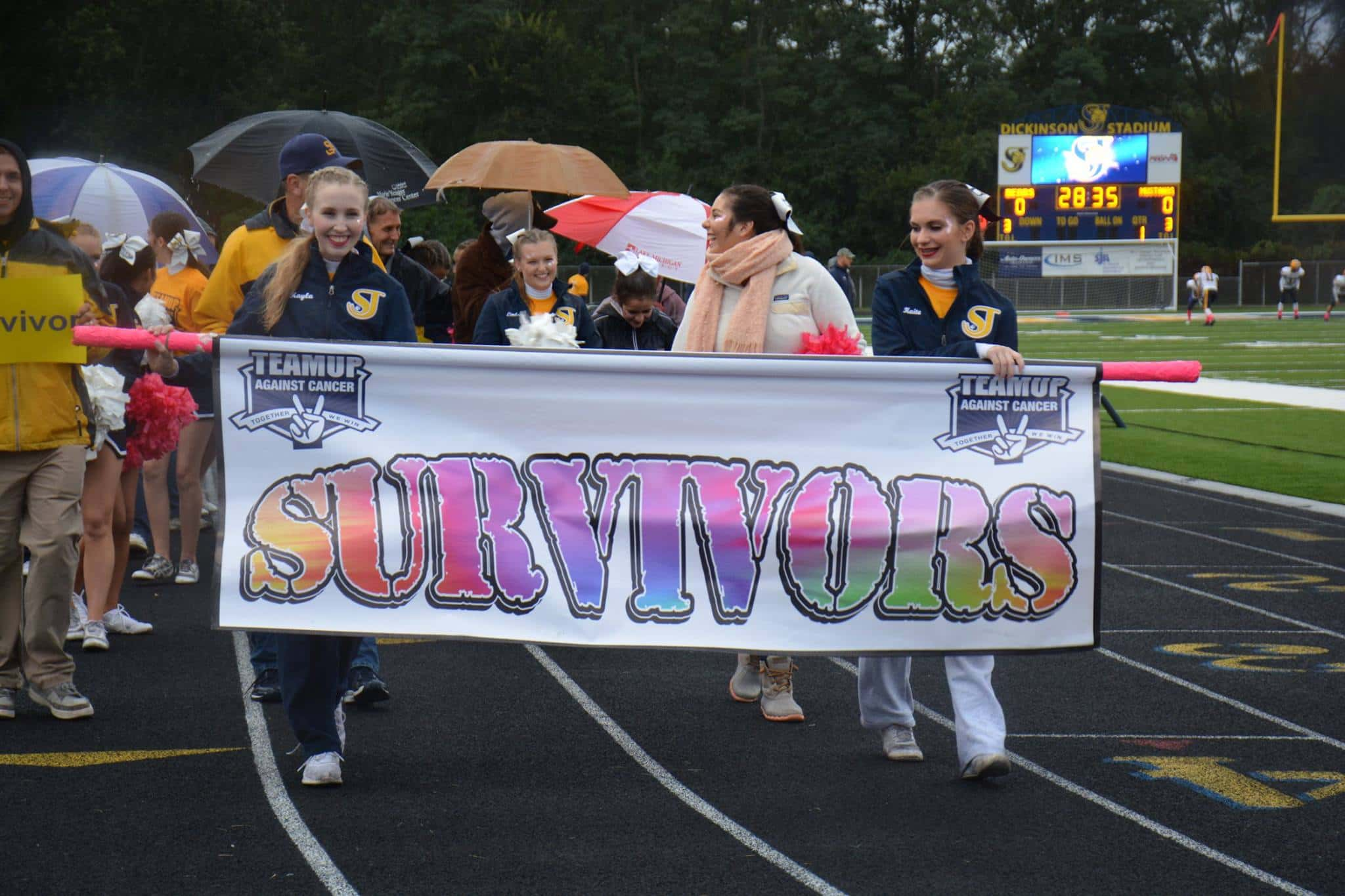 The Team Up Against Committee in St. Joseph has chosen Friday, September 20 as this year's "Team Up Against Cancer" event.
Team Up Against Cancer will take place during the St. Joseph vs. Lakeshore football game at St. Joseph High School's Dickinson Stadium, in partnership with St. Joseph Public Schools and the St. Joseph football team. During the pregame, the St. Joseph High School marching band, cheerleaders and members of other sports teams will parade into the stadium to pay tribute to survivors and those affected by cancer. After the game, the band and football team will form a symbolic memory ribbon on the field.
Team Up Against Cancer, now in it's fourth year, is a community fundraising event to help those affected by cancer, as well as provide information to increase awareness and prevention, as well as to celebrate cancer survivors. Since year one, the committee has raised over $35,000 through this event. To support Team Up Against Cancer, you can purchase a T-shirt for as little as $10 in all sizes by July 21. Purchasing a shirt will also grant admission to any St. Joseph High School sporting event from September 16-20.
Thanks to supporting sponsors, 100 percent of the funds raised will go directly to cancer patients, split 50/50 with the Marie Yeager Cancer Center and Berrien County Cancer Services. Those supporting sponsors are: Chemical Bank, Meijer, Honor Credit Union, LeValley Chevrolet Buick GMC, Midwest Glass & Mirror, Brown Funeral Home, the DeGroot Family, Spectrum Health Lakeland, United Way of Southwest Michigan and Lazer Graphics.
Additionally, special pink jerseys can be ordered and sponsored by friends and family to honor loved ones who have been affected by cancer. Each jersey sponsor can choose their number and name on the back of the jersey, which the St. Joseph football team will then wear for the game and present to the sponsor afterwards. For a jersey order form, you can visit the official Team Up Against Cancer Facebook page here. Jersey requests are on a first come, first served basis, and must be received no later than August 15.