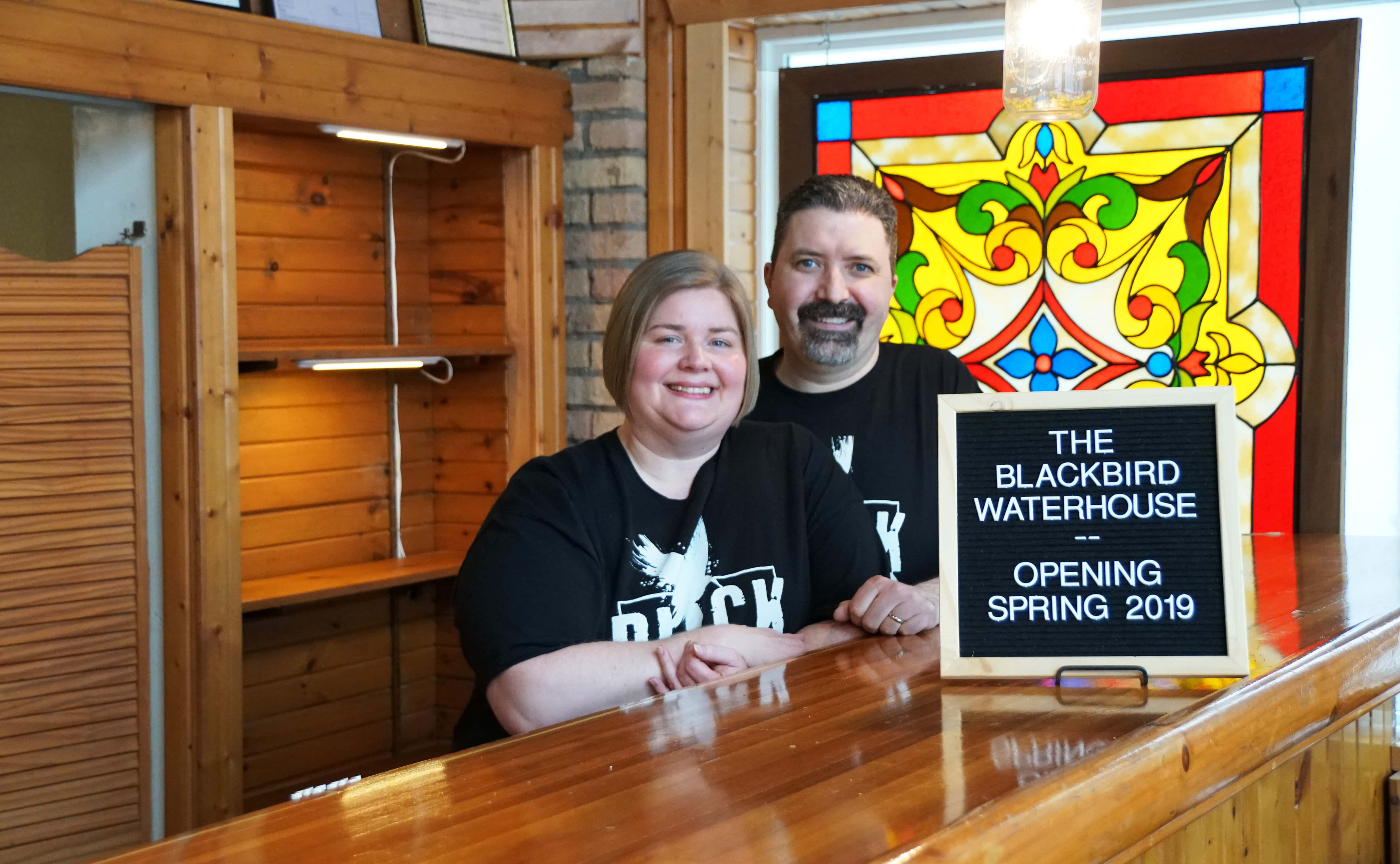 Confidence is running high in the Paw Paw Lake neighborhood for January Immer, and anticipation may well be setting a record pace there as work continues around the clock for her new restaurant, The Blackbird Waterhouse.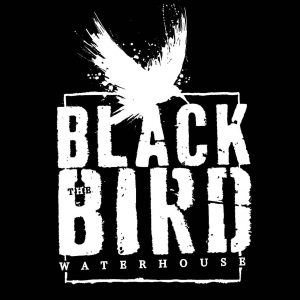 Coming this spring, January and her select team of highly dedicated professionals will unleash a new place to dine bringing edgy, upscale, unexpected offerings with addictive flavors in a colorful, fresh, farm to table format second to none in the region.
It's actually a lifelong dream turning into reality right before our eyes for owner January Immer. The Blackbird Waterhouse, scheduled to open this Spring in Coloma, is expected to surprise and impress Michigan locals far and wide. Planning to offer a simple, yet addictive farm-to-table menu featuring locally-sourced ingredients at a reasonable price, The Blackbird Waterhouse aims to bring "something different" to the Paw Paw Lake area.
The Blackbird Waterhouse is currently a vision becoming reality in the 6,600 square foot building most recently home to the Dickerville Bar & Grille. January Immer — who hails from Watervliet — is working diligently to bring the vision that once resided exclusively in her head to life. She has wanted to own a restaurant for really long time, but continually heard that it's a hard business to be in. Nevertheless, her background with the Jenn-Air brand over the last three years took her to culinary centers that inspired her all the more. A visit last year to the Pacific Coast Builders Conference changed everything. That showcase was in San Francisco where her elderly aunt lives and is still living her personal dream in the art of jewelry. January developed a hobby of crafting a spreadsheet on how to bring her culinary plan to reality.
January says she began flipping through commercial real estate listings in Southwest Michigan the way some people flip through Facebook. She wanted to see what was out there to fit her vision of a restaurant with amazing tastemaker food that's fresh, colorful, from farm to table and from scratch with fresh herb you can taste emerging through the food.
One day, almost by sheer coincidence, she drove by the former Dickerville property on Paw Paw Lake Road and was amazed that she hadn't seen the for sale sign earlier. She found out that a final auction was slated for two days later, immediately contacted the Realtor, got a whirlwind tour and decided to enter the bidding process.
Following a tense two-day bidding war through a certified auction site late last year, she won the bid, and her dream of owning a restaurant began turning into reality. January's husband Tripp says, "We only had 30 days to close. We had to scramble a bit but we got with the team at Cornerstone Alliance and got hooked up with United Federal Credit Union, and they all helped us make it happen. We closed on the last day of those 30 days on January 4th and took possession, and since then we've been hard at it."
Often described as "fate," Immer compares every step in their journey as a sign of something meant to be. Immer finalized and shared the in-depth business plan outlining the Restaurant's three major priorities with hopeful management recruits and community growth organizations. Impressed with the amount of thought and detail included in the plan, supporters were eager to back the business. Those priorities included;
Bringing new business to the area
Supporting local partners and actively participating in the growing local hospitality industry
Sourcing high percentages of raw material for food and drinks from local craft breweries, wineries, distilleries, bakeries and farms.
The first to on-board was Marketing & Events Director, Lynzee Krohne. As colleagues and friends already, Immer knew Krohne was the perfect fit and initially hired her to design the Restaurant's logo. From there Krohne took a leading role, full-time, to develop the website and social media pages, and expand future planning for all restaurant marketing and event efforts. In a short amount of time, the two ladies formed a strong bond as they worked closely together defining the brand's vision that you see today.
Lynzee says, "What was so inspiring in my shoes in this journey is that six months prior is when the business plan was been solidified. We walked in to Cornerstone Alliance and they said there's no detail left unturned, you've thought of everything and people don't come to us with this secure of a plan." She adds, "They weren't even sure if they would get their earnest money back but were willing to take the risk because they were so passionate about it."
Lynzee also notes, "Left and right people came out of the woodwork. Nobody, not a business, organization or a single person was unready to back this. In the two years that the previous place was up they had 500 to 700 followers on Facebook so we knew that we had to build a following and in two days we had 700 followers. It became instantly clear that people were ready to support this, people are on board, and they're excited, so it has been fun to be a part of it from the early days and then see it transpire."
Soon after Lynzee came aboard, expert Mixologist and friend to Immer, Amy June Jovanovic, joined the team, part-time. Amy June's role as front of house consultant has been to create recipes for the hand-crafted, signature cocktails that will be served at the Restaurant. Her passion for unique cocktails, delicious wines and malty hops, as well as her previous experience working for Round Barn Winery and Distillery, and Point O' Woods Golf & Country Club brings a total 360-degree perspective to The Blackbird Waterhouse.
Charcuterie boards, the Dirty Bird Martini and a Winter Old Fashioned will be signature items on The Blackbird Waterhouse menu.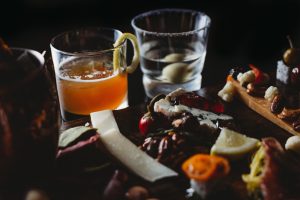 Lynzee says, "We know that folks will come if we do it right, but we also wanted to capture a bit of that old Coloma resort era, yet also bring in new business as well. We want to help perpetuate the local food trail feel of all the great places up and down the shore, so people have options all the way up, so we're partnering with a lot of local businesses. Karma Vista, Sister Lakes Brewing Company, Lazy Ballerina, Peat's Cider, so most of our sixteen taps will be local craft beers and ciders, even Journeyman's Distillery will be in the house. We'll also offer domestic beers. Just a nice variety." Always the marketer, she adds, "We want to listen and make sure we're doing what the public wants. We want to hear from you. We've been throwing out questions on Facebook and getting feedback to things like, 'If you could put one item on our menu what would it be?' We want to offer a nice range of pricing on the menu for options ranging from a classic burger and fries in the pub to a quality steak dinner in the dining room."
So, why The Blackbird Waterhouse name?  January says, "We loved the name the bird, just bird in general, but felt like that could be taken the wrong way, so loved the song Blackbird from the Beatles, and my 11 year old son would sing it all the time it's one of his favorite songs, and it's very soulful and also a little bit sentimental for us because it's like the whole concept of freedom and doing what you love, and loving your life and being free, so Blackbird was inspired by our lives, but there's a restaurant in Chicago named Blackbird that's quite famous so we did our trademark knock outs and figured since we're near a lake, and around the region its popular to do 'brewhouse' or 'public house,' so, since we can't do what everyone else is doing…what about Waterhouse? We;ve never seen one called that, so we ended up with The Blackbird Waterhouse, we're a watering hole and we're two blocks away from Paw Paw Lake, and so that's what inspired the name."
A few other industry-experts reached out to help manage the books, train staff, clean and repair the building, and so much more. The overwhelming amount of support from colleagues, friends and even community organizations, including United Federal Credit Union and Cornerstone Alliance has made the early success of the restaurant what it is, and shines a bright light on the restaurant's future!
January notes, "My husband, Trip, and our children have been such an integral part of this whole adventure as well," adding, "It was a scary leap to take, but their ongoing encouragement and support of me as a woman business-owner and restaurateur makes every decision that much more meaningful."
With almost all of the management team in place, the next step was to hire an Executive Chef. Arguably the most important position within the restaurant, Immer would say. Humbled and overwhelmed by the number of qualified applicants who submitted resumes, interviews were well underway during the month of January. Later that month, the restaurant extended not one, but three offers to talented local Chefs, who all promise to bring unexpected, addicting flavors to the menu, utilize and preserve as many fresh, local ingredients as possible throughout the changing seasons, and serve up colorful tastemaker-quality food worthy of a photo on social media. The team invites you to follow along with The Blackbird Waterhouse online to learn which talented Chefs were selected. That news is coming soon.
As winter comes to an end and the team at The Blackbird Waterhouse prepares for the spring Grand Opening, there are still many exciting things to be announced in addition to introducing their Chefs.
The Restaurant will be focusing on hiring and training staff in the months of February and March, and in the near future, you can expect to see the full menu and restaurant hours announced as well. January says, "This is a really exciting time for our family, our staff and our community, and we want to be sure to focus on investing our efforts where it matters most."
Immer plans to invest in building improvements throughout the next two months, but noted as equally important, she plans to invest in the staff and their environment as well, saying, "We want our staff to be proud of where they work and look forward to coming in each day. Our mantra is, 'Protect this house and anyone who enters,' which means we need a solid training foundation, consistent process and procedures, planned growth and mentorship opportunities, and a fun, safe work environment."
A fundraising campaign is scheduled to be announced soon, asking supporters of The Blackbird Waterhouse to purchase early-retail in an effort to help raise funds for interior and exterior design improvements, intended to restore the building's charming history and celebrate it as the last-standing building from the old Coloma resort days.
For those anxious to know…The Blackbird Waterhouse does plan to be open year-round and will offer a variety of experiences outside of the restaurant. An upstairs area, creatively nicknamed, "The Nest," includes overflow dining tables, a large event room and a complete second kitchen and bar. The Nest will offer Culinary Classes year-round, tasting and food-pairing events, and an exclusive space for public and private events.
Phase two of restaurant renovations include restoring the beautiful outdoor patio to create a one-of-a-kind outdoor space that will house the restaurant's own fresh herb garden, laid-back seating arrangements, warm fire-pits, and a full bar, all enclosed behind a newly-installed privacy fence, offering guests the element of 'escapism.'
For more information about The Blackbird Waterhouse call 269.468.BIRD or visit www.theblackbirdwaterhouse.com. You can also stay informed with the most up-to-date details and events by following The Blackbird Waterhouse on Facebook, Instagram and Twitter.
The Blackbird Waterhouse Mission is to aim to create amazing experiences through service and an eclectic "tastemaking" culinary experience. In doing so, they want to foster a positive work environment that drives loyalty to their mission and happy staff and customers.
January says, "We will achieve this through exemplary service, amazing – high quality food, and a diverse portfolio of offerings. We believe that by being a locally-sourced establishment, with multiple local partners, and the purpose of pulling in new business for The Blackbird Waterhouse and the Paw Paw Lake community – we will drive community growth and benefit for all."
The future is equally as bright. January says, "We do have in our business plan a three and five year plan so this is just the beginning. We also have plans in year three to purchase a house on the lake and call it the Waterhouse, and do events out of that. So we'll do events here and eventually the Waterhouse for events on the lake."
Lynzee takes the story a little further, saying, "If you're familiar with Air BNB or Home Away where they rent experiences — like you can rent a tent in the middle of the Moab Desert and book an event — so we're jumping on that bandwagon and figured why do we have to be like every other restaurant? Let's be different, let's have some marketing that's a little more edgy and kind of fun and witty, and then let's take our expansion instead of buying another restaurant, let's make a second location the waterhouse."
Lynzee says, "There are so many properties on the big like and a small lake here locally that need some TLC to be purchased and then restored and then this idea of booking the waterhouse for your wedding or a big family reunion or class reunion that comes with a chef and with your own event staff and things like that, gives us the feeling that the sky's the limit."
Indeed, with this amazing team working together at the helm, the sky is the limit. Stay tuned for news of the official opening of The Blackbird Waterhouse at 4896 Paw Paw Lake Road in Coloma, Prepare to be amazed.