---

---
We hear so often, "It's the little things in life that count," and that's so very true in multiple ways. While that phrase is typically tied to things like, "say thank you," or "take a few minutes to talk, uninterrupted, with your kids," there's a different context where "the little things" become critical to success or failure. Just ask Kevin Potter from Young Supply who works every day with "The Crew in Blue" at City Plumbing Heating and Air Conditioning in St. Joseph.
Kevin recently made the point very clear when he told us, "Major failures happen because little maintenance isn't done." As the temperatures start to warm up for beach season, "The Crew in Blue" is thinking about that a lot, in hopes that you and I will understand that there are lots of ways that we can keep the little things up to avoid the major failure that sends us into a tailspin.
Here are some of the tips they offer to keep home heating and cooling equipment up to par:
Change filters regularly, not just when the heater is running, but all year round…
Clean the outside of your air conditioning unit by spraying it with a hose, but keep in mind you should avoid using a power washer as that will damage your equipment…
Make sure your vents and registers are clear in your home…
Be especially sure to wash air conditioning coils with water if you're prone to a lot of cottonwood at your home during the summer time…
Kevin Narregan has worked with "The Crew in Blue" at City for 20 years as a Commercial HVAC Technician. He's among the first to point out every time, "It's important that we show a homeowner how to keep their coils clean, especially when the cottonwood is flying."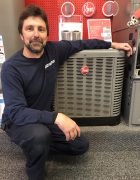 While there are, indeed, many things that you as a home or business owner can do to be proactive in the maintenance of the little things in working to maintain your heating and cooling equipment, however, the caution is that there's only so much you can do as an untrained individual.
By way of example, some people don't even realize they have an air filter in their equipment, or how to safely access the mechanical parts of the equipment or to check for refrigerant. That's why City recommends regular maintenance by a professional HVAC Technician. They invite you to take advantage of seasonal specials to get that special attention. Click the link below to see examples:
https://www.cityplumbing-heating.com/specials
Legendary collegiate basketball Coach John Wooden once said, "It's the little details that are vital. Little things make big things happen." By the same token, inattention to the little things, can cause big things to happen. Things you want to avoid anytime that's possible.
Scott Bush is a valued member of "The Crew in Blue," with 10 years on the team as a Commercial & Residential HVAC Technician. Bush says, "Homeowners don't know how to check the refrigerant charge, expose the working pieces of the equipment safely without breaking anything, in the manner that a professional does."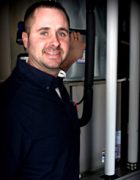 There are multiple reasons why getting your equipment serviced regularly makes great common sense and saves you money, including:
Avoiding emergency service calls after hours and weekends when they can prove to be the most costly of all…
Loss of efficiency with your equipment. Clean, well-maintained gear just works better and more efficiently…
Staving off long-term damage to your equipment. The longer inefficient and malfunctioning gear is allowed to remain unchecked, the higher the risk of a major failure at some point down the line…
Narregan says, "It's wear and tear on components in the furnace that could eventually fail prematurely because of this long term exposure to dirty air filters," and points out, "Homeowners don't even know the damage is happening because their house is getting warm and cool when they want it to."
Ironically, Narregan notes, most people are smart enough to know that oil and filter changes in the family car are critical to keeping the wheels turning, yet they have a tendency to forget that furnace filters need to be changed with regularity, as well. He chuckles, "I guess because you don't drive your furnace, you kind of tend to forget."
Business owners need to recognize that the same goes for them. Regular maintenance is not just for residential equipment. Regularly scheduled maintenance is important for commercial businesses, too, because entire inventories and important files can be at risk every day with equipment destined to failure and the potential for a catastrophic loss at some point.
Fortunately, as a LINC contractor, City Plumbing Heating and each commercial maintenance agreement is customized based on your equipment. Interested commercial customers can learn more about the LINC agreements and more by clicking the link below:
https://www.cityplumbing-heating.com/commercial-service-agreements
Kevin Potter reminds commercial clients, "Everybody's warranty states that equipment must be maintained, so not doing regular maintenance can actually void your manufacturer's warranty."
Kevin Narregan proves the entire point of "The Crew in Blue's" call for attention to "the little things," telling us, "At least 75-percent of our service calls are due to dirt…cottonwood in the coils," and adds, "People don't realize how far just a little bit of attention goes to avoid breakdowns." He goes on to note, "If you keep good belts on the unit, if you keep clean air filters in it, if you keep the coils clean, that equipment is going to treat you right."
Jim Evans was a businessman, teacher and politician who told us, "Game management is accomplished by staying constantly alert and then reading and reacting to potential problem situations before they materialize. It all boils down to paying attention to details." Needless to say, "The Crew in Blue" would concur wholeheartedly. They work every day in search of potential problem situations before they materialize into major consequences and equipment failure.
Your very next call should be to "The Crew in Blue" at City Plumbing Heating and Air Conditioning to help keep your home and business humming in complete comfort all year round. Don't let the little things derail your big plans at the worst possible moment — or any moment for that matter.
---
Contact The Crew In Blue Today! Just fill out the form and someone will respond to you soon.
---