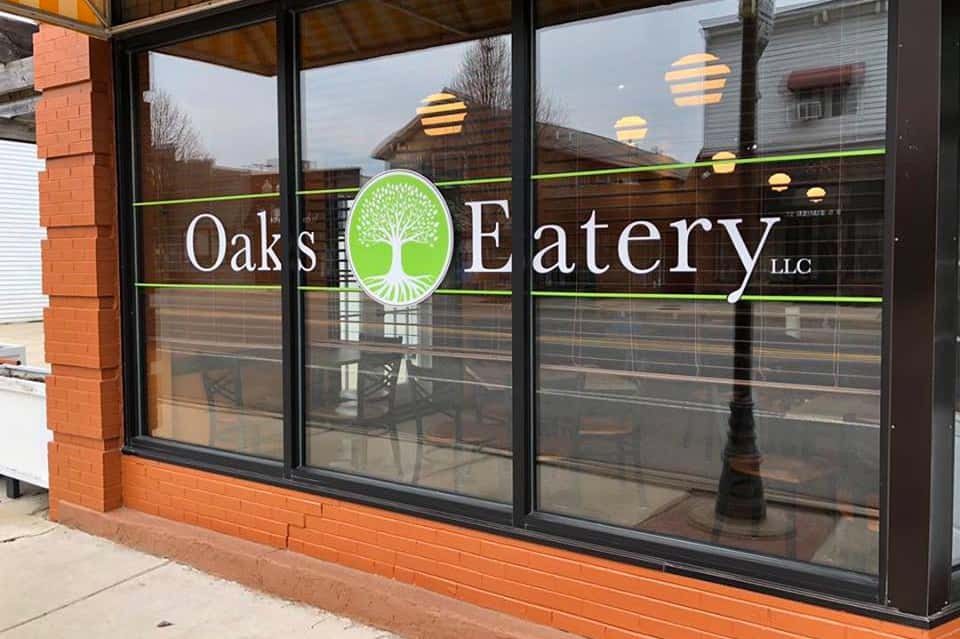 Here's a slice of advice for current Lake Michigan College students: If the marketing team asks to use your image and your story to help tell the LMC story and recruit more people like you, say "Yes" as fast as you can. Two stellar students profiled in short videos and showcased on billboards and in social media several years ago are prime examples of LMC's ability to spot the cream of the crop as they have gone on to successfully fulfill their dreams.
One of those students opens his first restaurant after graduating from both the LMC Culinary Management and Hospitality Management programs next week, and the other a nursing graduate who worked for several years at Lakeland Health in St. Joseph has advanced to a major role on the nursing team at the Duke University in North Carolina.
Rodrigo Abarca and Kaitlyn Burnett were held up as prime examples of what dedicated students at Lake Michigan College can accomplish on the way to living their dreams, and Mr. Abarca has been on a mission ever since.
On Saturday, April 13th at 7am, Rodrigo will swing open the doors onto his new Oaks Eatery at 8 South Elm Street in downtown Three Oaks after pouring his heart and soul into getting the diner ready to roll.
His success in the culinary and hospitality realms while studying at LMC come to no surprise to anyone who has known him. He is absolutely driven and comes from a strong background in the restaurant industry having worked with and around family members also successfully engaged in the industry for many of his formative years.
He was a key player on the team at Joe's Cafe in St. Joseph's Scottdale Triangle neighborhood which is owned by his uncle, Jose Estrada and his wife Gabriela Flores. He would literally glide across the floor in rapid response to customer's wishes with a huge smile on his face at every turn. Then too there is another stellar member of the family who has brought fame to the Benton Harbor Arts District through the Mason Jar Cafe. That top destination attraction is owned and operated by Chef Abel Martinez and his wife Jayme Cousins.
With a foundation like that, and learning at the knee of top professionals, Rodrigo stands an excellent chance to shine, but also carries a legacy to live up to.
Rodrigo says his goal is for Oaks Eatery to be a farm-to-table experience, but heavily influenced by his own culinary concepts. He's locked in with local providers such as Primal Meats of Benton Harbor, Granor Farms, and a locally produced egg farm, and coffee from local vendor Uncommon Grounds.
Oaks Eatery will be open seven days a week from 7am until 3pm, serving breakfast and lunch offerings only, but Rodrigo is leaving the door open to potential expansion into the dinner market at some point in the future.
As he told me at the outset of his planned venture, Oaks Eatery will carry some of his personal culture's flair through a meld of Mexican-American fusion, but there will be plenty of traditional American fare on his menu as well.
As has been his tradition while working with family elsewhere, Abarca says he's got several family members working the team at Oaks Eatery kitchen including his father and step-father, and even his mom will be a server there.
Now that the Berrien County Health Inspector has completed final approvals, Oaks Eatery is ready to take flight next Saturday, April 13th. You can reach the restaurant by phone at 269-820-2068 and find them on the main route through downtown Three Oaks at 8 South Elm Street.
The team at the Women's Business Center at Cornerstone Alliance will conduct a ribbon cutting ceremony with Rodrigo's team on Friday morning, April 12th at 10am, to which the public is invited for a sneak preview.
For a 23 year old who has been driven by a long-instilled passion, this should be a great ride. Even the crew in the marketing department at Lake Michigan College spotted that several years ago.
The photo accompanying this story on Moody on the Market showing the custom vinyl window graphics at Oaks Eatery is courtesy of Art-Fx Signs & Graphics on Red Arrow Highway in Bridgman.