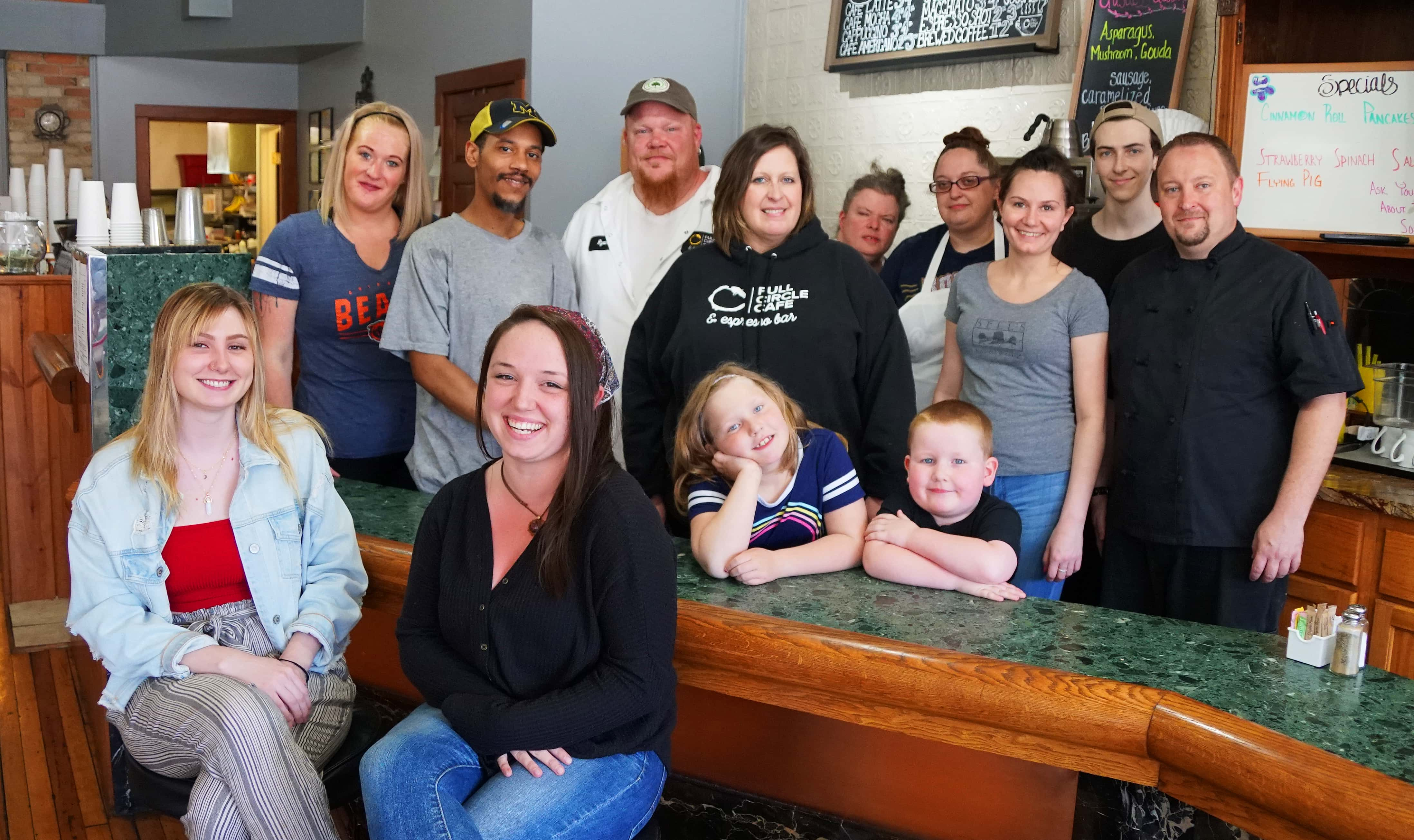 When I first introduced you to the Full Circle Cafe & Espresso Bar anchored in downtown Stevensville, I told you the story of three amazing young women entrepreneurs, all Lakeshore High School alums, who had — they thought — come "full circle" in their lives to create their exciting joint venture in the heart of the community. That was three years ago in May. In a couple of months one ventured off for her Personal Chef business. A year later, a second departed to pursue other opportunities. So, the irony is that as she marks the milestone of her third anniversary in business, Jayme Bendoski is the one who has truly come "full circle," having recruited her husband Ryan as a partner early on and never looking back.
Jayme tells me that when Mindy Kasewurm left to be a chef, Ryan stepped into the breech and "became the creative, Food Ninja at Full Circle Cafe & Espresso Bar," downtown. Mindy, by the way, remains to this day a friend and regular customer.
Ryan, it turns out, helped form an indomitable presence, and Jayme tells me, "With his ideas and dedication to the evolution of a more substantial menu, we created what we thought the Village of Stevensville, and everyone surrounding us, for that matter, was craving — a simple, fresh, and delicious breakfast and lunch menu, complete with housemade English muffins, our beloved bacon hash, pancakes, biscuits & gravy, grilled sandwiches, homemade soups & salads, and all featuring produce and other products from a select few local farms."
That menu, and Full Circle's weekly features, alongside their always 100-percent homemade bakery items, and Infusco coffee has been a solid winning combination that keeps the front door revolving continuously during open hours at 5729 St. Joseph Avenue.
In May of 2017, after one year in the partnership, Teri McGuigan departed to pursue other opportunities and that's when Jayme, Ryan, and their kids, 7-year old Grace and 5-year old Ryder, became sole owners of the cafe…bringing Jayme truly full circle.
In the three years since the newest business in town opened up shop in the oldest building in Stevensville, Jayme and her crew have been extremely busy people thanks to the popularity of their fare, their location, and their quality of customer service.
In that span, the Full Circle Cafe has served more than 20,000 pancakes, sold nearly 70,000 cups of coffee, and been a part of more than 500 bridal showers, weddings, baby showers and more, delivering gourmet cakes and cupcakes to various event venues, business offices and homes across Michigan's Great Southwest. Yeah, it's been a resounding success, and keep in mind that they've built a social media following on both Facebook and Instagram of some 7,000 people thus far.
As those quirky TV and radio ads will tell you, "But, wait…there's more!" Thanks to the faithful clientele that the Full Circle Cafe has managed to build up over time, they've also gone wholesale with bakery items by selling to Vineyard 2121 and Infusco Coffee Roasters, and Jayme says, "We are so grateful to Stacy & Bobby Camp at the Mark III, as they showcase our specialty dessert offerings at their restaurant daily for the past two years now!"
The Full Circle Cafe & Espresso Bar is housed in the building that Earl Small saved from the wrecking ball in 2007 and spent the next five years renovating every aspect of, which is historically significant inasmuch as it is the oldest building in the village of Stevensville. It encompasses some 2,500 square feet of space housing every sort of fresh made goodness.
So, what'll you find in the house at Full Circle Cafe & Espresso Bar in Stevensville? Jayme says, "We specialize in all of the usual suspects when it comes to baked goods, but we also love to include gluten free, sugar free, vegan, and nut free options in our daily bakery case offerings, so that there's literally something for everyone."
She adds, "Our cafe menu (which you can see by clicking here: Full-Circle-Menu ) featuring breakfast served all day, and lunch, has become increasingly popular in a just a few years. We have a loyal following of regular customers who visit the cafe weekly, and some even daily! We specialize in takeout (where you can call ahead, and pick up your order in 20 minutes to enjoy on the go), we cater boxed lunches and baked goods, and even sell quarts of our housemade soups, sausage gravy, and pans of our beloved crustless quiche."
Jayme has a heart of gold when it comes to giving back to the community that has provided such a healthy business for her and her family, noting, "We pride ourselves in our 'never say no' policy when it comes to donations. We make it a point to always give something – whether it be gift cards for silent auctions, cash for sponsorships, baked goods or food items, even a portion of the days sales and the like, it truly gives us joy to be a part of the fundraising process, and we feel it is truly our responsibility to use the public platform that we have for good."
Jayme and Ryan coach the staff routinely on the importance of quality customer service, which has led to their nomination for the Celebration Cinemas! Celebrated Service award two years running. She says, "We believe our staff is such a big part of our success thus far, and we have been blessed with amazing employees who have become family to us. We are beyond grateful for their dedication to all that we do at the cafe."
If you want another example of the quality of their offerings, look no further than the St. Joseph Today Chili-Cook-Off. Ryan says, "We won 1st place in the prestigious chili cook-off in downtown St. Joe in January 2019, with our special recipe Chili Verde, complete with braised pork, and we have the big red chili pepper trophy to prove it! We were up against more than 30 seasoned competitors, and not only was winning a huge shock, it was a huge honor!"
The team at Full Circle is always innovating ways to engage the community, as Jayme tells us, "We are currently partnering with the local Meals on Wheels, and are the first local restaurant to participate in their new voucher program – inviting seniors to dine in or carry out, for a low cost meal of only $2 per visit, up to four times a month."
While her early venture with two other partners didn't pan out the way she had planned, Jayme is very grateful for their success, saying, "Ryan and I truly believe that this business has been such a blessing to our family, allowing us to do what we love, work with an amazing team, and literally raise our kids at work, sometimes," as they are often there, behind the scenes.
Like a number of other highly focused business enterprises in our region, the Bendoski family prefers to work with other local vendors. Nature's Way Landscaping provides landscaping for their back patio and the front entrance, and they get fresh produce daily or weekly, seasonally, from both Alex's Veggies in Stevensville, and Verdant Hollow Farm in Buchanan. Their pure maple syrup comes from Flagels Sugar House in Benton Harbor every week, and all of the jams and jellies in the house are from Radke Farms in St. Joseph.
As we were rapping up the visit downtown today, Jayme summed it all up saying simply, "More than anything, we'd just like to express our sincere gratitude to all those who've come to Full Circle to try something new. We are pleased to have built a large social media following, but we know, more importantly that guest satisfaction and word of mouth is truly the most important thing to growing a small business." For the most part that has worked for the Bendoskis very well as they enter year four of their popular cafe in the heart of the community.
If you'd like to follow along for specials, menu additions, events and other surprises, you can link to Full Circle through these portals online:
https://www.facebook.com/fullcirclecafeandespressobar/
https://www.facebook.com/EverythingSweetBakeryandCupcakery/
https://www.instagram.com/fullcirclecafeespressobar/
For the best outcome, however, make your way downtown soon and check them out in person. You can't miss.