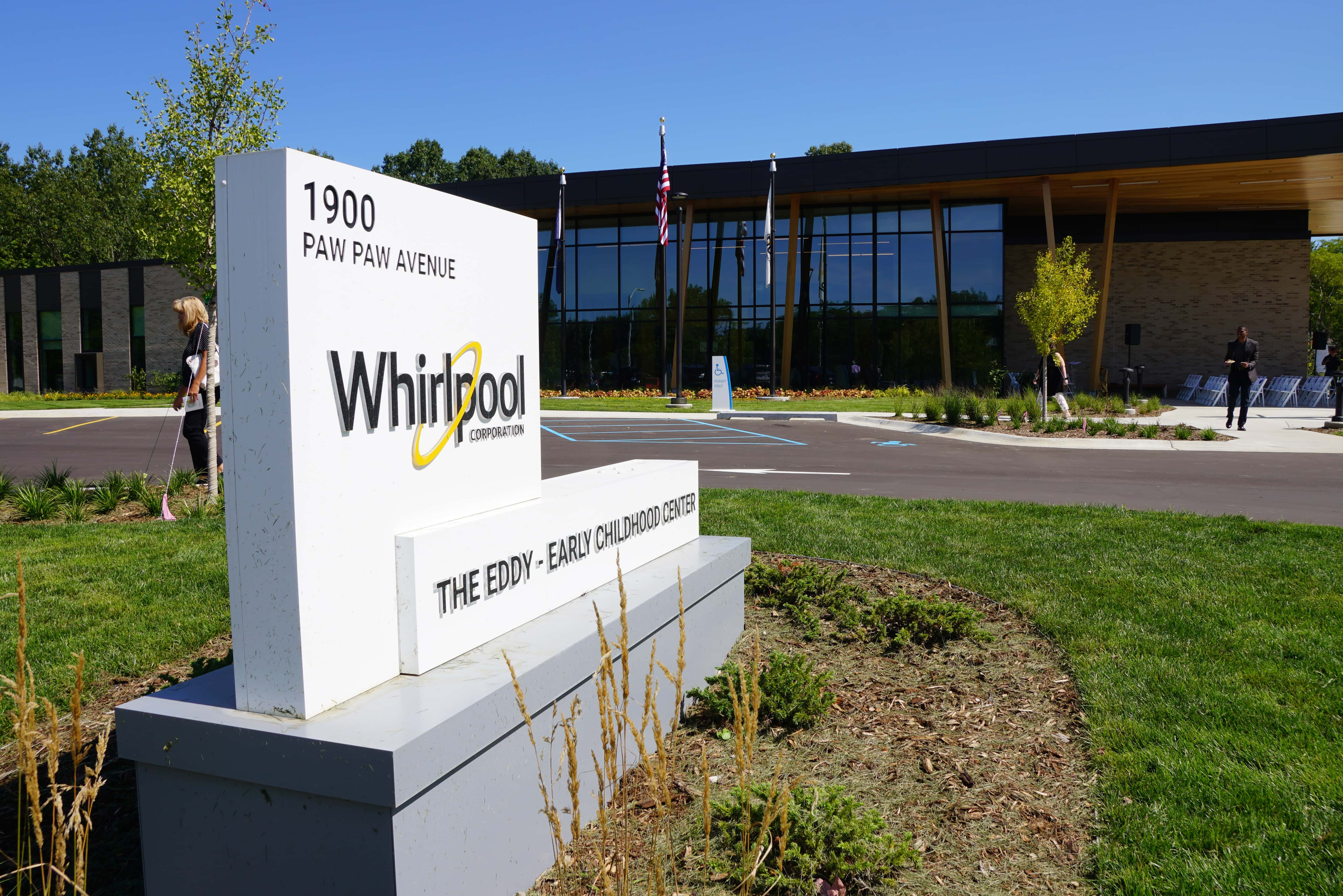 Whirlpool Chairman & CEO Marc Bitzer contends that when you first enter The Eddy — Whirlpool's new on campus childcare center in Benton Harbor, "You will come to one of two conclusions. Either you will want to be a kid again, or you'll wonder 'Why did we wait so long?'" Seconds later he was poised over a large ribbon with a sizable pair of scissors to christen "The Eddy," and welcome the striking new building into service. He added, " I'm really excited to open this place because this is actually one of the best child care facilities in the state or even the country. It's something we're very proud of and I'm very happy that we're all here."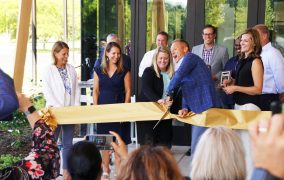 Bitzer pointed off into the distance as he began his comments today alongside Global Headquarters and said, "Our company was founded 108 years ago about a mile away from here across the river, and in many ways in 108 years we've come a long way to become the leading company in the world of appliance manufacturing." However, he added, "We still stay very true to our roots in Benton Harbor."
He explained the reasoning behind creation of the new childcare center on the campus by suggesting, "Moving forward we may only be the best appliance maker in the world if we have the very best people in the world," adding, "We have to have an attractive workplace and that's why we've invested $170-million within 10 miles of here during the last five years."
Bitzer continued, "Beyond this, we also have to have an attractive place to live, and beaches — as much as I like them — are not enough, and they've become a bit smaller in recent years too. But they're not enough. What's equally important is education and a good place for families, particularly young families, to live."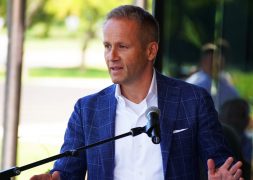 It was the steady drumbeat from employees that lead to The Eddy. The youthful CEO says, "Over the last several years we repeatedly heard, child care is a big need in the community but equally for Whirlpool." He recognizes, "We will not be able to attract the best people if we don't offer childcare. That's the simple reason that we're here. To offer childcare, and attract the very best people in the world."
Congressman Fred Upton concurred, telling the crowd on hand today, "I remember a couple of years ago when the competitive climate got really tough across the country, and Whirlpool looked at a lot of different things, and decided if we're going to be the best company, and the largest in the home appliance market, we've got to make sure that we can attract the workers at all levels, who want to stay here. To do that you have to invest in the community. That's the proof in the pudding."
Upton had already toured the building before speaking and said, "This is really an outstanding facility. As we look at trying to make America as strong as it once was, with employees that want to go to work, we know that the kids have to be safe, and they gain that learning track as well." He plans to use The Eddy as a national example, saying, "We're actually looking at some tax changes nationally that will help all businesses and all families to participate in something like this, with an incentive so that they can actually go to work, and know that their kids are going to be safe. This sets the example. I'm going to take this back and talk to my colleagues on both sides of the aisle and see if we can't get it done. Thank you Whirlpool for making this community even stronger and more attractive to the people that we want to be in our community."
Whirlpool Chief Human Resources Officer Carey Martin spoke of her great pride of being a part of the project for the last four years, saying, "It takes great collaboration to achieve excellence, and this team did exactly that with this state of the art facility."
The new 21,600 square foot childcare center project was shepherded by Whirlpool's Global Real Estate Team while CBRE Design & Construction served as lead on the project with partners from Third Coast Development, Integrated Architecture for the design of the building, Abonmarche of Benton Harbor for the landscaping design, and the general contractor was Pioneer Construction who built the center and brought it to life.
The sparkling new facility will be under the management of Brook Boone from KinderCare. She describes the project as, "A center that is providing care for the children of Whirlpool employees, offering birth through age 5, or age 6 if they turn six before they go to Kindergarten." She says,
"We're focused on providing a safe, secure, and nurturing environment to help them learn and grow, and just prepared them for kindergarten and ultimately to be successful in life."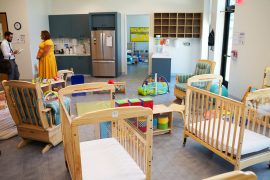 The new facility features 14 rooms that will function as classrooms plus a Learning Adventures classroom. Four of the classrooms will house infants, five will house toddlers, two will be used for Discovery Pre-School classes for ages 2 1/2 to 3 years of age, two will be used for Pre-School classes and one will be used for a Pre-Kindergarten class. The Learning Adventures classroom will be used for some curriculum in a cooking class, and they also have an indoor terrarium, as well as a multi-purpose area to which they can take the little ones for large motor development on those days when weather conditions prevent them from going outside.
Boone says, "The State of Michigan has licensed us for a maximum capacity of 204 children, however Whirlpool prefers to keep class sizes a little bit smaller, so even though our rooms are big enough for a lot more children, we prefer to create a more home-like environment and keep smaller class sizes. Thus our own designated operating capacity will be 156 children."
The Eddy will be opening next Monday, August 26th with a soft opening, and then the floodgates open on September 3rd, coinciding with the traditional start of public school classes across the region.
The staff includes 24 employees, 22 of which are all from Berrien County, and Boone says, "We're excited about creating employment for the area and we have the opportunity to grow that staff size as well as our enrollment grows."