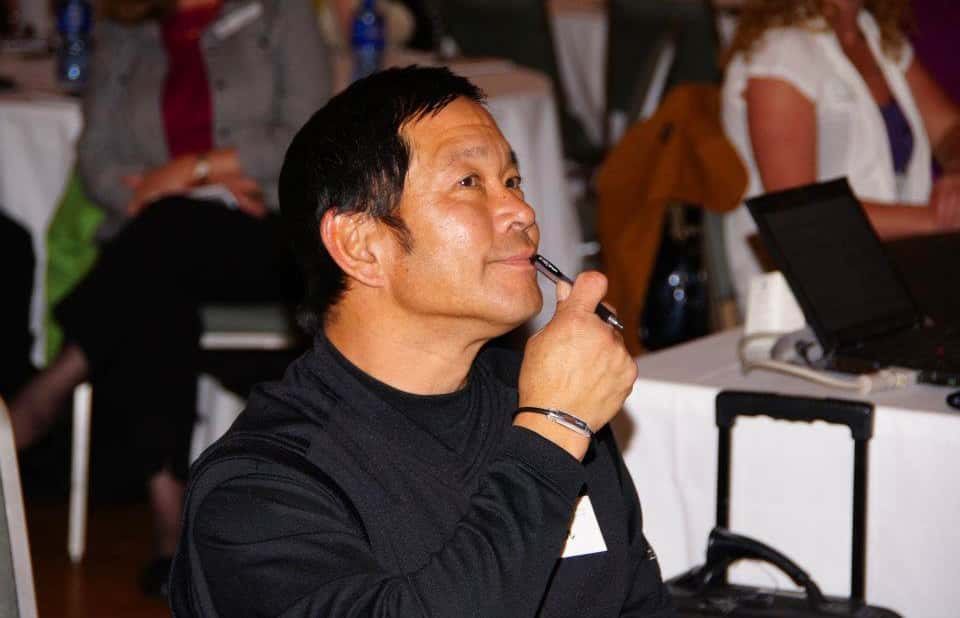 If you mentioned Wayne Yamaguchi to somebody in Michigan's Great Southwest, you might or might not get a response. However, if you simply mentioned "Gooch," you'd run a considerably stronger potential for getting an immediate nod of the head, and likely a big smile as well. Gooch has anchored the pro shop and management team at Lake Michigan Hills Golf Club in Benton Harbor for the past decade or longer and endeared himself to anyone who has ever picked up a golf club there recreationally or while engaged in lessons. Unfortunately for local fans of his amazing disposition and fun-loving style our time with the man is running out.
Yamaguchi, a Certified Personal Coach in the game of golf, originally from Los Angeles, California departs at the end of the month for his new role with GOLFTEC Minnetonka in Plymouth, Minnesota due west from Minneapolis.
While he's looking forward to his new adventure as a full-time golf instructor there, he will seriously miss being able to pull his hands of his pockets to show you graphically where he lives in "The Mitten."
Gooch, a 1991 graduate of the San Diego Golf Academy, has been Head Golf Professional at Lake Michigan Hills ever since being hired by the course, and shared the news of his forthcoming career change early today on his personal Facebook page, where he waxed philosophically and shared a peek behind the curtain about his time in "the Mitten," as you can see here:
To all of you that have made my life in Michigan an incredible experience, thank you. I learned on the TEDx stage that we all have a story to tell and each day of our lives we write another page of that story. It took me ten years to finally figure out how to show people where I live in the Mitten and ironically as I turn the page at the end of this month, the next chapter of my life will be written in Minnesota. I'll miss being able to pull the map of where I live just by pulling my hands out of my pockets.
I'm excited to write the next chapter of my life as I join an incredible team of instructors at GolfTec Minnetonka. At the same, I have mixed emotions as I move on because I'm leaving behind the most incredible community that I've ever been a part of. Pablo Casals said, "To the whole world you might be just one person, but to one person you might just be the whole world." This community has meant the whole world to me.
I've recently received several messages that Lake Michigan Hills won't the same without me but truthfully, it was never about me but all of you. It's your passionate support that has made LMH what it is and you're those who will make LMH's 50th anniversary year its best year ever. All that will change is one of the faces behind the counter.
I've made a lot of friends here while at the same time, I've shared your sadness as we've had to mourn those who've meant so much.
Truthfully of those I've been fortunate to have gotten to know, the many young people who I've had the pleasure of getting to know are at the top of my list and their character is a reflection of the strength of the culture of this community. They're passionate. They're intelligent and curious. Most importantly, they all want to change the world for the better and if we just support them and encourage them to dream big dreams, we will change the world by changing them. What we need to remember is that our generation is one of doing what we're supposed to do. I hope that their generation will be one that does what they are meant to do.
I'll still be around through the end of the month, so I hope you can stop into the pro shop and say hello/goodbye so I can thank you personally for the some of best chapters of my life ever.
In February, Gooch joins GOLFTEC Minnetonka Center Manager & Director of Instruction Nick Pelle, and fellow Certified Personal Coaches Ted LaVine and John Cleary in providing first class professional training in golf instruction, club fitting and more.
They will continue the work of GOLFTEC to teach anyone from those just getting started in the game to those in search of victory as a club champion. Every training bay at his new facility includes interactive video which will allow him to show immediate replays of each swing of the club from two directions simultaneously.
GOLFTEC also offers TECfit, a tour-level club fitting system, designed to deliver precise, unbiased fitting experience from the team of professionals there.
On a personal level, I have always held Gooch in extremely high esteem for his dedicated ongoing support of my former colleague Denise Bohn's annual Play Fore Pink Golf Outing that helped raise substantial dollars over the years for the war against breast cancer. In fact a couple of years ago he went into Marathon Man mode and golfed more than 100 holes in a single day to draw attention and raise dollars for the cause. That's an incredible legacy that none of Denise's close friends and family members will ever forget.
He also stepped out of his comfort zone and joined the Southwest Michigan Symphony Orchestra's Dancing With the Symphony Stars two years ago. He was a very active member of the Cornerstone Chamber of Commerce, and hosted many a stellar outing with local organizations like the Lakeland Health Foundation and others.
The photo of Gooch accompanying this story on Moody on the Market reflects his attention to quality customer service detail as he attended the Cornerstone Chamber of Commerce Ritz Carlton Customer Service Training in St. Joseph in November of 2011.
Thanks Gooch…it has been a great ride and we wish you the very best as you pass the nine iron to your successor and head for the land of 10,000 lakes. Just make sure you keep your shots in the vicinity of the flag and enjoy the run. You will be missed.