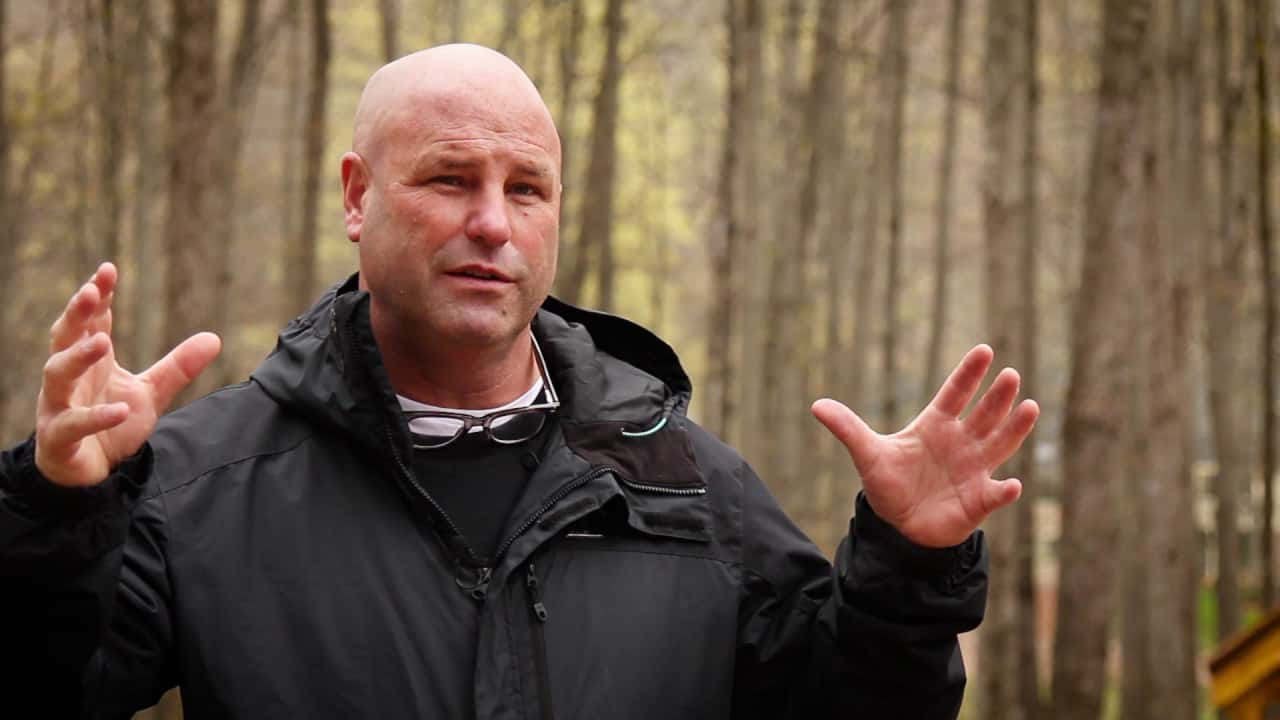 When you go to check out John Sauve's new sculpture donated to the city of St. Joseph by his friends at the ARS Galley-Arts & Culture Center of Benton Harbor, you'll likely find the hardest part of the moment will be trying to pronounce the name of it. It's "Vergangenheitsbewaltigung" so you better start practicing right now. That's even tougher than the old Volkswagen branding of Fahrvergnügen, if you stop to think about it.
At any rate, make plans to join Sauve and friends next Tuesday evening, October 8th, at 5pm along the Margaret B. Upton Arboretum on the St. Joseph River for a formal dedication of the sculpture.
Sauve is a Detroit-based artist and arts educator whose notable works in the I Am the Greatest project are found at 16 individual sites around Michigan's Great Southwest thanks to his partnership with the ARS Gallery.
Following Tuesday's dedication, the Krasl Art Center in St. Joe will host a panel discussion entitled "IMPACT: Public Sculpture in Southwest Michigan." That free event at 5:30pm that evening is open to the public and will explore concepts of public art in the community. Guest speakers include Anna Russo-Sieber of ARS Gallery-Arts and Culture Center, and public artists Richard Hunt and John Sauvé. Krasl Art Center Deputy Director and Curator Tami Miller will moderate the discussion.
Miller says, "St. Joseph and Benton Harbor have been called the best little sculpture community in the USA," and adds, "As part of the community, these artworks and memorials are a source of community pride. They beautify our neighborhoods and make them unique."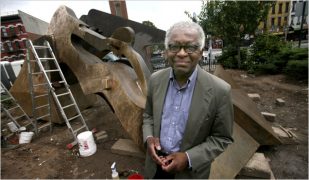 Richard Hunt is a native of Chicago's South Side and graduate of the Art Institute of Chicago. He has created sculptures that can be found in numerous museums and collections worldwide, including at the Modern Museum of Art, Whitney Museum of American Art, Metropolitan Museum of Art, and the National Museum of American Art. An influential voice for the arts, Hunt has served on the National Board of the Smithsonian Institution and was appointed to the Board of the National Endowment for the Arts.
Over the years, Hunt has formed strong ties to Southwest Michigan through his studio in the Benton Harbor Arts District. Community members may be most familiar with his 50-foot stainless steel sculpture "And You, Seas," located where the St. Joseph River meets Lake Michigan at Silver Beach County Park in St. Joseph. Most recently, Krasl Art Center introduced Hunt's sculpture "Rising Crossing Tides" as the focal point of their newly renovated grounds, which were purposefully designed to invite community engagement.
John Sauvé is a Detroit native who has earned national and international recognition both for his large-scale public sculptures and for his strong support of arts education in the communities where he exhibits his work. A graduate of Michigan State University, he oversaw the installation of public art as part of the Michigan Commission on Art in Public Places. Sauvé's work has included the Man in the City project, and international sculpture project comprised of 40 sculptures located on the rooftops of prominent buildings throughout Detroit and Windsor.
In Southwest Michigan, Sauvé has left his mark in St. Joseph and Benton Harbor in the form of those 16 sculptures as part of the I Am The Greatest project. Sauvé created the sculptures in the likeness of the late boxer, philanthropist, and social activist Muhammad Ali, who had a home in Berrien County.
Sauve says, "The I Am the Greatest project creates a metaphor for working through adversity and inspires the viewer to take notice of their surroundings and encourages people to look around."
ARS Arts and Culture Center partners with Sauvé' to present educational programming for local at-risk youth as part of the I Am The Greatest project. Since its inception in 2012, the I Am The Greatest project has helped hundreds of youth learn about community and public art, and to express themselves through introspective writing, creating, and artistic media.
Anna Russo-Sieber of ARS Gallery says, "Using John's public art, this project introduces Mr. Ali to a new generation of kids," and adds, "His story highlights the overwhelming amount of adversity he faced by standing up for his beliefs and the influence he had on his generation. As a result of telling this story, we hope to inspire a new generation to realize that they can make a difference."
For more information about "IMPACT: Public Sculpture in Southwest Michigan," visit arsartsandculture.org, email arsarts.culture@gmail.com, or call 269-208-4409.
ARS Gallery-Arts and Culture Center is located in the Benton Harbor Arts District, and provides a community art center offering visual arts, arts education, cultural language classes, and outreach to the local youth.  ARS is the home of the "I Am The Greatest" project and has offered arts programming to hundreds of local youth. For more information, visit arsartsandculture.org.
The photo of John Sauve atop this story on Moody on the Market is courtesy of ARS Gallery.