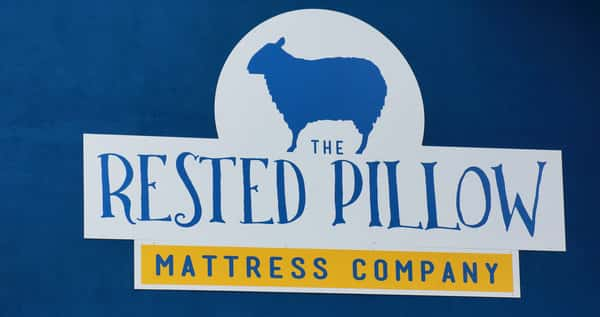 Nick Gillespie amassed a considerable education in the mattress industry side-by-side with the education he was earning at the University of Michigan a number of years ago — working his way through school headed toward a career with Whirlpool Corporation. After a dozen years with the appliance giant working his way through the Real World Project, sales and supply chain management and eventually into government relations and public affairs, the draw of his baseline knowledge lured his entrepreneurial spirit back to the bedroom. The result is his planned opening soon of The Rested Pillow Mattress Company in the Southtown neighborhood of St. Joseph.
Seeing the perpetual trepidation and anxiety of the mattress buying public, Nick wants to streamline and simplify the equation in a straight-forward, fully transparent, retail center where you can buy the bed of your dreams "without the high level of dissatisfaction" that is rampant in that arena.
Gillespie has partnered with the trusted, family-owned, Capitol Bedding Company of Lansing to create a full line of beds for customers in search of value, minus the high-pressure tactics often found within that industry. He'll have an amazingly first-class product to accomplish that task with inasmuch as Capitol Bedding's reputation has soared. They are a privately-owned manufacturer and wholesaler to the bedding industry, creating private label branding for retailers like Nick.
If you have ever slept at the Grand Hotel on Mackinac Island, you have likely slept on a bed manufactured in Lansing by Capitol Bedding. They have also been a major vendor of beds for both Notre Dame and Michigan State University dormitories for many years.
Nick has taken a vacant space in the commercial center at 1330 Hilltop Road between The Liquor Cabinet and H&R Block. He has nicely converted the building into an urban/industrial chic space that places the reception and sales desk at the top of a linear line-up of what he calls "snugs," semi-private showcase spaces that allow for buyers to comfortably try out the beds of their choice in search of their personal "holy grail." Better yet, Gillespie has established hours that leave plenty of time for private appointments, giving shoppers exclusive use of the store to find the best bed option without any other patron "in the house."
The Resting Pillow showroom will be open Tuesday through Friday from 4pm until 8pm and Saturdays from 10am until 5pm. The period from 10am until 4pm every Tuesday through Friday will be available for private appointments, or you can shop privately Sunday and Monday by appointment. You can literally have the entire store to yourself during your appointment in order to determine the very best bed for your lifestyle.
The shop will carry around 20 individually different beds on display at a time including twin, full, queen, king, California king, twin XL, and adjustable beds clearly marked in ranges from soft to firm utilizing various manufacturing methods from traditional coil to pocket coil, from gel memory foam to latex memory foam and beyond. They will also feature "Bed in a Box" options, a full range of pillows and bedding and more.
Nick is proud of the tradition of Capitol Bedding, calling their product and reputation "impeccable, and filled with tremendous value for your money," giving you far more bang for your buck at every step of the way. He notes that there will be something for literally everybody in need of a bed — it's not just a boutique. He says Capitol Bedding is "one of the oldest, most respected mattress manufacturers in America," and he wants to show people how rewarding a quality bed can be.
He likens his business to being "the craft beer" of the mattress world. Too many people become frustrated with the top name brands and the people who carry them and resort to trying to buy online in an attempt to find a better buying experience. He promises that anybody who buys or takes delivery of one of The Rest Pillow's beds will be guaranteed their satisfaction, or they can return it to have it done right.
Nick himself admits that he had a love-hate relationship with the mattress business until he selected Capitol Bedding as his sole-source vendor for beds. He knew there had to be a better way, and that's why he adopted the "craft beer" approach, keeping things small and manageable with customized control. Shoppers will have the opportunity to see the ranges from soft to firm, and quality ranges from the traditional outlook of "good-better-best" in the showroom.
His grandmother always hoped for the family to be able to "sleep like a lamb," and the closeness one has to one's pillow is critical to a good night's sleep, giving him the concept for his Rested Pillow name.
The shop could be open for business by the end of next week or so, and will be available by phone at 269-982-1188. Follow along on Facebook to see what's happening, and Nick reminds you that "only you can decide which bed is the right bed for you," he just wants to make things a lot less complicated for you in the process. Stay tuned.