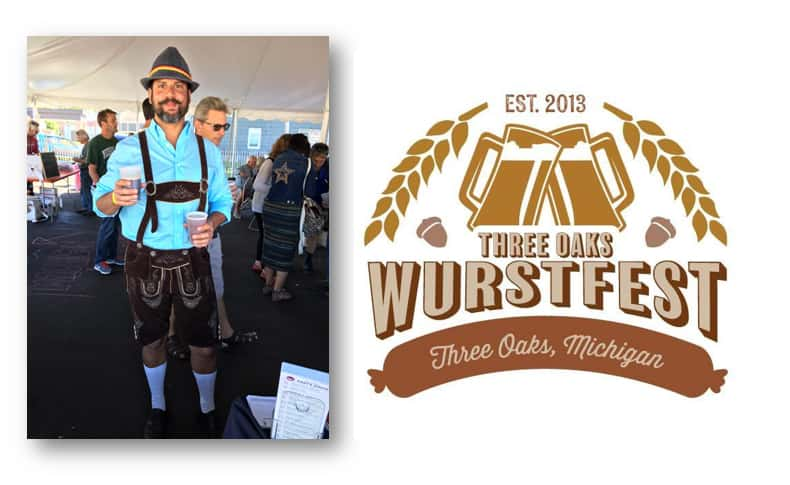 If you want the best of Harbor Country this fall, you're going to need to get to the "wurst." At least, that's the best way to launch the fall season in Michigan's Great Southwest according to organizers of the community's 7th Annual Three Oaks Wurstfest.
With fall weather slated to arrive right on schedule, Three Oaks Wurstfest ushers in the season of craft beers, cider and wines from across the region. It's a truly family-friendly festival that offers live music all day, a Classic Car show, more live music, arts & crafts vendors, wine & beer, children's activities, and beyond on Saturday, September 21st in downtown Three Oaks.
Presented by the Three Oaks Downtown Development Authority, Wurstfest will begin with a Classic Car show on S. Elm Street starting at 10am. All classic cars are free to attend and live music from MG Bailey and others can be heard along Chamberlain Path from 10-2pm.
At 11:00am, more than 40 Farm/Art/Craft/Food Vendors and kid's activities, including face painting and pumpkin decorating, open on the block of S. Elm between Linden and Central Streets. Then, the beer & wine tent and more live music begins at Noon at the corner of Central and Elm Streets.
Here's the official Event Schedule:
10-2pm – Three Oaks Farmers Market
10-2pm – Car Show on N. Elm Street between Central Drive and Maple
11-7pm – Vendors, kids activities and live music on S. Elm Street between South Central and   the entrance of Speedway
12-7pm – Beer/Wine Tent open in parking lot off Elm and South Central
Live music will keep your toes tapping while strolling the streets including:
11:30am — The Newports
1:30pm — The Edgar Willbury Experience
3:30pm — Red Deluxe
5:30pm — WYSIWYG
Cathi Rogers, Production Manager for the Three Oaks Wurstfest, says, "This year we are expanding the craft beer offerings to over 15+ brewers, 2 wineries and Journeyman Distillery tastings, with food pairings of brats, bbq, tacos and beer cheese sloppy joe's making this truly an 'Octoberfest' event." Rogers tells us that the local merchants will be part of the Wurstfest scene offering specials.
With limited gates, pedestrians can move freely through the downtown area and there will be detour signs that show how to get around town and to the other businesses, so visitors can enjoy all of Three Oaks. The festival is free to attend and is also pet friendly.
Breweries included in the event are:
Round Barn Brewery
Tapistry Brewing Company
Saugatuck Brewing Company
Silver Harbor Brewing Company
Perrin Brewing Company
Elk Brewing
Barn Brewers Brewery
Maplewood Brewery & Distillery
North Pier Brewing Company
Sister Lakes Brewing Company
Waypost Brewing
Three Blonds Brewery
Paw Paw Brewing
Haymarket Brewing
Great Mead Hall & Brewing Company
There will also be ciders from Black's Hard Cider and two regional wineries; Round Barn Winery and Lazy Ballerina. Journeyman Distillery will be joining the event to highlight their award-winning spirits, made just 500 yards away from Wurstfest's downtown location.
Three Oaks Wurstfest Festival is possible due to the myriad sponsors including:
Journeyman Distillery
Classic Catering & Events
Fusion Design Group
Lakeshore Recycle
Patellie's
Dooley's Lakehouse Pub
Hardings
New Buffalo Beach Club
Drier's Meat Market
Honor Credit Union
@ Properties
School of American Music
Mak Salon
Horizon Bank
Grand Beach Auto
Blue Moon Vintage Market
Corvette Central
Hancock & Hancock
Goods & Heroes