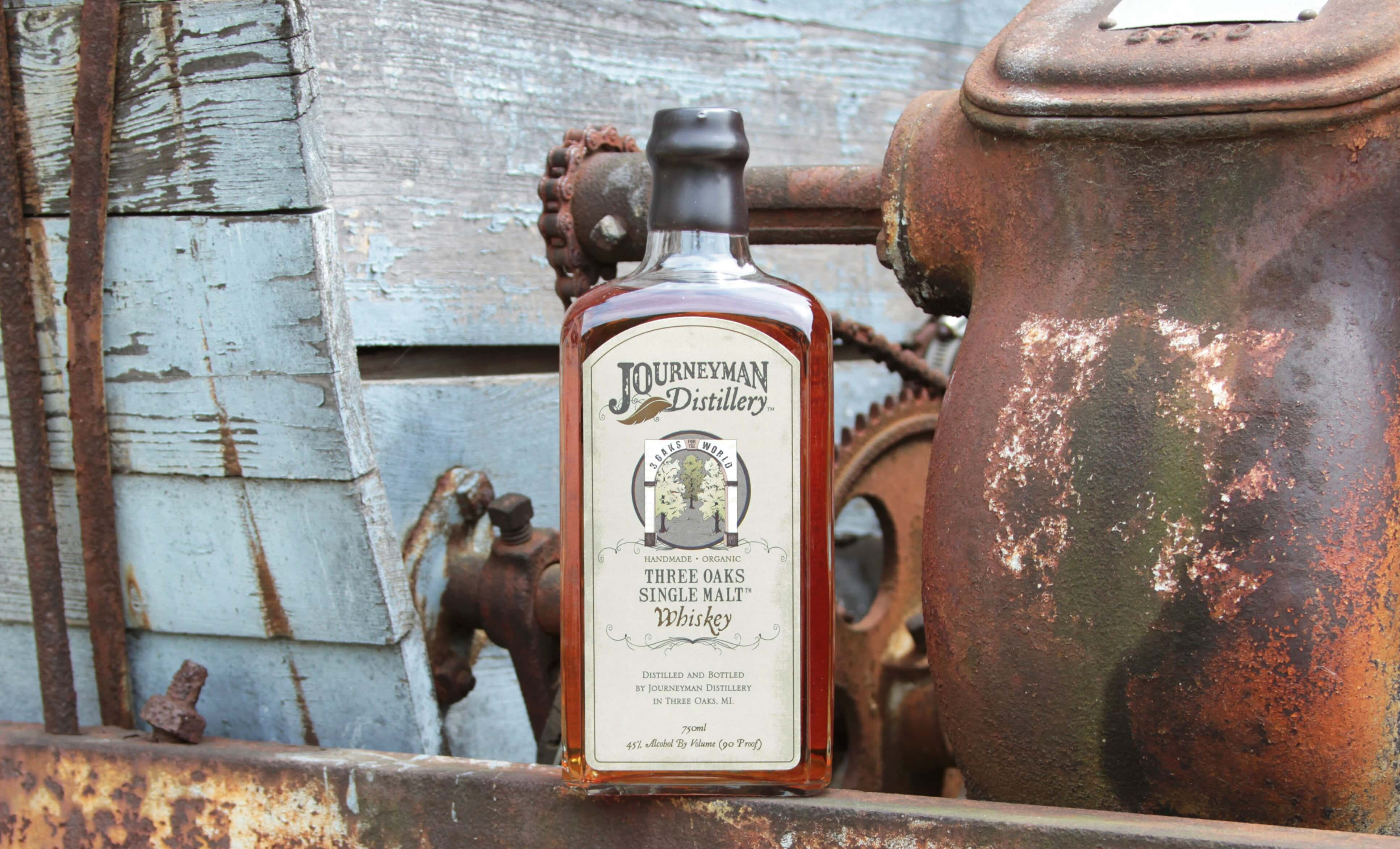 If you're a world-class distiller, and you're celebrating your eighth year in the business, you certainly want to do it up big. Thus, Journeyman Distillery of Three Oaks unleashes on spirit lovers everywhere in the region a new single malt whiskey.
Journeyman Distillery will release its long-awaited Three Oaks Single Malt this weekend, in celebration of that 8th anniversary in business. Fans of artisan spirits are invited to celebrate with handcrafted cocktails featuring the new release, along with additional features at the distillery's Staymaker Restaurant and bar.
It was during an 18-month stay in Scotland, that Journeyman Owner & Founder Bill Welter gained a great respect for the traditions held sacred by the Scottish—especially their fine single malt whisky known simply as Scotch. Welter says, "We've applied the same love, respect, and age-old traditions to the crafting of our Three Oaks Single Malt."
Named for the tiny Southwest Michigan town of Three Oaks where Journeyman has been handcrafting spirits since 2011, Three Oaks Single Malt is distilled from locally sourced two-row malted barley and water from an underground aquifer. The spirit is aged a minimum of 30 months in 3 types of oak barrels—imparting a unique flavor profile. Also unique—Three Oaks Single Malt's organic and kosher certifications.
Three Oaks Single Malt is aged in three types of used oak barrels. It has an abv of 45-percent and is  90-proof whiskey that is blended to profile for each batch. The Journeyman website listing for Three Oaks Single Malt shares these Tasting Notes:
"Hints of sweet honey, fruity accent with a creamy buttery body, caramel, banana, burnt sugars."
The public is invited to celebrate 8 years of craft distilling at Journeyman on October 5th from 11:30 AM to 10:00 PM with a special allocated release of their Three Oaks Single Malt, plus tastings and special menu features. For more information visit online at this link:
http://www.journeymandistillery.com
Founded in 2010, Journeyman Distillery crafts, bottles, sells, and serves organic and kosher certified spirits at the historic Featherbone Factory in Three Oaks. The distillery prides itself on using the highest quality grains sourced from Midwestern organic farmers in its award-winning spirits as well as at its Staymaker restaurant. Journeyman products are distributed in twelve states across the country and available for purchase direct from the distillery. Learn more and find your spirit at journeymandistillery.com.