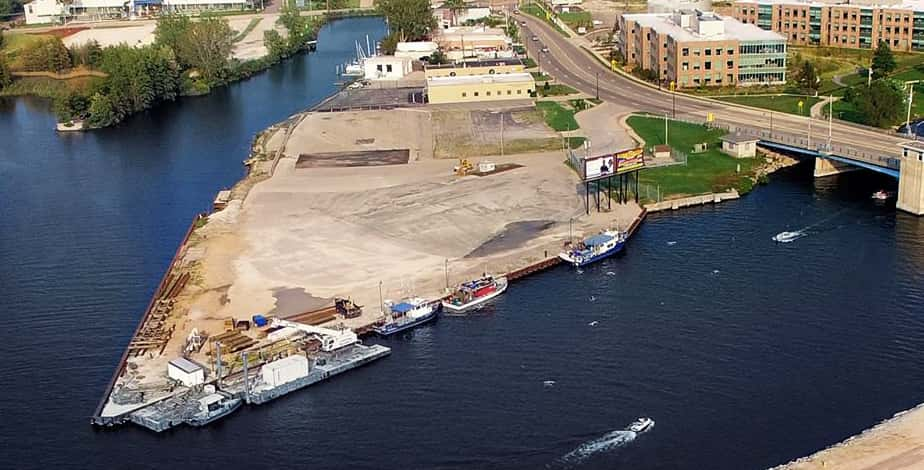 When you are dining at Plank's Tavern at The Inn at Harbor Shores and look out across the inner harbor, what would you like to see on the opposite side of the water? When you are walking along the Margaret Upton Arboretum below the John & Dede Howard Bandshell in St. Joseph and you look at the opposite side of the river, what would make your heart race with excitement if you saw it on that shore? When visiting the Berrien County Courthouse and you scan the horizon over the harbor and into downtown Benton Harbor, what would your wildest dreams envision there? The Twin Cities Sustainable Harbors Initiative would like to know.
You have one last chance to describe your dreamscape for them today, as they facilitate the development of long-term, sustainable strategies that enable Michigan's Great Lakes coastal communities like ours to maximize the benefits of our harbor and waterfront.
Michigan is home to more than 100 public marinas and harbors, managed by state, county, or local governments. They are part of a boating culture that draws $2.4 billion in economic activity to the state each year.
St. Joseph and Benton Harbor, just like other coastal communities, face multiple challenges such as increasingly scarce state and federal funding as well as fluctuating water levels, increased storm volatility, flooding, and erosion. Signage, access, and connectivity to other community nodes are also challenges. The good news is, this project addresses these challenges. The Michigan Office of the Great Lakes has awarded a $75,000 grant to create a plan for the harbor.
The organization's Project Manager Don Carpenter told St. Joseph City Commissioners last month that this renewed effort is a grassroots effort to produce "a shared vision" for our harbor and waterfront areas. Meetings to discuss waterfront developments have taken place, with increasingly detailed discussion going forward.
Carpenter's team has considerable experience in getting focused, having worked with other Great Lakes ports such as Pentwater, New Baltimore and Rogers City. There are reps from multiple agencies assisting in the sessions including the local Twin City Harbor Conservancy, Michigan State University Extension, the Michigan Department of Natural Resources Office of the Great Lakes and the Michigan Sea Grant team.
To assist the communities in creating a shared harbor vision, the Department of Natural Resources' Office of the Great Lakes, the Harbor Conservancy, Michigan Sea Grant, and partners have been conducting a Twin Cities Harbor Visioning Charrette.
A charrette is a brainstorming workshop that integrates residents' voices into the planning process through a series of community meetings. The goal of these community meetings and discussions has been to lead to a clear, shared vision for the Twin Cities Harbor that reflects the entire harbor community.
That vision is important for the communities and their futures because it is constructed by all affected parties – a compilation of everyone's ideas and voices. It is hoped that the implementation of such a shared vision will increase public confidence, participation, and support in the communities as well as economic, cultural, social, and environmental community sustainability, adding value to the harbor.
So far the team has spent several months gathering documents, making presentations to local commission, hosting facilitated focus groups, and planning for the charrette process. They have also conducted their initial Harbor Vision Workshop back on September 19th, and earlier this week hosted a Harbor Design Workshop and a Harbor Options Open House.
This evening, Thursday, October 11th, from 4pm until 6pm (just a note that the local newspaper incorrectly stated it would start at 6pm) the group will deliver a Preferred Option Presentation, and the meeting takes place at Kinexus, located at 499 West Main Street in Benton Harbor.
Following tonight's presentation, a final design report will be created to document the generation of the final shared vision for the Twin Cities Harbor, followed by presentation of a final shared vision in a public forum late this year or early in 2019. They will also host governance focus groups to discuss governance structures to implement the vision in February and March of next year.
The photo of a portion of the local harbor accompanying this story on Moody on the Market is courtesy of the Twin Cities Harbor Visioning Charrette organizers.