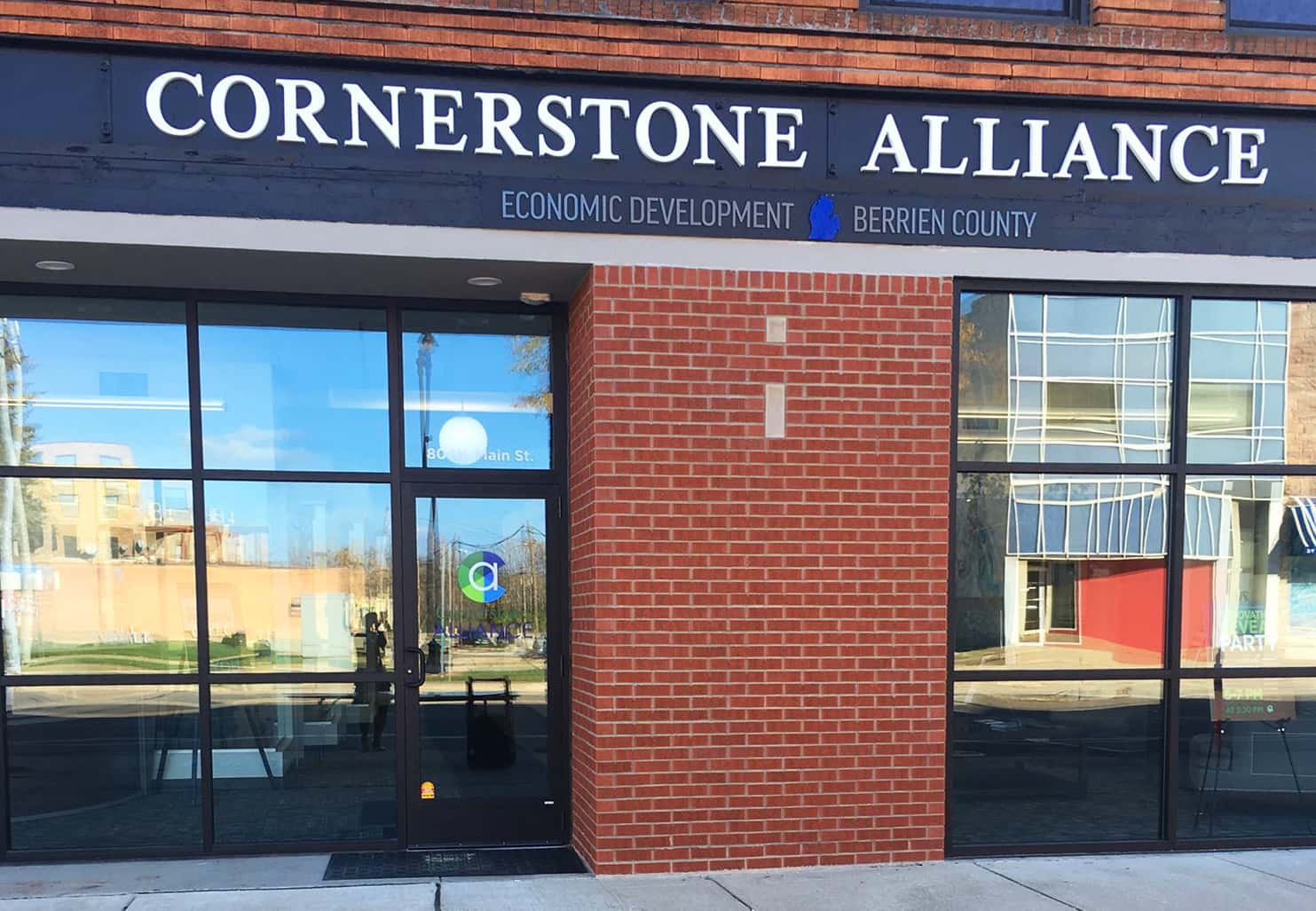 As they continue their work as change agents in Michigan's Great Southwest, and to bolster the team at Berrien County's lead economic development agency, Cornerstone Alliance has added two new members to the economic development team, and they both start Monday.
Greg Vaughn, Chief Operating Officer at Cornerstone Alliance says today that Cameron Isom and Avery Green will both begin their roles on Monday, March 25th. Both are originally from Berrien County. Isom will serve as a Business Development Team Associate and Green will serve as Marketing Coordinator for the agency.
Vaughn says, "We had a talented and diverse pool of candidates for these two positions," and adds, "Cameron and Avery bring unique skill sets, a desire to learn and an ability to lead projects.  They are both community-oriented individuals who have fresh ideas on how to move the community forward."
Isom is a 2017 graduate of Lake Michigan College and a Benton Harbor resident. He comes to Cornerstone Alliance after serving in a co-op role at Whirlpool Corporation as a Quality Systems Analyst and a member of the Google Champions Team. Isom analyzed supplier performance data and managed data sets for the North America Region.
Green is a 2018 graduate of Western Michigan University and is an Eau Claire resident. Green received dual degrees in Electronic Business Marketing and Textile and Apparel Studies: Fashion Design from Western Michigan. He is also the recipient of the Brian Patrick Thomas Entrepreneurial Spirit Award, and the International Textile and Apparel Association's Will Conard Scholarship.
Christina Frank, the organization's Vice President of External Affairs, says, "We are thrilled that Avery and Cameron have chosen to start their careers at Cornerstone Alliance," and notes, "Finding talented individuals is the goal of every organization. Most importantly, we looked for people that held a passion for the community and a willingness to fit into and strengthen the collaborative economic development culture in Berrien County.  Avery and Cameron will both make positive impacts on Michigan's Great Southwest."
Cornerstone Alliance is a non-profit, investor-governed, economic development organization primarily focused on increasing employment opportunities, private sector capital investments and the local tax base in Michigan's Great Southwest; with specialized business services offered in economically distressed areas.